Birding on the Falklands
Two days on the Falkland Islands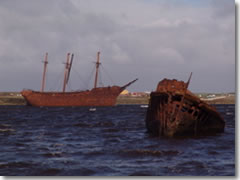 The waters of Stanley, capital of the Falkland Islands, is littered with the rusting hulks of 19th century ships.The fighter jets screamed low over our heads, banked hard, and blasted off behind a green-velveted hillside.

"They like to practice bombing the airport," observed Arthur Nutter dryly.

Mr. Nutter was leading my three-hour birding tour (www.sulivanshipping.com) past the rusting hulks of 19th century whaling ships on the outskirts of Stanley.

Stanley is the only real town on the Falklands, a Connecticut-sized clutch of wind-buffeted islands 300 miles off the Patagonia coast and the unlikely home of nearly 3,000 Britons.
The Falkland Islands
Though physically closest to South America, geographically aligned with Antarctica, and geologically part of Africa, the Falklands actually do look fittingly British. They could easily be just off the coast of Scotland or Ireland.

The close-cropped green underbrush and toothy, pale gray rocks are interleaved with a rich peaty soil, which can run as deep as 30 feet and is still used as fuel by some islanders. Our bird-watching path forded dozens of water rivulets, pools, and tiny streams, the waters stained the dark, tannic brown of well-steeped tea by the turf.



Rockhopper penguins pair-bond, and the couples are touchingly devoted to one another: preening, nuzzling, and sometimes just standing side-by-side, extending a flipper/wing around their mate's shoulder. This image of being in the northern British Isles is underscored by the presence of huge flocks of sheep, long the mainstay the local economy (the Falklands flag features a gargantuan golden sheep standing nobly atop a sailing ship), though these days, wool trails a distant second to the sale of licenses to the rich fishing waters offshore.

My birding guide was not only an expert on the 185 species of birds that live or migrate across the islands—adept at spotting uplands geese, flightless steamer ducks, Falkland thrushes, southern giant petrels, and speckled teals where all I saw were the geese—but also on island life, local history, and 101 uses for the native flora. (Apparently, scurvy grass makes an excellent lemony tisane).

For all his knowledge, Mr. Nutter was not native Kelper—a local term for islanders who can proudly recount how many generations their family has called the Falklands home. Mr. Nutter discovered the islands only twenty-five years ago, around the same time most Britons first learned of this forgotten corner of the Empire.
The War, 25 Years On
On April 2, 1982, Argentina's military junta sent nearly 11,000 troops to invade the Falklands (Las Malvinas in Spanish), apparently on the theory that the islands were much closer to Argentina than to Britain.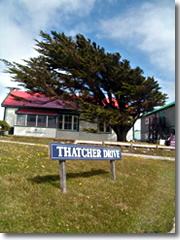 The Falklands honor PM Margaret Thatcher for her role in fighting to keep the islands British.The ensuing war lasted only six weeks, and it helped lead both to the downfall of the junta and to Margaret Thatcher's landslide reelection the following year. It also managed to kill nearly 1,000 people, three quarters of them Argentine conscripts who had no idea what they were doing there in the first place.

One of the most touching exhibits in Stanley's bit-of-everything museum lies in the room devoted to the daily life of the Argentine troops. It's a hand-scrawled letter begging, in broken English, for food and warning the recipient not to let the conscript's superiors see him talking with the enemy.

Another legacy of the war—aside from the continued presence of some 2,000 British troops, who pass the time pretending to bomb the airport—is 101 land mine fields scattered around the Falklands.

Though an ever-present danger that keep many areas off-limits, the mines have also created de facto wildlife preserves, the most famous at Gypsy Cove. Except the part through which our bird-watching trial threaded, the area around this beautiful white sand beach is deadly to humans, but not to the colony of (much lighter) Magellanic penguins that live in burrows under the peat.

Like most penguins, they're almost insufferably cute, peeking out from their dens to regard visitors first with one eye, then twist-bobbing their heads around to see if they might get a better view with the other eye, then back again to the first eye. They can keep this up all day.
A Day in Camp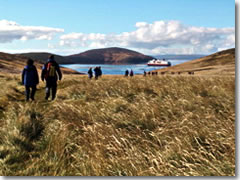 Hiking between the ship and the nesting grounds in Camp on the FalklandsI spent the next day around the other side of the Falklands on West Point Island in Camp— everything outside Stanley is called "Camp."

After bushwhacking through tussock grass that towered over my head, I passed a delightful, if noisy, afternoon amid an enormous mixed colony of albatross, cormorants, and rockhopper penguins.

If the Magellanics had been cute, the rockhoppers were irresistibly adorable: waddling and, indeed, hopping around on their bubblegum feet, with bright red eyes, spiky punk hairdos, and dramatic drooping eyebrows of long yellow feathers.

Most of the rockhoppers hung around in lifemate pairs, occasionally leaning over to preen each other's necks gently. Sometimes, one would reach up to put his flipper across the other's shoulder, an old couple content just to sit there and stare at the tourists. (I got the distinct feeling they got as big a kick from watching our antics as we did from theirs.)

Intermingled with the penguins were black-browed albatrosses, named for the slash of natural mascara above their eyes. Like all albatross, they are one of nature's best-engineered fliers, sporting eight-foot wingspans and able to stay aloft for six years at a stretch before coming to rest on dry land in order to mate. It's the landings they're not so good at.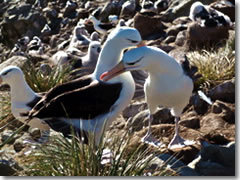 A pair of black-browed albatross preen each other at their nesting grounds on the Falkland Islands.Their graceful aerial ballets tended to end in comical crashes, sending a bowling ball of feathers and wings akimbo caroming though the colony.

This triggered a general squawking: of cormorants and rockhoppers disturbed by the crashing arrival, and of fluffy, oversized albatross chicks waiting impatiently on their nests to be fed.

Feeling peckish myself, I headed back across a hummock of soft peat to the far side of the island and a cluster of small houses trying mightily to pretend they were back in Britain.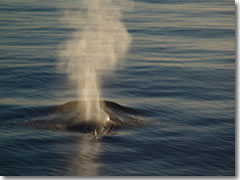 A minke whale spouting in the waters off the Falkland Islands.This was the home of Roddy and Lilly Napier, whose family has owned West Point Island since 1879. For 50 years, they've invited all visitors into their kitchen for cups of excellent tea accompanied by scrumptious homemade scones, jam, fairy cakes, cookies, and milk fresh from the cows out front.

I stood in their lovely English garden, munching on a scone and watching whales breech in the glassy sea beyond, and marveled at the indomitable British sprit. Just because one is 7,800 miles from London and surrounded by penguins on an island off the coast of South America doesn't mean one shouldn't be able to enjoy a proper English tea.
When You Go...
2011 Antarctica sailings that include the Falklands

• Intrepid Travel: Antarctica & Sub-Antarctic Islands
• G Adventures: Spirit of Shackleton

• G Adventures: Spirit of Shackleton Package


Others
www.coastalvoyage.com
www.reiadventures.com
www.oattravel.com
www.iexplore.com
www.infoHub.com
Most visitors arrive the same way I did, as part of one of the longer Antarctic cruises, Mine was with Norwegian Coastal Voyage (800-323-7436, www.coastalvoyage.com). There are more listed to the right.

Otherwise, getting to the Falkland Islands is tricky.
Continued poor relations rule out any direct connections with Argentina, and the Argentines only allow one flight a week—from Santiago, Chile via Punta Arenas—through their airspace (www.falklandstravel.com).
There are also six charter flights per month from England run by Britain's Ministry of Defense.

You can find much more at the government Web site (www.falklands.gov.fk) and the official visitor information site (www.visitorfalklands.com).
| | | |
| --- | --- | --- |
| Related Articles | | Outside Resources |
This article was last updated in January 2007 All information was accurate at the time.



about | contact | faq

Copyright © 1998–2010 by Reid Bramblett. Author: Reid Bramblett.