The unsung parks of Western Canada
Troop 116 takes a quick spin through the Western Canada provinces of BC and Alberta: Biking Mt. Revelstoke National Park, hiking in Yoho National Park, driving right through Glacier National Park unawares, and clambering over the Continental Divide somewhere in the Canadian Rockies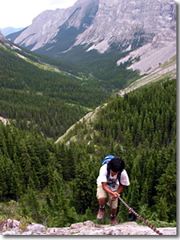 Mike uses a chain to haul himself up a cliff as Troop 116 hikes over the Continental Divide between BC and Alberta, Canada.
"You guys want to take the shorter, easier trail over that low pass, or the longer, harder one straight up that way?"
As soon as I asked, I knew I had sealed my fate. Also, John Agnew's. No way six teenage Boy Scouts were going to let their adult leaders take the easy way over the Continental Divide.
Never mind that we'd already hiked eight miles at high altitude in the Canadian Rockies—in some places using knotted chains to haul ourselves up vertical cliffs around waterfalls.
It didn't matter that we'd climbed nearly 2,000 vertical feet over the last mile alone.
The boys weren't even taking into consideration that we hadn't gotten to bed until 5am that morning.
The vote was unanimous for the thigh-burning, lung-aching, nearly vertical little trail—Canadians apparently don't believe in switchbacks—barely scratched into the scree and dust that led up over the highest pass.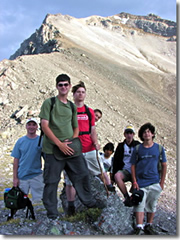 Troop 116 triumphant atop the Continental Divide in the Canadian Rockies.
It had been threatening rain all day. In fact, it sprinkled on us at Ribbon Falls Lake campground where we stopped for lunch and to keep an eye on the weather while we were below the tree line and within an easy lope of the ranger's station should we need to escape a thunderstorm.
Hours later, at the top of the Divide as we hollered our triumphant yells and frightened a few marmots, I felt more stray raindrops.
It was humbling to realize that those drops landing on my left were bound for the Pacific Ocean, while those on the right would eventually make their way to the Atlantic.
Down Mt. Revelstoke at High Speed
Western Canada is justifiably famous for its national parks: Banff and Jasper in the Canadian Rockies of Alberta, Glacier in the heart of British Columbia. During the few days Troop 116 recently spent in the region, we ignored those famed parks almost completely.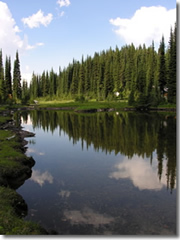 Heather Lake high in Mt. Revelstoke National Park in British Columbia, Canada.
Instead, our first stop was unheralded Mt. Revelstoke National Park, where we met Jeff Sorensen. Now here's a Canadian who's not afraid to say "aboot."
In his thick BC accent, he told us about his family's generations of lumberjacking and woodworking as he steered his truck up the Meadows in the Sky Parkway to one of the park's 6,600-foot peaks.
Jeff accompanied us for a walk around tiny Heather Lake and along a short trail through alpine meadows sprinkled with purple daisies, Indian paintbrush, bluebells, and Queen Anne's lace to a point overlooking the Columbia River and Selkirk Mountains.
Jeff's Arrow Adventure Tours (877-277-6965, www.arrowadventuretours.com) was providing us with both the ride up the mountain and a set of bikes so we could coast back down the impossibly switchbacked, 16-mile road for nearly 4,900 vertical feet. "You'll probably get up some pretty good speed," was all Jeff said.
I'd guess we were going about 40 mph when we hit that first hairpin turn. I slowed and turned my wheel, as you might expect someone who has ever ridden a bicycle to do.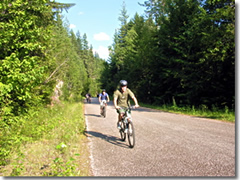 Biking down Mt. Revelstoke in British Columbia, Canada
Andy Karis tried a different tack. Ignoring the handbrakes and refusing to steer, he slammed in the bushes lining the curve at full speed.
Karis flipped over his handlebars and disappeared into the dense foliage, immediately followed by his somersaulting mountain bike.
For all we knew, there was a cliff just beyond, so as the rest of the troop came screeching to a halt, I went pelting back up the road yelling, "Andy!"
After a few seconds came the reply from the bushes: "I'm OK.... Just someone get this bike off of me."
Yoho, Yoho, It's Over the Pass We Go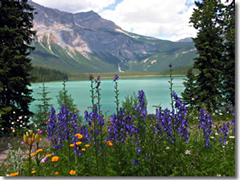 Pretty Emerald Lake in Yoho National Park of British Columbia, Canada.
Yoho National Park, on the far eastern edge of British Columbia, receives a mere fraction of the visitors at world renowned Banff, which is what they call this exact same stretch of wilderness on the Alberta side of the border.
We pulled into Emerald Lake intending merely to take a quick spin around its cool, shockingly reflective waters—the deep color caused by light refracting off microparticles of glacial rock—and to point out to the boys the famous Burgess Shale, a deposit containing rare, Cambrian-era fossils of soft-bodied marine animals that have taught scientists more about the emergence of early animal life than any other site in the world.
During our circuit, Stew and I noticed a second trail diverging up and over Yoho Pass. The sign said it was only 6.6 miles, so while Stew went to drive the van around to the trail's other end to meet us, the boys and I strapped on hiking boots.
The trail that began in mud flats braided with streamlets and bridged by thick wooden planks quickly gave way to a narrow, steep track through wildflowers.
The elevation gain from the lake to the pass was 1,700 feet, the first 1,200 of which we did in one fell swoop over the course of a mile, the cool rush of a nearby mountain stream teasing us as we climbed.
Thunder was grumbling and dark clouds peaking over Emerald Glacier by the time we got to the main falls, so we scrambled across a wide avalanche talus slope to the safety of the forest beyond. We ate apples in the shade of fir trees while the storm decided not to hit our valley and moved on.
At pretty little Yoho Lake on the other side of the pass, Stew was waiting for us and enjoying an afternoon of incredible wildlife spotting: mountain goats, black-tailed deer, elk, black bear, and a grizzly mother with her cub.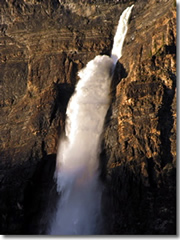 Takakkaw Falls in Yoho National Park, British Columbia, Canada.
The trail bottomed out by a dirt road by the Whiskey Jack Hostel beyond which the trail continued to an 838-foot-high waterfall called Takakkaw, a Cree word whose meaning could apply to the whole region: "It is magnificent."
When You Go...
The town of Golden in eastern British Columbia makes a regional great base (800-622-GOLD, www.tourismgolden.com).
Though the area is packed with hostels (US$19 to $24 per person), cabins (from $110), and campgrounds ($14 to $20 in the parks), we took our cue from the thick layer of mosquitoes coating our legs and opted for Packers Place, a handful of cozy, simple rooms above a tavern in the heart of downtown (429 N 9th Ave., 250-344-5951, $46).
For lots of details on Canadian National Parks, visit www.parkscanada.ca. For more on Yoho, call the info centre at 250-343-6783; for Revelstoke call 250-837-7500.

| | |
| --- | --- |
| The Travel Store | |