Crossing the Atlantic for less
These alternative airlines and intercontinental low-cost carriers can make flying from North America to Europe cheap indeed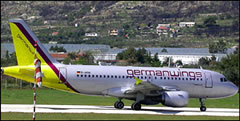 No-frills airlines started off laregly just shuttling Londoners to Ibiza and other holiday hotspots in the Mediterranean. Nowadays, no-frills have sprung up in Germany, Scaninavia, Italy, and elsewhere and their destinaitons are getting ever-more exotic and exciting. This germanwings plane, for example, just landed in Split, Croatia from Berlin and will soon take off for Cologne-Bonn.
• No-frills airlines
• How they work
• How to find them
• How to book them
• N. America to Europe
• Intercontinental LCCs
• Big Ben Switcheroo
• Big Apple Switcheroo
• Airport resources
Believe it or not, you can now fly betwen the U.S and Europe, Europe and Asia, and Africa and Europe on a budget airline.
It's true. I have flown directly to Palermo, Italy from New York city on a brand-new jet operated by Eurofly. I had as roomy and comfy a seat as I have ever suffered in coach, I had my own seatback screen with a wide selection of fresh-to-DVD movies, and I had food that, well, was airline food. And guess what? My ticket only cost $350. Roundtrip. In high season. That was literally half of what major airlines wanted to charge me, and they were going to route me on a stopover in Rome.
Frankly, I am flabbergasted that most of the travel publishing industry isn't crowing from the moutaintops about this astounding development in low-cost/high-serivce air travel. I'm here to rectify that oversight. Here is a breakdown of the current crop of low-cost airlines flying from the U.S. and/or Canada to Europe. On a seperate page are all the budget airlines connecting Europe with other continents (Asia, Africa, and South America).
Flying Cheaply between Europe and North America:
You'd be forgiven for believing that the only way to fly across the Atlantic was on either (a) one of the major US carriers like American Airlines, Delta, United, and such, or (b) one of Europe's "flag carrier" airlines, the formerly national carriers (now technically privitized, but still largely state-supported) such as British Airways, Air France, Alitalia, Lufthansa, etc.

You'd be wrong, but you'd be forgiven.

That's because chances are no one's ever taken you aside and whispered in your ear names like LTU, Martinair, and Eurofly.
Those are just a few of the alternative transatlantic carriers that often charge far less than the Big Boys to fly you from the USA or Canada to—in these particular cases—Germany, the Netherlands, and Italy respectively.

The best news is that roundtrip fares from the US start at $348 to Germany, $399 to Spain, $576 to Ireland, and $649 to Italy—and that's during the summer high season!
So where did these alternative Transatlantic airlines come from? Some of these guys—like Italy's Eurofly or Germany's Condor—are former charter or regional feeder airlines that are now stricking out on their own with regularly scheduled services sold directly to the public (rather than via a tour company or branded under a major carrier).

Some are no-frills airlines—like Scotland's FlyGlobeSpan—taking a chance and dipping their toes into the waters of the Atlantic by adding a long-haul route connecting the continents.

Then there are those that blur the line between traditional carrier and budget alternative. Virgin Atlantic (www.virginatlantic.com
) was started expressly to compete against a major airline (British Airways) on its own turf by plying the transatlantic routes as a full-fledged rival. Aer Lingus arrived in this category from the other direction by reinventing itself as an inexpensive hybrid airline somewhere between a traditional carrier and a no-frills airline.
OK, here are the airlines:
Flights to Austria
Air Berlin (www.airberlin.com) - Also flies Los Angeles, Miami and Ft. Myers to Vienna via Dusseldorf.
Flights to Belgium
Jet Airways (www.jetairways.com) - This is a low-cost Indian airline, but it gets you to India via Brussels, so you can always just book New York, Newark, or Toronto to Brussels. (Or, you know, go all the way to Chennai, Delhi, or Mumbai in India—fun!) Also, they fly the other way 'round from San Francisco to Mumbai via Shanghai...also fun.
Flights to the Czech Republic
Air Berlin (www.airberlin.com) - Also flies Miami and Ft. Myers to Prague via Dusseldorf.
Flights to Denmark
Air Berlin (www.airberlin.com) - Also flies Miami and Ft. Myers to Copenhagen via Dusseldorf.
Flights to France
Air Berlin (www.airberlin.com) - Despite its Tuetonic name, also flies Miami and Ft. Myers to Paris via Dusseldorf.
Flights to Germany
Condor (www.condor.de) - A member of the Thomas Cook group, offering year-round direct flights to Frankfurt from Miami, Las Vegas, Anchorage, and Fairbanks (and connecting service from L.A., San Francisco, Portland, and Seattle) in the U.S., and Vancouver, Halifax, and Whitehorse in Canada.
Air Berlin (www.airberlin.com) - Air Berlin is fairly new, but one of its subsidiaries, LTU, has been around since 1955 and flying from the U.S. since 1990. Main German hubs are Düsseldorf and Berlin, but connecting to Dresden, Hamburg, Munich, Nuremberg, and Stuttgart. U.S. departure cities are New York, Los Angeles, Miami, and Fort Myers (as well as Vancouver in Canada).
Flights to Ireland
Aer Lingus (www.aerlingus.com) - Direct flights to Shannon and Dublin from NYC, Boston, Chicago, Los Angeles, Orlando, San Francisco, and Washington-Dulles —they also now offer connections via jetBlue to other U.S. cities. Over the past few years, Aer Lingus has successfully transformed itself from Ireland's old (and over-priced) flag carrier into a far less expensive hybrid airline, operating a full complement of connections and long-haul routes but hewing much more closely on the no-frills mentality—including slashing ticket prices.

It's telling that, alone among Europe's old guard airlines, Aer Lingus is the only one now consistently turning a profit without its government having to unload dump trucks full of money into its coffers just to keep it solvent. This represents, perhaps, the only future for any major airline that wants to survive the ongoing wave of bankruptcies and mergers.
Flights to Italy
Eurofly/Meridiana (
www.meridiana.it) - Former charter branch of Alitalia (flying from Italy to popular vacation destinations), spun off in 2003 and, as of spring 2011, offering scheduled transatlantic flights in summer and fall from New York City (JFK) to Naples and Palermo (in the past, they've sometimes also offered direct flights to Rome, Milan, Bologna, and other Italian cities).
Flights to the Netherlands/Belgium
Martinair (www.martinairusa.com) - Well-respected charter company connecting Holland to Florida since the 1960s. Daily flights to Amsterdam from Miami, Puerto Rico, Toronto, and Vancouver.
Flights to Spain
Air Europa (www.aireuropa.com) - New York to Madrid (as of June 1, 2009).
Flights to Switzerland
Air Berlin (www.airberlin.com) - Also flies Los Angeles, Miami and Ft. Myers to Zurich via Dusseldorf.
Flights to the U.K.
Virgin Atlantic (www.virginatlantic.com
) - Flights to London from New York, Washington, DC, Boston, Chicago, Miami, Orlando, Las Vegas, San Francisco, Los Angeles, and Nassau, Bahamas. Virgin Atlantic has been such a success that it has not only helped drive the price of flying to London down to affordable levels—an example of the benefits of free market competition at its best—but has also deservedly taken its rightful place as a major carrier itself, even if its arch-nemesis British Airways is still nominally Britain's "flag carrier." However, since Virgin is also still a legitimate alternative airline (though, far from no-frills, it has a history of being the first to introduce such economy-clas luxuries as small grooming kits and personal seatback entertainment screens), it gets counted on this page as well.


This article was last updated in November 2007. All information was accurate at the time.
E-mail | Print | Bookmark


NoFrillsAir.com | BeyondHotels.net | EuropeTrains.org | EuropeHostels.org
About Us

Copyright © 2007–2008