Live like the locals and rent your own pad
Renting your own apartment in Europe will likely be as cheap—if not cheaper than—a hotel, plus will get you a kitchen and the other amenities of everyday life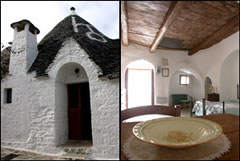 If you really want to feel like a temporary European, try renting an apartment, like this pointy trullo in the Italian town of Alberobello. After all, it's not every night you get to bed down in a genuine, UNESCO-protected piece of historic vernacular architecture—and it costs less than the hotels in town to boot.
The first thing most people get wrong about renting an apartment in Europe is they assume you can only rent one by the month. This is not so.

In fact, while some are available only on a monthly basis, the majority are rented out by the week or even for just three nights—and there are plenty that will rent to you for just a single night, especially in low season.

With you own pad, and a chance to try on the experience of living life as a European for a short while, shopping at the local stores and cooking meals in your own kitchen. This has the added benefit of helping you save big-time on dining expenses by limiting the number of meals you have to eat out at a restaurant; you avoid paying through the nose for a hotel breakfast, can dine at home some nights, and keep a stock of cheese, salamis, fruits, and veggies in the fridge for replenishing your daily picnic lunch supplies.

One thing you usually don't get with a short-term rental apartment is maid service—but do you really need fresh sheets every night?
How to find an apartment to rent in Europe
Apartments for rent—often referred to by the British terms "flats to let"—are widely advertised in U.S. newspaper travel sections and magazines, though that is usually the priciest way to go.

Apartments easiest to arrange through a rental consortium like those listed below, but you'll sometimes find the best deals by contacting people privately in the destination itself via local papers, English-language magazines, and the local tourist office, which will usually have a list of apartments you can contact directly as well as local agencies.

Do a lot of shopping around, ask many questions, look at pictures if you can get 'em. Work with agencies that specialize in that region or city and only ones that will help you find the place you want, not the one they want to sell you. Here are some leads.
GENERAL
Rentalo (www.rentalo.com) - More than 120,000 properties around the world, including 800 in Paris alone (a modern one-bedroom in the Bastille district, five minutes from the Picasso Museum in the Marais, runs €580 a week), 485 in London (a studio in tony Kensington starts at $560 a week) and 164 in Florence (how about a frescoed two-bedroom apartment in the city center for €775 a week or €130 a night?).

VRBO (www.vrbo.com
) - The names stands for "Vacation Rentals By Owners," which is (mostly) exactly what this is: it cuts out the middle man or a rental agency (and the attendant fees) by allowing those with rental homes to advertise them directly to potential vacation rentors. I say "mostly" because, as you might imagine, plenty of agencies post their offering here as well, but that's OK. So long as you find the right match for you, Does the provenence of the perfect vacation home really matter ? I've used this service to find everything from a flat in London to a South Carolina beach house for an extended-family vacation (as in the family was extended—three generations-worth—not, sadly, the vacation, which was one week).

Barclay International (www.barclayweb.com) - One of the world's premier rental agencies since 1963. (And yes, "premier" does mean "a bit pricey"). Excellent properties and service, though, throughout the major cities of Western Europe—however, except in France, Italy, and the UK, most are residence hotels or condo-like arrangements, not private flats.

Interhome (www.interhome.us) - Thousands upon thousands of apartments and villas across Europe (and, er, Florida).

Villas International (www.villasintl.com) - Long-established agency, with properties in perhaps more countries than any other—Austria, Belgium, Bulgaria, Croatia, Cyprus, Czech Republic (Prague), Denmark, England, France, Germany, Greece, Hungary, Ireland, Italy, Malta, the Netherlands, Norway, Poland, Portugal, Scotland, Spain, Switzerland, Turkey, and Wales.

Craigslist.org (www.craigslist.org) - The biggest virtual classifieds section lists short-term rentals all over the world. So far there are individual European craigslists only for Paris, Amsterdam, and Berlin, but be sure to rilfe through the craigslists of major US cities, too—doesn't matter if you live there or not—because lots of folks post rental ads for their Paris apartment on the Craigslists for New York, Chicago, San Fran, etc.
AUSTRIA
Apartment Keeper Association of Vienna (www.netland.at/wien) - Unglaubliche is the German word for "unbelievable," and that's just what the prices on these apartments in Vienna are: as low as €50 per night for two people to rent a full-fledged apartment, kitchen and all, in the heart of the city. Why would you even bother booking a hotel room?
CZECH REPUBLIC
Prague Serviced Apartments (www.prague-hotel.co.uk) - 74 serviced apartment across Prague starting around €60 per night (for a one-bedroom) in the off-season, €100 in summer.
FRANCE
Paris Séjour Réservation (www.psrparis.com) - Around 50 apartments across Paris, starting at €90/€100 for a studio or one-bedroom.
Coach House Paris (www.rentals.chsparis.com) - Only about 17 apartments, but all carefully hand-selected and reasonably priced, starting at around $150 a night.
ITALY
Rome Power (www.romepower.com) - Decent prices on weekly and monthly rentals in Rome and other parts of Italy.

Bed & Breakfast & Apartments (www.kleinundfein.org) - Fantastically priced B&Bs and rental apartments across Italy's South Tyrol region (the bit up around Trent in the Dolomites where they speak a German dialect and are culturally closer to Innsbruck than to Italy).
SWITZERLAND
Swiss Tourism Federation (usa.myswitzerland.com) - Literally thousands upon thousands of vacation rentals and apartments across Switzerland.
The UK
Coach House London Vacation Rentals (www.rentals.chslondon.com) - From garden apartments to luxury houseboats, the unique private flats for short-term let at the site can't be beat. Truly a handpicked cadre of London apartments, with prices for studio starting around $150 per night with a five-night minimum.

Home from Home (www.homefromhome.co.uk) - Some 55 flats in London from £65 a night.
ShareThis
This article was last updated in January 2008 . All information was accurate at the time.



NoFrillsAir.com | BeyondHotels.net | EuropeTrains.org | EuropeHostels.org
About Us
Copyright © 2008–2010