To B&B or Not to B&B
Bed and Breakfasts aren't just great big Victorian British cottages run by kindly but nosy little old widows anymore. The B&B concept—a handful of rooms run as an inn by a family in their own home—has spread throughout Europe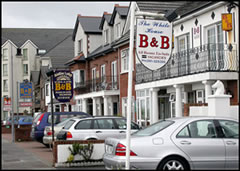 These days, it seems everyone's hanging out a "Bed and Breakfast" shingle. In Ireland in particular they can get to be so thick on the ground whole communities seem to be composed of nothing but B&Bs.
In Italy, the category is even called "bed-and-breakfast" (or, rather, a "bet-hand-brrrek-feest"); in France it's a chambres d'hôtes (shaamb-doat).

With said widespread, uh, spread, there's no guarantee you'll get that protoypical kindly older couple and mansion of huge rooms loaded with chintz and doilies, charmingly creaky wooden floors, and a sumptuous breakfast spread at a communal table that will leave you needing to crawl back into your canopy bed for a nap before you head out for the day.

These days as many B&Bs are installed in modern city apartments or isolated farmhouses as in grand old homes in town, and many no longer even feature the resident-owner. Usually, however, a friendly, family, home-like atmosphere prevails.

There are sometimes drawbacks to the B&B, however. With a hotel, you are guaranteed a certain degree of anonymity: you just ask for your key at the desk and then are left alone. This is often the opposite of a B&B, where chitchat is considered part of le charme—but sometimes, you just don't want to make small-talk with the owners and other guests.

Also, at a B&B there's often a curfew, either stated or implied—after all, you wouldn't want to wake that kindly older couple up at 2am when you stagger back to your room, now would you?


They sometimes require breakfast or half or full board, private baths are rare (but getting less so), but the service is almost usually friendly and personable. Incidentally, never take board (meal) requirements unless you can't avoid them, as is often the case in resorty places like spas and beaches (especially in season). Eating in a local restaurant is usually a better bet and offers more variety night-to-night.

On the other hand, a B&B can be a great opportunity to meet some local folks and really get an inside scoop on the culture.

Best of all, B&Bs are usually 5 to 15 percent cheaper than hotels, and can be very cozy. For a certain kind of trip, I enjoy B&Bs immensely.
FINDING THE PERFECT B&B
As usual, the best resource is almost always the local tourist office (www.worldtourismdirectory.com) which almost always keeps a complete list of all bed and breakfast outfits in town and, in the best cases, includes that list on its Web site...with links. That said, here are resources to help you find B&Bs across Europe and in specific countries.

Note that there's a thin line (often just which set of local standards, requirements, and legal complications the owner wants to deal with) between a B&B and rental rooms.
General infomation sites
InnSite (www.innsite.com) - Probably the biggest and bestest worldwide B&B Web site. It's a sort of virtual catalog, not a booking engine, which means anyone with a B&B can post their own entry—which means you get a lot more choice than with most of the booking services.

Pamela Lanier's Bed & Breakfasts (www.lanierbb.com) - A premiere worldwide guide to guesthouses, inns, and B&Bs—some 220 in Italy, 54 in France, 39 in England, etc.

Karen Brown (www.karenbrown.com) - The descriptions of hundreds of inns and B&Bs throughout Western Europe that fill the Karen Brown "guidebooks" (Technically, they are no longer guidebooks—certainly not in the online editions—since they do not maintain editorial integrity, but rather include on the site only those properties that pay for inclusion. In my book, that's called an "ad," not a guide.) Still, even if she's sold out, the properties themselves are pretty fantastic (though as many are hotels as B&Bs).
General booking sites
Bedandbreakfast.com (www.bedandbreakfast.com
) - Massive site and database with thousands of choices around the world, including hundreds in Europe.

International Bed and Breakfast (www.ibbp.com) - About 285 inns around Europe.

Bed and Breakfast Inns Online (www.bbonline.com) - Modest number of properties in Europe (about 175), but good quality.

Bed & Breakfast (GB) (www.bedbreak.com) - Hundreds of B&Bs in the UK and France.

BBOnline (www.1bbweb.com) - Properties scattered throughout Western Europe, but you have to use the drop-down menu search form (the clickable map version is buggy).

Europe Traditionae Consortium (www.europetraditions.com) - Collection of B&B organizations and chains in the UK, France, Ireland, The Netherlands, and Portugal.
France
Gites de France (www.gites-de-france.fr) - More than 8,500 hosted B&B options in addition to cottages and such (mostly in the countryside, not the cities).
Bed & Breakfast Paris (www.parisbandb.com) - Over 100 B&Bs in the City of Light.
Germany
Bed and Breakfast (www.bed-and-breakfast.de) - Links not to specific German B&Bs, but rather to a network of agencies in dozens of major German destinations that will book bed and breakfasts for you in their own regions.
Ireland
Town and Country (www.townandcountry.ie) - One of the largest and most reputable B&B networks covers both the Republic and Northern Ireland.
Irish Farmhouse Holidays (www.irishfarmholidays.com) - This one limits itself to B&Bs on working farms—a lovely way to get to see the real Ireland, and usually a key to the best homemade breakfasts.
Hidden Ireland Guide (www.hiddenireland.com) - Hotels and B&Bs that have some peculiar character to them or are of historic or architectural interest.
Premier Guesthouses (www.premierguesthouses.com) - Just what it sounds like; stylish, with loads of personality, often pricey.
Northern Ireland Farm and Country Holidays Association (www.nischa.com) - Just exactly what it says.
Italy
Bed & Breakfast Italia (www.bbitalia.it) - the largest nationwide service, with more than 1,000 members and three quality categories where prices range from €44 to €116 ($52 to $137).
Bed and Breakfast Association of Rome (www.b-b.rm.it) - Great service with more than 100 rooms for let in my old hometown, prices can be pretty steep (nearly as high as hotels).
Bed & Breakfast & Apartments (www.kleinundfein.org) - Fantastically priced B&Bs and rental apartments across Italy's South Tyrol region (the bit up around Trent in the Dolomites where they speak a German dialect and are culturally closer to Innsbruck than to Italy).
Portugal
Manor Houses (www.manorhouses.com) - Seriously gorgeous B&Bs, most in dramatic haciendas, mansions, or country homes.
Swizterland
Bed & Breakfast Switzerland (www.bnb.ch) - More than 500 B&bs all across Switzerland.
The U.K.
VisitUs (www.visitus.co.uk) - A mind-boggling array of B&Bs in England, Scotland, Wales, and Northern Ireland.
The Bed & Breakfast Website (www.beduk.co.uk) - Some 300 historic and generally funky properties across England, Scotland, and Wales.
Wolsey Lodges (www.wolseylodges.com) - A collection of 187 premier B&Bs installed in manor houses, Georgian mansions, Victorian country rectories, and the like across England and the UK (with a smattering in France, Italy, and Spain). Even at this level of luxury, prices still range around £70 in the countryside and no more than £100 in London.
ShareThis
This article was last updated in January 2008 . All information was accurate at the time.



NoFrillsAir.com | BeyondHotels.net | EuropeTrains.org | EuropeHostels.org
About Us
Copyright © 2008–2010