Have tent, will travel
Camping and campgrounds in Europe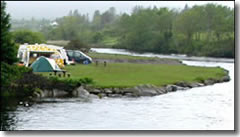 A campsite by the side of the little river in Sneem, County Kerry on the west coast of Ireland.
Camping is a heck of a lot cheaper than a hotel, especially these days, and you also get to make friends with all sorts of interesting Europeans (and by "interesting," I mean that German women campers often wander around topless).

But beyond the ogling, it truly is a chance to hang out in a totally non-touristy context with some bona fide Europeans, sharing travel advice along with your pickled wieners, making plans together to take a short hike in the Black Forest next morning, and just generally trying not to stare at the exposed chest of the wife of your new friend Günther.
European camping 101
While there are loads of European campgrounds out in the sticks for the get-back-to-nature crowd, there are also plenty of places to pitch your tent in and around the major cities, usually right near a bus or Metro stop.

For example, you can get a spot in the Bois du Bologne woods overlooking the Seine in Paris (011-33/01-45-24-30-00, www.campingparis.fr), set up camp on the beach on Punta Sabbioni in Venice (011-39-041-53-2511, www.camping-miramare.it), or take in a sunset panorama over Florence at Campeggio Michelangelo (011-39/055-681-1977, www.evacanze.it)..

That said, by their very nature most of these tend to be on the edges of cities, so expect a healthy 30-45 minute bus ride into the heart of the action. Camping in Europe is also pretty darn cheap (the biggest attraction, really). It generally costs anywhere from $15 to $30 for two people and a tent, sometimes a wee bit more if you have a campervan.

Keep in mind when you're perusing prices that there are seperate charges per person, for the site itself, for the tent, and for the car, so that €5 price tag ends up ringing in more around €20.

For RVing, caravaning, and campervans, see the special RV page.
How to find campgrounds in Europe
The local tourist office (www.worldtourismdirectory.com) always keeps a list of area campgrounds. There is an obscene number of camping-related sites in Europe. Here's a decent sampling—along with the word for "campground/campsite" in each language.

Note that in many cases, the sites are only available in the native langauge, but most are pretty easy to navigate regardless: click on the map where you want to go, you get a list of campgrounds with phone numbers addresses, web links, sometimes pictures and prices...so what if you can't read the blurb of accompanying text?
General camping resources
EuroCampings.net (www.eurocampings.net) - Reviews of more than 8,400 campgrounds across Western and Eastern Europe.
CamperOnline.it (www.camperonline.it) - In Italian (though you can get an English version of the menu—though not the content), but choc-a-block with info on camping and RVing all across Europe, including hundreds of country-specific links to tons of other useful Internet resources, free sites to park your RV, and on-line camping catalogues.
EuroCamps.net (www.eurocamps.net) - This Polish site covers all of Europe, and there's an English version available.
Austria ("Campingplätze")
Austrian Camping Club (www.campingclub.at)
Top Camping (www.topcamping.at) - Just 14 campgrounds spread across Austria, but some are pretty spiffy, like the Donaupark one on the banks of the Danube.
Camping Guide Carinthia (www.kaernten.at) - The Carinthia region of South Austria has a database of campgrounds.
France ("terrains de camping")
Camping.fr (www.camping.fr) - All sorts of resources—campgrounds, directories, RV sales outlets, camping supply stores, etc.—all in France...and only in French.
Camping France (www.campingfrance.com) - More than 11,000 campgrounds across France.
Gites de France (www.gites-de-france.fr) - Famous for cottages, this organization also lists hundreds of farms where you are welcome to pitch your tent or park your RV.
Germany ("Campingplätze")
Ecocamping (www.ecocamping.net) - This organization devoted to enviromentally-sound campgrounds lists dozens of approved sites across Southern and Northern Germany, with a handful in Austria and Switzerland as well.
Greece ("ΚΑΜΠΙΝΓΚ" or "κ?μπινγκ")
Camping in Greece (www.camping.gr) - Three dozen campgrounds in some of Greece's top destinations.
www.campsite.gr (www.campsite.gr)
Harmonie Camping Club (www.campingclub.gr) - Three dozen campsites (what is it with the Greeks and triple dozens?) across Greece, Crete, and a few in Italy.
Ireland
camping-ireland.ie
(
camping-ireland.ie
)
Italy ("campeggi")
ENIT (www.enit.it) - Italy's official tourism board has an online database of campgrounds across Italy.
Campeggi e Villaggi (www.campeggievillaggi.it) - A privately-run database of Italian campgrounds.
Camping.it (www.camping.it) - More Italian campgrounds.
Spain
www.campingsonline.com (www.campingsonline.com)
Switzerland ("Campingplätze")
Swiss Camping Association (www.swisscamps.ch)
Swisscamping.com (www.swisscamping.com) - Campgrounds in Western Switzerland.
Camping.ch (www.camping.ch) - More Swiss campgrounds.
ShareThis
This article was last updated in January 2008 . All information was accurate at the time.



NoFrillsAir.com | BeyondHotels.net | EuropeTrains.org | EuropeHostels.org
About Us
Copyright © 2008–2010