Castle Hotels—Sleeping happily ever after
How to become king or queen of your very own European castle...at least for a night or two. You can stay in a castle in Germany, France, or Scotland often for far less than a hotel.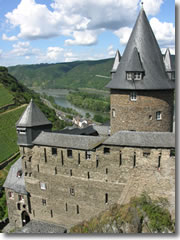 Burg Stahlek, a castle on the Rhine River in Germany, is actually now a hostel, with beds for under $20.
It's true. It can cost less to shack up in your very own medieval Fortress of Solitude than it would to rent a bed in a flea-bitten backpacker hotel for the night. I've stayed in European castles for as little as $40—though $60 to $100 is more common.

Even full-bore luxury suites in seriously upscale chateaux, where the daily activities run toward quail hunting and falconry, tend to ring in around $140 to $300—which ain't bad, for a fairy tale night spent as the prince and princess, and these days is on a par with the price of a typical three– or four-star hotel.

Why is it so many castels are open to teh public? Truth is, there are few enough Lords of the Manor around these days to pay for the upkeep of these massive piles and keep them lived-in (old homes deteriorate rapidly when vacant). So, tatterdamalion barons, and orginizations such as Britian's Landmark Trust, have hit upon the perfect solution: preserve the buildings by renting them out.

So say cheerio to modern America—even if only for a week or two—and bring your squires and ladies in waiting along to your very own Scottish castle, German keep, Irish fortress, or French chateau.
How to find castle-hotels
GENERAL RESOURCES
Castle Hotels (www.castleshotels.com) - Part of Castles.org, so you have to navigate a bit to get the page that links directly with each castle. But once you get there, you've got a direct line on noble lodgings in Austria, Belgium, England, France, Germany, Ireland, Poland, Portugal, Scotland, Spain, Sweden, and Turkey (plus India, Mexico, and the USA—yes, as it turns out, there are a few American castles where you can set up housekeeping for the night).
Castle and Palace Hotels (www.CastleandPalaceHotels.com) - Not the most complete, but by far the most user-friendly site, maintained by professional travel writer and guidebook author Pamela Barrus (always gotta give props to my colleagues). There are about 20–30 hand-selected castles in most countries (Austria, France, Germany, Italy, and the United Kingdom—England, Scotland, and Wales), with about 10–20 in others (Ireland, Portugal, Spain). The interface is quick and intuitive: Click on a country, click on a region, then click on a castle (or palatial hotel) to get a concise but info-packed single page on the property, complete with photographs, prices, direct contact info, brochure-like descriptions of the castle and its history, and a few choice words and tips on the hotel from Pamela herself. Other nice touches: basic intel on how castle hotels work in each country, useful phrases in each langauge for booking a room, information on holding weddings, etc. She also just has a good eye for castles. I've written about them myself—for guidebooks and magazine articles—so I know what's out there and can tell you that Pamela tends to pick some of the best.
Castles on the Web (www.castlesontheweb.com) - Bukoos links on the "Accommodations" page. Could do with some organization though: some are booking engines, some direct links, some hotel reservations services..still, most seem to at least hook you up with bona fide fortresses. Happy hunting.
Relais & Chateaux (www.relaischateaux.com)- One of the granddaddies of refined luxury, an association with extremely high standards (and price tags) with more than 300 properties around the world—though heaviest in France and the rest of Europe. Not all are castles, despite the name, but even the manor houses, palaces, mansions, historic villas, and regular hotels are of the utmost in comfort, quality, charm, history, and are usually really, really expensive.
AUSTRIA
Schlosshotels und Herrenhauser (www.schlosshotels.co.at) - Group of castle-hotels and manor houses with about 48 properties in Austria and a smattering in neighboring countries (Italy, Hungary, Slovenia, Croatia, Czech Republic—pretty much any one that had at one point and at least in part a subject of the Austro-Hungarian Empire).
FRANCE
Chateaux Country (www.chateauxandcountry.com) - Cat, castle; in French chat, chateaux. Get your Louis XIV groove on in the Loire Valley and other castle-ridden spots around la belle France with more than 700 castles. If you're in the market, they also rent and even sell castles.
Chateaux & Hotels de France (www.chateauxhotels.com) - This is Alain Ducasse's outfit (the chef of many Michelin stars), so you know all 500+ properties are going to be the creme de la creme of chic elegance and palatial tradition. Most are in France, with a smattering in Switzerland.
GERMANY
Rhine Castles (www.rhinecastles.com) - Home, home on the Rhine. Live your own Lorelei fantasy on Germany's storied river.
German Castles (www.german-castles.biz) - The Rhine doesn't have a monopoly on German castles. You can set up in a castle in Bavaria, Franconia, along the Romantic Road or the Mosel or Neckar Rivers, and other storybook corners of France.
Gast im Schloss (www.gast-im-schloss.de) - A new site with a dozen or so primo German castles (this one linked directly from the official German tourist board site).
GermanCastles.com (www.germancastles.com) - Homespun site with loads of good links on the right column.
UK/IRELAND
British Landmark Trust (www.landmarktrust.co.uk) - Seriously historic buildings across the UK; primo stuff here.
Celtic Castles (www.celticcastles.com) - Castles in England, Scotland, Wales, and Ireland (plus a few in France).
Castles of Britain (www.castles-of-britain.com) - Click on "Travel & Castle Venues" and you'll get a page that includes, among other things, a link to a handful of ones that offer B&B accommodation as well as self-catering castles. This site is devoted to British castles in a general sense, so not all of them are places you can stay, but many are.
Dream Sleeps (www.dreamsleeps.com) - About two dozen primo lodgings across the British Isles, several of them castles and many of the others are manor houses or other palatial homes that are darn close enough to a castle to make no odds.
Scottish Castles (www.visitscotland.com) - The Web site of Scotland's tourist board lists castels that have been turned into hotsels, self-catering flats, B&Bs, and even a hostel—fancy staying in a real medieval castle for just £15/$28 (www.carbisdale.org)?
ShareThis
This article was last updated in January 2008 . All information was accurate at the time.



NoFrillsAir.com | BeyondHotels.net | EuropeTrains.org | EuropeHostels.org
About Us
Copyright © 2008–2010