Man on the mountain
European mountain huts and mountain refuges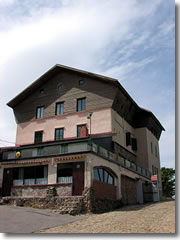 The Rifugio Orestano (www.rifugiorestano.com), a mountain refuge built in the 1920s on the Piano Zucchi (3646 feet above sea level) in Sicily's Parco delle Madonie.
Mountain refuges and Alpine huts are a bit different from full-service campgrounds. Some are a kind of Alpine hostels, scattered along winding roads. Others are glorified cow sheds in places you can't get to without hiking a few miles (if not all day), where you can shack up for the night whilst trekking across the Alps, Pyrenees, Apennines, or other mighty European mountain chain (the best of these is the Schlaf im Stroh network in Switzerland).
Some really are just huts: wooden single-room structures with a woodpile by the door and a cot in the corner. Most, however, are run as sort of high-altitude hostels (only ones used by a handful of hard-core hikers, not crowds of party-hearty backpacking students).
Those by the road usually charge a fee ranging from nominal to about the cost of a two-star hotel (though in popular hiking areas in high summer, the price may go as high as a three-star). The more isolated ones—many of them unstaffed—often ask you to leave a small donation or are completely free of charge.
Resources for finding mountain huts and alpine refuges
IN FRANCE
Gites d'Etape et Refuges (www.gites-refuges.com) - Nearly 4,000 mountain huts, refuges, hiking hostels, and trekking cabins across France.
IN ITALY
Club Alpino Italiano (www.cai.it) - CAI runs about 600 huts in Italy's highest reaches. The site's in Italian only; click on "Rifugi" to get the the huts search page, which is pretty straightforward.
IN SPAIN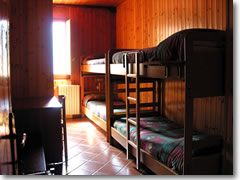 A room in the mountain hut Rifugio Orestano (www.rifugiorestano.com), Parco delle Madonie, Sicily.The Mountaineering Club of Basque Country (www.mendikoweb.com)
IN SWITZERLAND
Swiss Alpine Club (www.sac-cas.ch)
Schwizer Bergh Hütten (www.bergtourismus.ch)
ShareThis
This article was last updated in January 2008 . All information was accurate at the time.



NoFrillsAir.com | BeyondHotels.net | EuropeTrains.org | EuropeHostels.org
About Us
Copyright © 2008–2010