A stall to call your own in Switzerland
Switzerland's Schlaf im Stroh ("Sleep in the Straw") network of barn hostels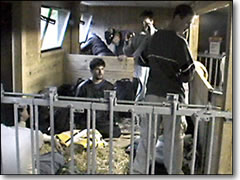 Preparing to bed down for the night in a Schlaf im Stroh barn in Gimmelwald, Switzerland.
Switzerland's Schlaf im Stroh ("Sleep in the Straw") network of 200 barns is pretty straightforward: in summer, after they drive the cows up to the higher pastures, these farmers scour the stalls, lay down fresh hay, and rent them out to wandering tourists and trekkers for the princely sum of $15.
You get some woolen blankets (for padding beneath and covers above you), access to showers, and a simple breakfast the next morning.
Before you go writing this whole idea off as loopy, consider this: I've stayed in just about every type of accommodation there is in Europe, from the top luxury hotels of Paris and London to sleeping in a doorway in Vienna (long story), and I'd have to say that one of the most comfortable night's sleep I've ever had was on a bed of straw in a barn halfway up the Schilthorn in the Swiss hamlet of Gimmelwald.
It's soft. It's comfy. It smells sweetly of fresh-mown hay. It's quiet. And it costs only fifteen bucks, breakfast included. My kind of accommodation!
It's only available during the summer months. You can track down a Schlaf im Stroh at www.abenteuer-stroh.ch.
There's another page on this site devoted to other alpine huts and mountain refuges across Europe.
ShareThis
This article was last updated in January 2008 . All information was accurate at the time.



NoFrillsAir.com | BeyondHotels.net | EuropeTrains.org | EuropeHostels.org
About Us
Copyright © 2008–2010