Most tourists do not need to apply in advance for an entry visa to visit Thailand for 30 days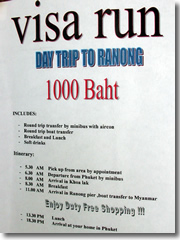 Intend to overstay your welcome? Quickie trips out of Thailand and back can work for up to 90 days.You do not need to apply in advance for an entry visa to visit Thailand as a tourist if you are a citizens of the U.S., Canada, Australia, New Zealand, South Africa, most of Western Europe, and parts of Asia (full list: www.mfa.go.th). Just be sure you passport is valid for at least six months beyond your entry date.
When you land at the airport, the stamp in your passport allows you to stay in Thailand for 30 days. (If you happen to enter via a land crossing, the visa is good for 15 days.) You must also show that you have an onward ticket (i.e. your return flight home—or one on to somewhere else).
If you plan to stay longer, apply in advance for a $30 tourist visa good for 60 days and extendable to 90 once you're in-country (www.mfa.go.th).
If you didn't get a tourist visa in advance but, after your allotted 30 days, find you love the place so much you want to stay longer, you must leave Thailand and return from another country. In fact, every popular Thai tourist destination has a backpacker street (like the famous Khao San Road in Bangkok) lined with travel agencies advertising "Visa Runs," like the picture above—essentially short, packaged vacations to Cambodia or Laos or elsewhere in the region designed expressly to get you out of the country and back again for a new passport stamp. You can't keep doing this indefinitely, though. The maximum number of days you can stay in Thailand during a given six-month period (starting from the date of your first entry) is 90 days.
For information on all of this, and current updates on visitor requirements, visit the Kingdom of Thailand's Ministry of Foreign Affairs (www.mfa.go.th). You actually apply for visas via the Royal Thai Embassy in you home country (for Americans: www.thaiembdc.org),
| | |
| --- | --- |
| The Travel Store | |