Dutch colonial Caribbean
The sights, markets, and colorful colonial Dutch architecture of Willemstad, capital of the island of Curaçao.


The colorful colonial Dutch architecture with a Caribbean paint job that has made Willemstad so famous is now protected as a UNESCO World Heritage site. (Photo by Reid Bramblett)Curaçao has a bit of the middle child syndrome amongst the Leeward Netherlands Antilles.
Aruba is more famous. Bonaire has better diving. If Curaçao is known for anything it's the violently blue Curaçao de Curaçao liqueur—which, locally, also comes in green, yellow, clear, and flavored varieties. Well, that and the local lingo, Papiamentu, a Creole mixing Portuguese, Dutch, and just enough other tongues to be almost incomprehensible—though just about everyone also speaks English, Dutch, and Spanish.

Aside from a snorkeling or dive trip by boat, few visitors make it beyond Willemstad, a real looker of a Caribbean capital with a pair of stony fortresses, a waterfront lined by colorful colonial Dutch architecture, and the Mikve Israel-Emanuel synagogue, dedicated in 1732 and the oldest continuously operating Jewish temple in the Western Hemisphere.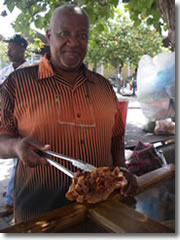 A candy stall near the floating market and new market in Willemstad.The most popular stop in town, though, has got to be the so-called floating market, consisting of a few fishing boats hawking the morning's catch, and a line of produce stalls run by Venezuelans who make the 35-mile trip to this southernmost tip of the Caribbean on three-month stints that earn them enough hard currency to last the year in comfort back home.

Just beyond the floating market—rarely visited by tourists—is the new market, a hideous modern building designed like some kind of ersatz cement tent where you can pick up just about any daily necessity. I was out of toothpaste, so found a vendor offering a great deal on a tube of something that looked terribly familiar but was called "Crust," cost 83¢ toothbrush included, and was most definitely not recommended by the American Dental Association.
It's a shame few cruise ship passengers see little beyond this, for this largest of the Antilles has plenty to offer beyond the pastel buildings, candy colored booze, and medicine cabinet knock-offs.
You can eat iguana, best sampled out on Westpunkt, the island's wild West End; swim with the sharks in the local aquarium, or take a cooking class in Caribbean cuisine.
| | |
| --- | --- |
| The Travel Store | |