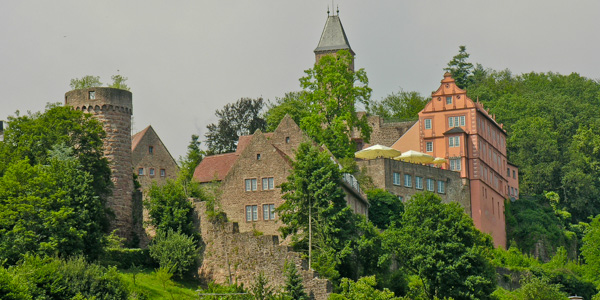 The Burg Hirschhorn castle-hotel.
The Burg Hirschhorn, a secret castle-hotel on the Neckar River in Germany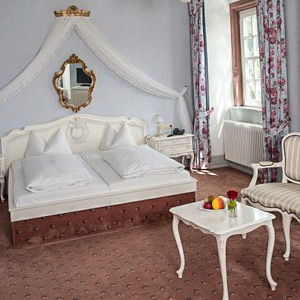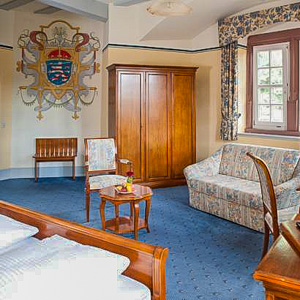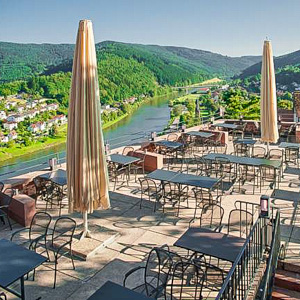 Construction on the Hirschhorn started around 1200 and continued—the castle slowly rambling its way up the steep, forested banks of the Neckar River—for centuries.
The castle
Today, the Oberrauner family lives in the half-timbered building over the main gate and manages this huge castle complex stair-stepping up the hillside.
Crumbling walls extend from the high castle ramparts past grassy lawns right down into the red roofs of the village below, and sparrow hawks coast on the thermals below the castle windows, their keening calls mingling with the distant rush of the Neckar River.
The rooms
The eight rooms in the main castle building have a bit more character—cherry-stained furniture, gauzy curtains pinnacled over the headboards, alabaster sconces, and subtle designs carved into the stone windowsills—and better river views than the (slightly cheaper) 17 modern rooms of modular furnishings installed in the Marstall, the old stable building located farther downhill in the complex.
The dining terrace
Most guests, though, spend their time ensconced with a mug of beer or glass of wine on the gorgeous panoramic dining terrace, which juts from the main castle building like the prow of a ship and offers amazing views up the swift river.
Tips & links
Details
Useful links & resources
| | |
| --- | --- |
| The Travel Store | |