Wieskirche church
An over-the-top rococo church amid the cow fields of Southern Bavaria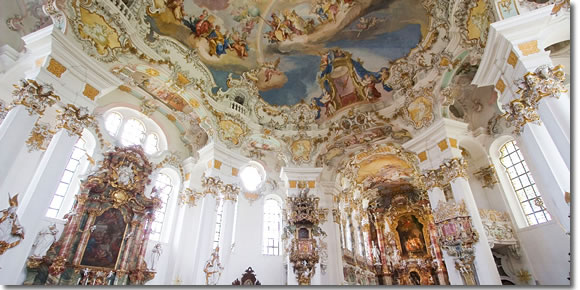 The Wieskirche interior. (Photo by pipimaru)
One of the masterpieces of the exceedingly flamboyant architectural period called rococo is Bavaria's Wieskirche, built in 1746 to 1754 by Dominikus Zimmerman and frescoed by his brother Johann Baptist.
In the middle of an unassuming cow pasture in the Alpine foothills, they erected an enormous pilgrim's church whose stuccoed, frescoed interior is a sight to behold.
It's light and airy, yet at the same time dense with decoration, with mathematically improbable geometric curves and a series of arches squeezed-together to form the high altar.
The church is off a side road between routes 17 and 23, about 50 minutes northeast of Füssen. You can also take a bus from Füssen at 11:15am (1:05pm Sundays), returning on a 3:50pm bus.
Continuing on the Romantic Road
« Northbound to Augsburg || Southbound to Füssen »
Tips
Attend services: Service times vary over the year (see www.wieskirche.de for precise details and the calendar), but in general run Sundays at 8am, 9:30am, 11am; Saturdays at 10am; most Wednesdays at 10am, and after closing on Tuesdays and Fridays.
| | |
| --- | --- |
| The Travel Store | |
Wieskirche
ADDRESS
Pfarramt Wieskirche, Wies 12, Steingaden

Tel.
+49-(0)8862-932-930
www.wieskirche.de
OPEN
Daily 8am–7pm (to 5pm in winter)
Closed during services (see "Tips")
ADMISSION
Free