Burg Colmberg Hotel
The Burg Colmberg, a castle-hotel on the Romantic Road in Bavaria, Germany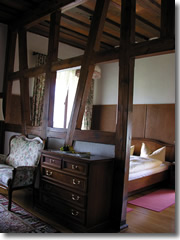 A room in the Burg Colmberg near Rothenburg ob der Tauber in Germany.
Though it does see its share of tourists from the nearby Romantic Road—busloads sometimes come for lunch in the restaurant—the 14th-century Colmberg nonetheless ranks as one of the Franconia region's best full-on medieval castle experiences.
The castle
It's set high on a rock with tall, impregnable walls and a courtyard flanked by a round stone tower. Its ancient masonry is flecked with wildflowers, and ivy crawls the faded peach plaster of the giant half-timbered main building, where most of the guest rooms are located.
Inside, it's the full-bore armor-and-antlers décor: thick dark beams, low arches, imposing stone staircases, iron candelabrum, and taxidermied trophies (stags, brown bears, owls, ermine, boars, hawks, you name it).
Fires crackle in stone fireplaces across from giant carved oak chairs upholstered in red velvet…and all that's just in the lobby. The Colmberg is a maze of a place, with lots of short stairwells, tiny chapels, book-lined sitting nooks, and twisting hallways crammed with antiques.
The rooms
Each guest room is different. One features a canopy bed hung with frilly curtains surrounded by half-timbered walls under a dark plank-and-beam ceiling.
Another is done in Chinese Imperial style, complete with an elaborately carved Asian bed, banded wooden chests, extra-wide chairs, and a painted wood ceiling.
The "Schöne Else" has a sleigh bed and deep-set windows in stone walls graced with medieval stone benches.
The "Furstenzimmer"—a suite partitioned by an open network of wooden beams—is fitted with vaguely Nouveau modern furnishings and oriental carpets.
And the Honeymoon Suite is an over-the-top rococo room of Louis XIV gilded frills, wrought-iron filigree, and gauzy curtains.
In other words, truly a place to shop around for the room that best fits your style.

| | |
| --- | --- |
| The Travel Store | |
ADDRESS
Burgenstraße 1–3, Colmberg (near
Rothenburg ob der Tauber
)
Tel.
+49-(0)9803/91-920
www.burg-colmberg.de
COST
€€