Castle Liebenstein
The Castle Liebenstein, a secret castle-hotel on Germany's Rhine River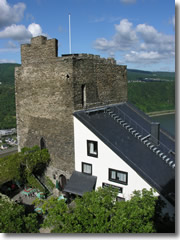 Schloss Liebenstein in Kamp-Bornhofen on RhineStaying at Liebenstein feels a bit like you've been invited to spend the weekend at your Uncle Günther's modest, ramshackle old country castle.
The castle & rooms
The grounds are a glorious mess of romantically crumbling stone walls, ramparts, towers, and gateways, with the only going concern a steep-roofed building leaning against a central stone tower.
The Oriental carpets are faded, the low ceilings and cramped spiral and ladder like staircases a genuine threat to your noggin, and everything—the doorways, steps, creaky floors, and halls—is slightly askew.
The repeating Gothic-arch motifs set into the dark wood furnishings are kitschily painted bright blue and red.
Random suits of armor and crossed swords decorate the stucco walls of the restaurant, which offers sweeping Rhine views and uninspired German cuisine (variations on the schnitzel theme, mostly).
The atmosphere
The breakfast-room windows also take in the river past a foreground of trees, broken walls, and the white tower of Burg Sterrenberg, the "enemy brother" castle next door (which also rents two apartments).
Legends tend to accrue to the Rhineland castles, and the lore in this case holds that, back in the late Middle Ages, Liebenstein was built for the younger of two brothers whose feud over a woman split the Sterrenberg line forever.
"Our daughter found this place on the Internet," said Bruce Fuglei, a Montana native who stayed in family-perfect room no. 4, an attic quad with windows on both ends. "We didn't know what to expect, but this is pretty amazing."
His wife, Bridget, joined him on a ruinous parapet to watch the sunset over the Rhine and keep an eye on their 13-year-old daughter and her cousin who were hunting for ghosts, popping in and out of view and as they discovered hidden passages around the castle and its grounds.
| | |
| --- | --- |
| The Travel Store | |
Schloßhotel Liebenstein
ADDRESS
Zu den Burgen, Kamp-Bornhofen on Rhine (near Boppard)
Tel
.
+49-(0)6773/251 (or +49-(0)6773/308, but only in German)
www.castle-liebenstein.com
COST
€€