Castle Burg Veldenstein
The Burg Veldenstein, a secret castle-hotel in Neuhaus auf der Pegnitz, Germany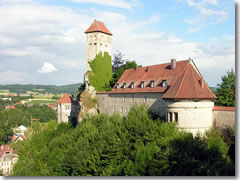 Burg Veldenstein in Neuhaus auf der Pegnitz, Germany.The Betzelt family is as laid-back and genial as you'd expect from folks charged with managing a thousand-year-old castle owned by a brewery in a backwater town.
The castle
The giant Kaiser Braü plant takes up a quarter of the little pastel-housed village in the valley below the high castle walls, and its beers go well with the hearty German grub served at outdoor picnic benches or at communal wooden tables in the Knight's Hall.
During meals, the Betzelts joke with their guests and take turns chasing out the black spaniel and bob-tailed cat that sneak in to beg for table scraps.
Veldenstein is decidedly not a fancy joint. I love it.
The rooms

Most of the rooms beneath the castle's peaked red roof are simple and rather bland, though some on the first floor (second floor American) have half-testers of fabric stretched over the heads of antique beds—or, even better, a wooden canopy bed surrounded by wood furnishings.
The atmosphere
A stay here is all about the simple pleasures of small-town life, climbing the tower for panoramic views, and rambling along the weed-choked ramparts to sit on an old soldier's bench next to an arrow-slit window and watch fishermen work the lazy bends of the Pegnitz River below.
| | |
| --- | --- |
| The Travel Store | |