Of Pub Grub and Toasteds and Cakes Made of Guinness
Navigating the dangerously expensive waters of Ireland's culinary scene with the aid of a good, strong pint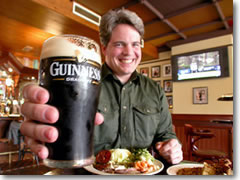 O'Flaherty's, a corner carvery in the Co. Meath town fo Navan, serves up heaping platters of roasted carved meats for $9—and the Guinness with which to wash it down. (Photo by Frances C. Sayers)
Our chief goal on most days in Ireland is not so much which sights are we going to see, or what scenic road should we drive next, but rather how to find the best grub in the most atmospheric pub.
It is a challenge I welcome eagerly, but also a necessary one because I soon discovered that, once my culinary adventures strayed away from pub grub and cafes, the money started draining out of my wallet faster than a pint of Guinness in front of a pub regular on traditional music night.
I live in New York, where folks don't even blink at a $12 hamburger on the menu—most of us are not stupid enough to order it, of course, but it doesn't take us by surprise, either. Well, the menus posted at restaurants across Ireland made this New Yorker not only blink, but rub his eyes and blink a few more times.
The prices were frankly outrageous. No matter if it was a city like Galway or Sligo, a tourist magnet village like Dingle, or some country bumpkin town, even the cheapest restaurant was unabashed to charge €15 to €25 ($18 to $30) for its main courses, even if just a chicken cutlet or personal-sized pizza.
But if you sit back and think about it, who comes to Ireland for a chicken cutlet or pizza anyway? Not I. The Irish are some of the ultimate meat and potatoes people, and the truly good grub round these parts are the traditional dishes.
Irish dishes
Irish stew and fish 'n' chips are stalwarts of many a pub menu, including that at E.J. King's, a music pub since 1832 in the colorful Connemara village of Clifden

Irish stew means hunks of tender lamb (or long-marinated mutton) swimming along with carrots, onion, and quarters of potatoes so scrumptious they need no butter or salt.
Fish 'n' chips is your standard batter fried fish sided with fat french fries.
Coddle is a thick, slow-cooked stew of curling strips of back bacon, fat pork sausages, potatoes, and onion.
Bacon and cabbage is pretty self-explanatory.
Boxty are thick, belly-filling pancakes made from potatoes and often stuffed with meat or cheese (or even more potato); they're a specialty of Donegal but found elsewhere, especially in Dublin.
Salmon from the Shannon and Ireland's other rivers can be melt-in-your-mouth delicious, and the Irish often smoke it to slice and serve in sandwiches.
Colcannon is an old Friday (meatless) dish of smashed potatoes, cabbage, and onion fried up in milk and butter Corned beef is often served with horseradish sauce and a pile of over-boiled cabbage.
Shepherd's pie may not be totally Irish, but "British Isles" is close enough, and there's little more filling than this casserole of ground beef, carrots, and peas topped with creamy mashed potatoes, then baked.
Cheeses are the unsung culinary delights of Ireland, on a par with those of Italy, France, and England; if you ever see them advertised as a dessert option on a menu (rarely), pounce on them. Otherwise, sample a bunch as part of a makeshift picnic.
Guinness cake is sometimes politely called porter cake since you could make it with any stout, and is basically a dense fruitcake moistened by throwing a liberal amount of beer into the mix.
That's the rib-sticking diet one comes to Ireland to enjoy—along with heaps of chunky brown bread and slabs of the amazingly desiccating soda bread—the sort of food best washed down with a pint (see below).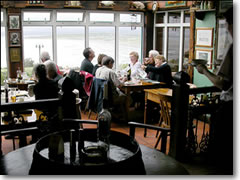 Pub grub with a view in the clifftop Smuggler's Creek Inn overlooking idyllic Rossnowlagh Beach on the southern coast of Co. Donegal
Luckily, those dishes are what's on tap at the kitchens of a thousand pubs across the Emerald Isle, and usually for around €5 to €8 ($6 to $9.50) per heaping serving—though that pint will add another €3 to €3.60 ($3.50 to $4.25).
Fair warning, though. Not all pubs serve food, and those that do often limit food service to noon to 2:30pm, so you're likelier to find a pub grub lunch than a dinner.
But there will usually be at least one pub in town that dishes out dinners or operates a carvery—sort of like a mini cafeteria, only with succulent roasts to be hand-carved and piled with sides for your enjoyment back in the bar (that's a carvery meal I'm enjoying in the photo at the start of this article).
Even if they don't do a fuller menu, most pubs will at least have a few sandwiches on offer, especially the ubiquitous toasteds, a €2.30 ($2.70) ham and cheese sandwich on white bread which is invariably toasted whilst still wrapped in a plastic sleeve. Why they do this, I've no idea, but to be fair only once did I ever have to pick charred bits of plastic out of the grill marks on the bottom of my toasted.
Beyond the Pub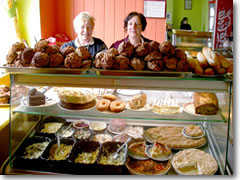 Tired of pub grub? Little bakeries and shops like the friendly Chedean Café, in the Ring of Kerry beach resort of Waterville can serve up a pot of tea ($1.50) along with sandwiches and quiches ($3.75), plus the craggiest scones this side of an afternoon tea.
Frankly, I'd have been happy to dine fine on pub grub my entire trip—keeps you closer to the beer taps, see—but for the occasional lunch where a food-serving pub didn't seem to be at hand, I was happy to dine in a café, little sandwich shop, or a handy bakery.
After all, sometimes it was nice to go for a bright, airy, and well-lit place as a break from the dark, woodsy, cozy pubs with a fire crackling in one corner and a session (musicians jamming Celtic-style) in one corner.
Sandwiches—carved turkey, ham and cheese, egg salad, the ever-present toasted cheese in plastic—usually go for about €1.30 to €4 ($1.50 to $4.70); giant slabs of quiche and more elaborate dishes €5 to €9 ($6 to $10.60).
A cream tea is what we Yanks often think of as "High Tea" or "Afternoon Tea": a pot of the brew served with tiny cakes and scones (with the butter, jam, and clotted cream to spread upon them), and sometimes itty-bitty finger sandwiches. Such a repast usually retails for anywhere from €3.50 to €7.50 ($4 to $8.85) and makes an excellent and refreshing light meal—er, light on the stomach, definitely not in calories.

Whatever you do and whatever you order at one of these shops, save room for dessert. The Irish are inimitable bakers, and their cakes and pies can be exquisite. I'm partial to the death-by-chocolate (and this is one case in which they very nearly mean it) and the apple pie, which usually actually tastes of apples and not just sugar.
Washing It All Down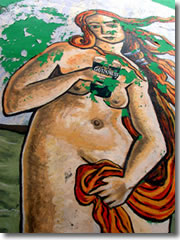 A perfectly pulled pint of Guinness truly is a of work of art.
What do you call four pints of Guinness in Ireland? A square meal.
It's not just a stout, not just a porter. It's Guinness, baby, the black gold of the Irish beverage industry, with a creamy thick head that remains floating on top of the brew all the way to the bottom. (A properly pulled pint takes a while; the publican first fills the glass about 3/4 full, then sets it aside to settle for two minutes or so before topping it off and handing it over.)
Guinness is as much an icon of the isle as the shamrock or a leprechaun, and the subject of illustrator John Gilroy's legendary advertising campaign featuring toucans balancing pints on their beaks claiming "Guinness is good for you!"; seals and pelicans making off with filched bottles to the agonized victims' cries of "My goodness, my Guinness!"; and the farmer pulling along his own cart in which the draft horse is sitting back to relax because, after all, "Guinness gives you strength."
The black stuff has been brewed in Dublin since 1759, when Arthur Guinness first started producing the planet's most popular porter in a plant at St. James's Gate—and what they say is true; the pint does get better the closer you get to its Dublin home (and the stuff brewed for Ireland is a foamy head and shoulders above what you get stateside).
You know that that means: it's time to head to the very source. You cannot tour the brewery itself, but the old storehouse on site has been converted into an impressive museum called Guinness Storehouse, wher eyou can learn to pull a pint and can enjoy the world's greatest pint of stout for free in the skyscraping (for Dublin) Gravity Bar, with a 360 panorama of the city.
Beyond Guinness
But enough about Guinness. The counter at the corner pub doesn't begin and end with the Guinness tap. For one thing, there's its smaller but bitter (ha!) rival from Cork called Murphy's—sort of the Pepsi to Guinness's Coke—which brews up a smoother and slightly less bitter stout. If you find these black beers so hearty you can practically chew them and too thick for accompanying a meal, there are some lighter (but not "lite"er) options.
On the bitter/ale front, try the russet brew from Kilkenny spelled Smithwicks but pronounced "Smitticks" (the Irish ignore w's in the middle of words) and the amber bitter of Belfast, Caffery's.
If it's a crisper, cleaner lager you're after—and you choose to avoid the ubiquitous Heineken, Carlsberg, and Buds at taps across the land out of principal of the thing—go for the Guinness-brewed beauty called Harp.
I will leave you today with one of many traditional Irish toasts (no, not "As you slide down the banister of life, may the splinters never point the wrong way," though that's a good one), rather one geared toward traveling and which, as with most pragmatic Irish toasts, doubles as a prayer—just in case you find yourself in the pub on a Sunday:
May the road rise up to meet you
May the wind be always at your back
May the sun shine warm upon your face And the rains fall soft upon your fields
And until we meet again, may God hold you in the palm of His hand.

(Originally published May 30, 2003 on MSNBC.com. Reprinted with permission. This article won a Lowell Thomas award for travel journalism.)

| | |
| --- | --- |
| The Travel Store | |
details