Modernisme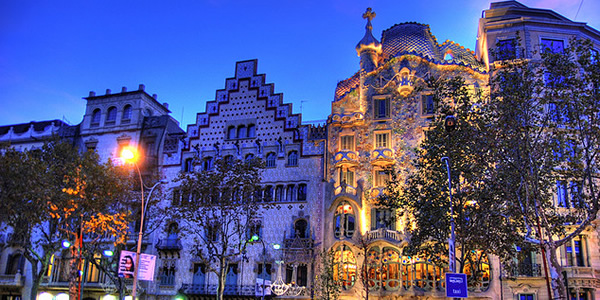 Art Nouveau buildings along the Illa de la Discordia of Barcelona's Passeig de Gracia, including Gaudí's famous Casa Batlló (lit up on the right), and Josep Puig i Cadafalch's Casa Amatller (just to its left). (Photo by Marc yo Dada)
Gaudí or Gaudy? The distinctive Art Nouveau style of Barcelona
Around the turn of the 20th century, Art Nouveau arrived in Barcelona in the form of Modernisme, a particularly fluid and idiosyncratic Catalán version of a larger architectural revolution.
What is Art Nouveau?
Art Nouveau, which flourished in Europe from the 1890s to the 1910s, rebelled against the foramilty of of academic art and the increasingly mechanical, identikit world of architecture ushered in by the Industrial Revolution.
It emphasized a return to the curvilinear forms of nature—plants and flowers abounded, both literally as decorative elements and figuratively in the inspriation for the overall lines.
It also experimented in mathemeatically balanced assymetry, applied sinuous sculptural forms to architecture, celebrated the decorative arts, and indulged in hand-crafted idiosyncronicity.
Gaudí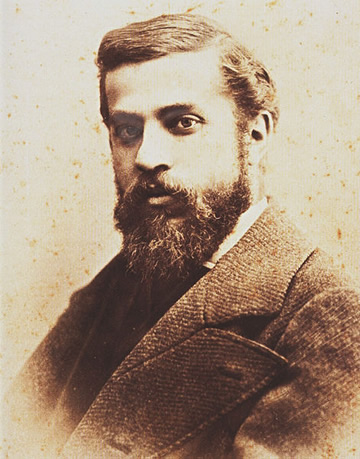 Antoni Gaudí in 1878. The high priest of Modernisme, Antoni Gaudí (1852–1926), apprenticed as a blacksmith before taking up architecture.
Creative wrought-iron patterns became just one of the many signature details Gaudí incorporated into his flowing, organic structures.
He was especially fond of creating colorful mosaics out of chips of ceramic and mirror set into the poured cement (a structrual substance that allowed him the freedom to form more organic lines).
Where to see Gaudi's best Modernisme in Barcelona

If you see only a handful of Modernisme buildings, make them Gaudí's most famous trio, the unfinished sand-castle basilica of Sagrada Familia, the dragon-backed Casa Batlló, and the undulating apartment block of La Pedrera (and, if you have the time, a trip to his delightful Park Güell on the outskirts of downtown):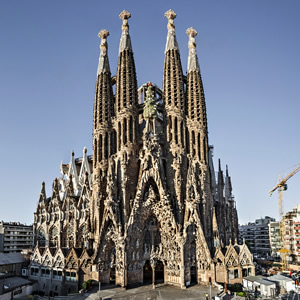 Sagrada Familia ★★★ - The weirdest-looking cathedral in Europe rises like a giant, drippy sand castle from the precise grid of street in the Eixample neighborhood, an ongoing project representing Antoni Gaudí's creativity at its whimsical, feverish best. The architectural details are almost Gothic in their intricacy, but with a modern, fluid twist. The rosy brown and gray stone is flecked with the colors of Gaudí's signature tile-chip mosaics and crawls with funky gargoyles—which you can peep up close by climbing conch-shell spiral staircases (or taking elevators) up the towers... » more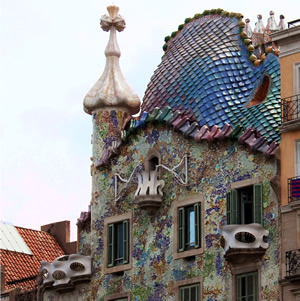 Casa Batlló ★★★ - Gaudí's colorful Casa Batlló is the crowning jewel of the Modernisme movement, with curvaceous theater-mask balconies, soft-serve minaret chimneys, and an oil-slick rainbow of a roof shaped like a dragon's back. The amazing thing is that Gaudí designed every single architectrual element and decorative detail, down to the door handles and trash cans. Most just snap pics from the sidewalk, but it's worth taking the (admittedly pricey) hour-long self-guided audio tour inside.... » more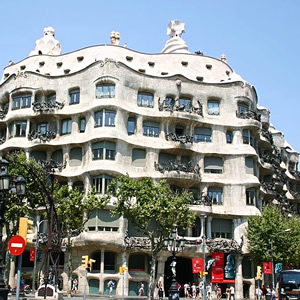 La Pedrera (Casa Milá) ★★ - Casa Milà—often called La Pedrera ("the quarry") for its undulating rocky shape, all poured cement set with chips of bone-white cermaic tile—is a magnificent apartment block designed by Antoni Gaudí and declared a UNESCO World heritage Site in 1984. Here, especially, Gaudí seemed to avoid straight lines at all costs—the whole place looks like it's melting. There's an exhibition space on Gaudí and Modernisme inside, and you can tour an apartment and the architectural fun park and swirly chimneys of the roof.... » more
Park Güell ★ - In the northern reaches of the Grácia district, north of the Eixample, rises one of architect Antoni Gaudí's most colorful creations and a UNESCO World Heritage Site. This idiosyncratic, 37-acre park was is filled with Gaudí's colonnades of crooked columns, narrow gardens, small fountains, curvaceous benches, and whimsical animals... » more
A D.I.Y. Modernisme tour in the Eixample
Two other Modernisme architects of note were Lluís Domènech i Montaner and Puig i Cadafalch.
To compare them to each other—and to master Gaudí—take the Metro to Passeig de Gracia or Diagonal and stroll down the Illa de la Discòrdia ("The City Block of Discord"—Manzana de la Discordia in Spanish) on Passeig de Gràcia between Carrer del Consell de Cent and Carrer d'Arago.
Here, their interpretations of Modernisme compete in the form of apartment buildings. At no. 35 is Montaner's Casa Lleo Morera, at no. 41 is Cadafalch's Casa Amatller with its stair-stepped gable, and right next door to it at no. 43 is Gaudí's famous Casa Batlló.
Modernisme elsewhere in Barcelona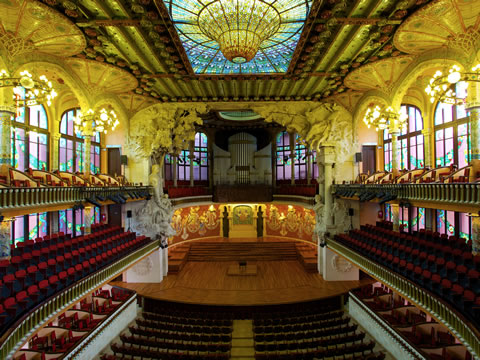 The interior of the Palau de la Música Catalana. (Photo by Jiuguang Wang)There are many more Art Nouveau buildings scattered around Barcelona.
It's worth seeking out the gorgeous, Montaner-designed concert hall Palau de la Música Catalana, now a UNESCO World Heritage Site.
If you have the scratch, it's hard to beat staying in a hotel actually designed by Montaner—the Hotel Casa Fuster G.L Monumento. » more
Another of Montaner's more sedate classics, the former Montaner i Simón publishing house built in 1880–85 at Aragó 255, is now strikingly topped with a swirling nest of what looks like oversized barbed wire and serves the the home of the Fundació Antoni Tàpies contemporary art museum.
One of Cadafalch's other major works is the restaurant Els Quatre Gats (art-lovers bonus: it has Picasso connections as well).
Tips & Links
Tours of Barcelona Modernisme
Here are tours from our partners that focus on the Art Nouveau architecture of Barcelona visit Modernisme sights around town:
Useful links & resources
SIGHTS

Barcelona tourist info: Barcelonaturisme.com (info office), Guiadelocio.com (events mag); Catalunya.com (regional info), Spain.info

Sightseeing passes: Barcelona Card (20+ sights; transport; discounts), Museum Pass (6 sights)

Tours & activities: Viator.com, ContextTravel.com, UrbanAdventures.com, City-Discovery.com, Intrepidtravel.com, Gadventures.com

LODGING

Hotels: Booking.com, Venere.com, Priceline.com
, Hotels.com

B&Bs: Booking.com, Bedandbreakfast.com, Airbnb.com, Venere.com

Apartments: Rentalo.com, Vrbo.com, Booking.com, Airbnb.com, Interhomeusa.com, Homeaway.com


Hostels & campgrounds: Hostelbookers.com, Hostelworld.com, Hostelz.com, Booking.com

TRANSPORT

Airfares:
Airports:
Aena.es
Trains:
Raileurope.com
(throughout Europe),
Renfe.com
(within Spain),
Bahn.de
(throughout Europe),
Seat61.com
Public transport:
Barcelona Card
(free transport; sightseeing);
Search all public transit:
mou-te.gencat.cat
;
Metro/Bus:
Tmb.cat
;
Tram:
Trambcn.com
;
Light rail:
Fgc.cat
;
Taxi:
Taxibarcelona.cat
Car rentals:
Autoeurope.com
,
RentalCars.com
,
Momondo.com
,
Orbitz.com
,
Expedia.com,
Travelocity.com
,
Kayak.com
Related Articles
| | |
| --- | --- |
| The Travel Store | |
Tours
Here are tours from our partners that focus on the Art Nouveau architecture of Barcelona visit Modernisme sights around town: