Road Trip: The Maine Lobster Trail: Practical info
Useful information to help you plan a trip to Maine's Mid-Coast
How to get to Mid-Coast Maine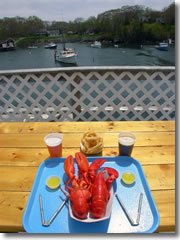 Lobster on the deck at Shaw's Lobster Pound near Pemaquid Point, Maine (see Day 3).
If you don't live close enough to drive (Portland's a straight shot up I-95 for folks in the northeast), fly into Portland and rent a car.

The Portland International Jetport (www.portlandjetport.org) is served by most major airlines (Continental, Delta/NorthWest, United, and US Airways; www.momondo.com), as well as low-cost carriers jetBlue (from New York–JFK and Orlando; www.jetblue.com) and airTran (from Baltimore and Orlando; www.airtran.com).
When to go to Maine

Technically you can go at any time of year, but consider this: Maine is farther north than much of lower Canada. That makes for some harsh, snow-bound winters—and, frankly, many hotels and restaurants and even sights close for part or all of the winter (generally mid-October through May).


Mid-Coast Maine Road Trip
Intro
Day 1: Yarmouth, Freeport, and Westport Island
Day 2: Bath, Brunswick, Bailey Island, Damariscotta, & Waldoboro
Day 3: Pemaquid Point, Thomaston, Rockland, & Vinalhaven Island
Day 4: Rockland, Rockport, & Camden
Practical info
There are two peak travel times: high summer (mid-June, after schools get out, through August) and leaf-peeping season of fall (www.state.me.us/doc/foliage/).

Maine, being so far north, kicks off New England's frantic month of tourists driving around to see the brilliant fall colors of the changing leaves. In Maine this means from the last week of September (peak colors in Northern Maine), through the first week of October (Central and Western Maine), to the second and third weeks of October, the key season in the region covered on this Road Trip (Coastal and Southern Maine). Hotel rooms are actually harder to come by during the leaf-peeping period than in summer.

The details again
The Maine Coast Bookshelf

GUIDEBOOKS:


Day 1
Tourist info
Attractions
DeLorme/Eartha, Two DeLorme Drive, Yarmouth, 207-846-7100, www.delorme.com, free.
Desert of Maine, 95 Desert Rd., Freeport, 207-865-6962, www.desertofmaine.com, open daily early May–mid-Oct, $8.75 (kids $5.75).
Wolfe's Neck Woods State Park, 426 Wolfe's Neck Rd., Freeport, 207-865-4465 (off-season: 207-624-6080), www.state.me.us/doc/parks, $1.50.
Shopping
LL Bean, Maine St., Freeport, 800-559-0747, www.llbean.com, open 24/7/365.
Food
Lobster Cooker, 39 Maine St., Freeport, 207-865-4349, www.lobstercooker.net, lobster rolls about $14 (market prices; varies), other sandwiches $6.25–$10.50.
Squire Tarbox Inn, 1181 Main Rd., Westport Island, 800-818-0626, www.squiretarboxinn.com, open mid-Apr–Jan 1 (Apr-May and Nov-Dec, inn guests can dine every night but passersby only Thurs-Sat) 3-course meal $40–$45.50.
Lodging
Squire Tarbox Inn, 1181 Main Rd., Westport Island, 800-818-0626, www.squiretarboxinn.com, Closed Jan 1–Mar 31, doubles $115–$199.
Day 2
Tourist info
Attractions
Food
Cook's Lobster House, Bailey Island, 207-833-2818, www.cookslobster.com, open daily, baked lobster about $25.
King Eider Pub, 2 Elm St., Damariscotta, 207-563-6008, www.kingeiderspub.com, crab cakes or mussels about $9.
Lodging
Day 3
Tourist info
Attractions
Transportation
Shopping
Food
Shaw's Fish & Lobster Wharf, 129 Route 32, New Harbor, 207-677-2200, open late May–mid-Oct, around $10.25 for a lobster.
Harbor Gawker, Main St., Vinalhaven, 207-863-9365, $10.75 for a crab roll and clam chowder.
Lodging
Day 4
Tourist info
Attractions
Shopping
Food
Surfside, West Main St., Vinalhaven, 207-863-2767, breakfast from $5.
Camden Deli, 37 Main St., 207-236-8343, www.camdendeli.com, sandwiches $6.25–$7.95.
THE ROUTE
Day 1 - Portland to Westport island (55 miles)
To save time, zip up I-295 to Yarmouth, then switch to US. Route 1, which follows the coast to become the main street of most major towns.
In Freeport, head east on Bow St., right on Flying Point Rd., then right again onto Wolf's Neck Rd. Turn left onto Burnett Rd., then right back onto Flying Point Rd. Fork left onto Casco Rd., right onto Pleasant Hill Rd., and left again onto Maine St. in Brunswick.
Turn right onto Route 24/Old Bath Road, lined with classic 1950s-style burger joints, for the drive to Bath, where it joins up with Route 1.
Continue north towards Wiscasset, but just after crossing Montsweag Brook, turn right into Route 144, which will dogleg left up Birch Point Rd., then right again onto Westport Island. Follow it until you see the Squire Tarbox Inn on your right.
Day 2 - Westport Island to Waldoboro (90 miles)
Return up Route 144 to Route 1 and turn left to backtrack through Bath and Brunswick.

Done with those, turn around yet again up Route 1—Maine requires much going back over your tracks—but this time, as soon as you cross the Kennebec River from Bath to Woolwich, turn right on Route 127 down to Reid State Park.

Double back up to Woolwich, and continue north up Route 1 to Damariscotta and Waldoboro.


Day 3 - Waldoboro to Vinalhaven Island (65 miles)
Start the day going backwards again, south on Route 1 to Damariscotta, and turn left onto Route 130 to Pemaquid Point.

Driving back north up Route 130, in New Harbor veer right onto Route 32 to drive back north along the peninsula's eastern shore back to Waldoboro, were you pick up (you guessed it) Route 1 again, headed north.

It passes through Thomaston to Rockland. Park in the free lot; catch the ferry to Vinalhaven.


Day 4 - Vinalhaven to Portland (105 miles)
Detours to the Olson House and Marshall Point Lighthouse aside, from Rockland, Route 1 shoots straight up into Camden—though I'd get off in Rockport at Pascal St. to take the lovely back roads (Pascal to Central to Russell to Chestnut) into town, along Rockport's cute little harbor then past the postcard green field where lounge the belted Galloway cattle of Aldermere Farm, a downright picturesque herd of shaggy black cows wearing white girdles.

From Camden, Route 1 is the straightest line back to Portland, or you can save time by going inland via Route 90 to Route 17 over to Augusta, then catching I-95 to I-295 south.
| | |
| --- | --- |
| The Travel Store | |