The Black Hills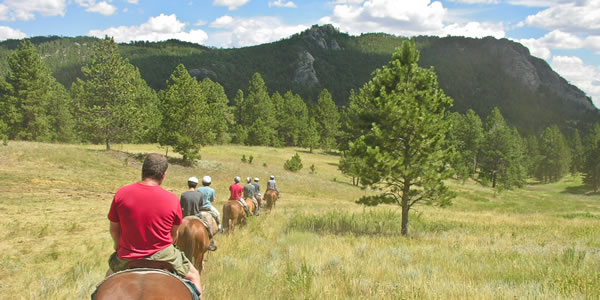 Forget HBO's Deadwood; This was the REAL Wild West
The gorgeous, deeply forested Black Hills of southwest South Dakota are a vacation dreamland, offerig everything from Wild West culture in the famous old gambling den of Deadwood, to the amazing preponderance of wild animals in Custer State Park, to the sculpting-gone-wild ethos of carving sculptures out of entire mountains at Mt. Rushmore and the Crazy Horse Monument. Speaking of which...
These Black Hills were sacred to the local Native Americans—first the Cheyenne, then the Lakota Sioux who conquered them—and the United States gave the entire area to them in perpeturity under the Fort Laramie Treaty of 1868... until 1874, when local (white) prospectors sneaking around discovered there was gold in them thar' hills and the U.S. Government sent a hothead General named Geroge Armstrong Custer to goad the natives into breaking the treaty so the U.S. could simply steal the land and kick the Sioux over to new reservations in the desolate Badlands.
Favorite Black Hills drives
Wildlife Loop Road, in Custer State Park, is aptly named. Just 18 miles long, yet on a single drive along it once, I saw: buffalo (the herd actually blocked the road for a while, miling around my car), pronghorn "anelopes," whitetail deer, mule deer, mountain goats, a coyote, a Rocky Mountain bighorn sheep, wild mules, and dozens upon dozens of prairie dogs. Oh, and lots of birds. Also snakes. All in one day.
Spearfish Canyon, a.k.a. Scenic Rte. 14, from the town of Spearfish on I-90 south to Rte. 85 (which will bring you back north to Deadwood).
The Pinnacles Road, a twisting two-lane through rock tunnels amid a stone forest of natural rock columns in Custer State Park.
Iron Moutain Road, another two-lane winding though the woods of Custer State Park, over high passes and through more rock tunnels—though this time with lots of peek-a-boo views of Mt. Rushmore along the way.
If horseback is more your speed, take a ride in the saddle, cowboy-style through the quaking aspen groves near Crazy Horse.
Local tourism inforamtion
The Black Hills, Badlands, & Lakes Association (605-341-1462, www.blackhillsbadlands.com) and Black Hills National Forest (www.fs.usda.gov/blackhills).
| | |
| --- | --- |
| The Travel Store | |