Katherine Gorge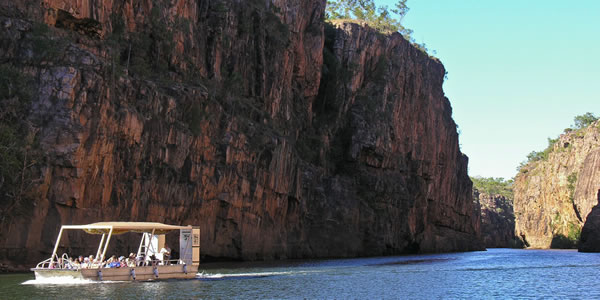 A boat tour of Katherine Gorge in Nitmiluk National Park, Australia
A travel guide to Katherine Gorge in Nitmiluk National Park, Australia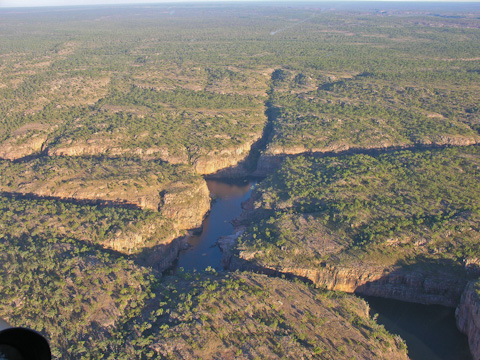 An aerial view of Katherine Gorge.In the local Jawoyn Aboriginal language, the name of the mighty, 20 million-year-old river that flows through Nitmiluk translates as "Blue Ink of the Barra."
Explorer John McDouall Stuart re-named the river "Katherine" after the daughter of one of the financiers of his expedition.
Katherine River is a surpassingly pretty waterway, made intriguing by the way it cuts through the ancient bed of sandstone in a crooked series of 13 gorges that—a bit unusually, for nature—keeps turning at 90-degree angles along its 13km length.
There are several ways to tour Katherine Gorge and see the towering rock walls, falshing of fish in teh water, some of the 200+ bird species that call the park home, and occasionally a freshie (freswater crocodile) sunning itself on a log. All excursions are now operated by Nitmiluk Tours (www.nitmiluktours.com.au):
By boat: The classic way to see it is via a two-hour boat tour through Katherine Gorge (A$75), with departures at 9am, 11am, 1pm, and 3pm. For just A$20 more you can take a 4-hour cruise that gives you enough time to sail through a third section of the gorge. There are also dawn/breakfast and susnet/dinner cruises available.
By canoe: You can also canoe Katherine Gorge—it's mostly flatwater, though there are a few small rapids to run near the end. You can rent (hire) one-man canoes (A$51) or two-man canoes (A$36.50 per person) for four-hour stints at 8am and again at 12:30pm. You can also take a boat for 8 hours, or keep one overnight (28 hours).
By helicopter: To see the truly weird way the gorge zig-zags at right angles across the landscape, take a helicopter flight over Katherine Gorge—not cheap (A$101 for an 8-minute quickie run ove rteh first gorge), but rather interesting. Longer flights over more gorges get progressivle more expensive (12 minutes for 8 gorges costs A$161; 18 minutes for 13 gorges runs A$232).
Katherine: A silly digression
The gateway to the Katherine Gorge part of Nitmiluk is the tiny town of Katherine, 30km down a side road on the Stuart Highway. In the middle of town is a traffic light on a median. When it is safe to cross the Stuart Highway, the traffic light makes a plinking noise.
Next to the light is a tree. A bird sits in that tree all day long and holds a conversation with the light. Every time the light goes "plink" the bird responds "poot!"
It is a romance for the ages.
Tours of Katherine Gorge
| | |
| --- | --- |
| The Travel Store | |