San Luigi dei Francesi
The church of San Luigi dei Francesi in Rome is a festival of Caravaggios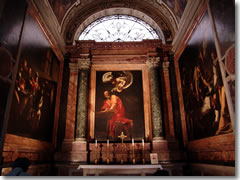 Caravaggio's St. Matthew cycle in San Luigi dei Francesi church, RomeFrance's national church in Rome is—like its neighbor Sant'Agostino—an unmissable stop for Caravaggio fans, for the last chapel on the left (coin-gobbling lights) houses his famous St. Matthew cycle of paintings.
These huge canvases depict, on the left, The Calling of St. Matthew, the best of the three and amply illustrating Caravaggio's mastery of light and shadow to create mood and drama; on the right The Martyrdom of St. Matthew; and in the center, over the altar, St. Matthew and the Angel.
Interestingly, that scene with the angel inspiring St. Matthew to write his Gospel is not the one Caravaggio had originally painted for the chapel. The church objected to that first version, which showed the saint as a rough, illiterate peasant, the angel directly guiding his hand as he wrote.
A wise collector not affiliated with the church bought that version (which has, sadly, since been destroyed), but its legacy appears here—Matthew's stool tips over the edge of the painting, as though about to tumble onto the altar.
The other bits of San Luigi dei Francesi
The church was founded in 1518 by Cardinal Giulio de' Medici (who would go on to become Pope Clement VII), with construction completed by 1589 by noted Renaissance architects Giacomo della Porta and Domenico Fontana—though Fontana's facade survives, the interior has been pretty heavily baroqued.
Before you leave, make sure you check out the Domenichino frescoes in the second chapel on the right aisle.

Tips
Planning your day: You can see the paintings in a quick 10–20 minutes. Note that this church is, rather unusually, closed on Thursday afternoons.
Book a tour: If you prefer a private guided tour that includes a visit to the church, book one via our partners:


Mass: You can attend services at San Luigi dei Francesi Monday to Friday at 7:30pm, Saturday at 12:30pm; Sunday at 10:30am.
Related pages
This article was written by Reid Bramblett and was last updated in April 2013. All information was accurate at the time.

about | contact | faq

» THE REIDSITALY.COM DIFFERENCE «

Copyright © 2008–2013 by Reid Bramblett. Author: Reid Bramblett