Santa Sabina
This ancient church on the Aventine Hill has some of the oldest Christian art in the world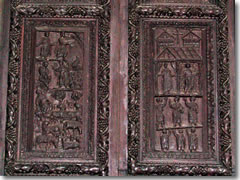 A detail of the 5th century carved wooden doors.
This is one of Rome's best surviving
paleo-Christian churches.
Santa Sabina was built in AD 422–32 and still retains its ★ original 5th century wooden doors, beautifully carved with Biblical scenes including one of the earliest Crucifixions in western art.
The door is located at the end of the 15th-century porch filled with sarcophagus lids (mounted on swivel frames so you can spin each one to examine both sides; cool).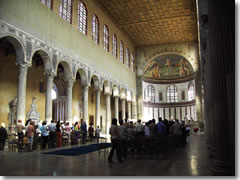 At first glance, the gorgeous and shadowy interior seems almost perfectly preserved, with giant Corinthian columns pirated from a nearby ancient structure and the original opus sectile marble inlay above the arches. Most of the chapels, however, have been baroqued, though this impacts little on the overall effect.
If it's open, pop into the pretty 13th-century cloisters off the porch.
Just down the road is the massive Knights of Malta gate.

Tips
Planning your day: You can wander the church in a quick 20–30 minutes—though budget an extra 20 minutes for the trek up onto the Aventine, which is kind of removed from the rest of central Rome (but in a lovely way; you feel like you're in a leafy suburb, not a downtown neighborhood).
Mass: You can attend services at Santa Sabina Monday to Saturdays at 7:15am; Sundays at 8am, 10:30am, and 11:30am.
Related pages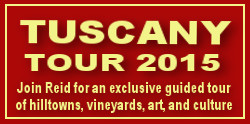 This article was written by Reid Bramblett and was last updated in April 2013. All information was accurate at the time.

about | contact | faq

» THE REIDSITALY.COM DIFFERENCE «

Copyright © 2008–2013 by Reid Bramblett. Author: Reid Bramblett