St. Peter's Basilica
★★★
St. Peter's Basilica (Basilica di San Pietro) in Rome: Motherchurch of Christendom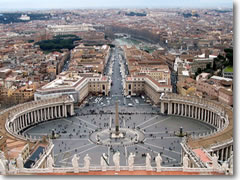 The Piazza San Pietro at St. Peter's Basilica in Rome, Italy.
St. Peter's is one of the holiest basilicas in the Catholic faith, the pulpit for a parish priest we call the pope, one of the grandest creations of Rome's Renaissance and baroque eras, and the largest church in Europe.
(It was biggest church in the world until an ugly barn of a place was recently completed in Africa.)
The Piazza San Pietro
Fun fact
St. Peter's is not the cathedral of Rome. The pope's true title is Bishop of Rome, and as such his official home church—and Rome's cathedral—is actually San Giovanni in Laterano.You approach the church through the embracing arms of Bernini's oval colonnade, which encompasses Piazza San Pietro (stand at one of this oval piazza's foci to see the four-deep columns of the nearest colonnade suddenly line up to appear only one deep).
Inside St. Peter's

Bernini's Baldacchino inside St. Peter's Basilica. (Photo by Ricardo André Frantz) The church itself takes at least an hour to see—not because they are too many specific sights; it just takes that long to walk down to one end of it and back.
St. Peter's sheer dimensions are staggering—614 feet long, 145 feet high in the aisle soaring to 435 feet inside Michelangelo's dome (which is itself 139 feet across)—but everything is done to scale. That means those six-foot cherubs frolicking around the bathtub-sized holy water stoups do appear to be baby-sized until you look more closely.
The most magnificent basilica on Earth is a late Renaissance/early baroque masterpiece of architecture and decoration. St. Peter's was worked on by every great architect of Italy's 16th and 17th centuries: Bramante, Raphael, Peruzzi, Antonio Sangallo the Younger, Michelangelo, Maderno, and Bernini.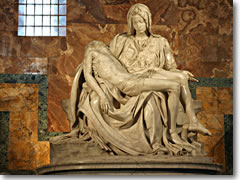 Michelangelo's first Pietà in St. Peter's Basilica, Rome.
Admire Michelangelo's youthful masterpiece Pietà in the first chapel on the right, sculpted at the age of 25. The beauty and unearthly grace of sweet-faced Mary and her dead son, Jesus, led some critics of the day to claim the 25-year-old Florentine sculptor could never have carved such a work himself.
An indignant Michelangelo returned to the statue and did something he never did before or after: He signed it, chiseling his name unmistakably right across the Virgin's sash.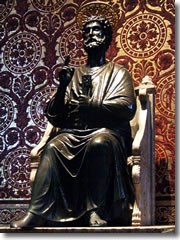 Arnolfo di Cambio's St. Peter.The Pietà has been behind bulletproof since 1972 when a crazed geologist attacked it with a hammer, hacking off Mary's nose and fingers (since repaired) while screaming, "I am Jesus Christ!"
Follow the faithful to kiss (or at least rub) the heavily worn bronze nub of a foot on Arnolfo di Cambio's 13th century St. Peter halfway up the left aisle.
Stand under the 96-foot-high baroque confectioner's-piece baldacchino (altar canopy) with its twisting columns cast by Bernini using bronze revetments removed from the Pantheon.
The Treasury of St. Peter's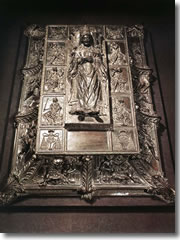 The tomb of Sixtus IV by Pollaiuolo.The small Treasury museum (entrance just before the left transept) contains the usual embroidered vestments, gilded chalices, and other bejeweled accoutrements of the faith.
Top billing in its collections goes to a marble ciborium carved by Donatello, and the enormous bronze slab tomb of Pope Sixtus IV, cast by early Renaissance master Antonio del Pollaiuolo in 1493.
it's a true Humanist-era work, marrying sacred and secular aspirations. Around its edges are relief panels personifying the seven virtues—Faith, Prudence, etc.—and others depicting scholarly disciplines—Astrology, Grammar, Rhetoric, Dialectic, Music, Geometry, Arithmetic, Philosophy, Theology, and Perspective.
The papal tombs: The Crypt and the Vatican Necropolis below St. Peter's

Note that there are two burial areas underneath San Pietro, and many people get them confused.
Crypt - The Vatican Grottoes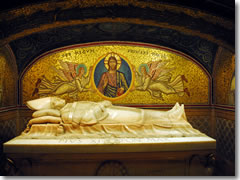 The retro-Byzantine tomb of Pope Pius XI (who only died in 1939) in the Vatican Crypt.Anyone who shows up at the pier to the right of and behind the main altar can walk down a short staircase into the first burial level, usually called the crypt or "Vatican Grottoes." (Note: sometimes they use the entrance by the rear left pier.)
Here some 90 popes—plus Queen Christina of Sweden—rest in peace under a low ceiling, including John Paul II.
Visiting the crypt is free, but it's also a one-way experience—you end up exiting into a narrow space between the basilica and Vatican walls where your only choices are to get in line to get up the dome (see below) or head back out into the piazza, so save the crypt for when you're done with the interior of St Peter's.
Not that the Tombs of the Popes close one hour before the St. Peter's itself.
Scavi - The Vatican Necropolis
The Crypt-Keepers
In order to get into the sub-crypt Vatican Necropolis—only 250 visitors allowed per day, in groups of 12, over age 15 only—you have to book ahead at the Vatican Excavations Office (Ufficio Scavi— Fabbrica di San Pietro). A visit costs €12.

You can either email them (scavi@fsp.va), fax them (tel. +39-06-6987-3017) or apply directly at the Ufficio Scavi, located through the Holy Office Gate off the colonnade to the left on Via Paolo VI (cool bit: you get to ask the pompously costumed Swiss Guards for directions).

You need to provide:
• The number of visitors
• Your names
• Name/nature of group (if any)
• Language for the tour
• Dates available (they determine when exactly you will tour)
• Your contact info (email, fax, or postal address)

Don't call them; they'll contact you (though for info: +39-06-6988-5318, www.vatican.va).

Before arriving for your tour, make sure you drop off any bags, bakckpacks, daypacks, or large purses at the "deposito bagagli" office toward the right end of St. Peter's facade.

If a virtual tour will do just as well, the Vatican web site has posted one of those.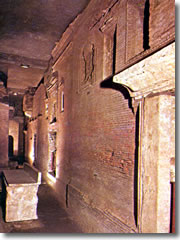 The Vatican Necropolis.Below the crypt is the the famous sub-crypt, or "Vatican Necropolis" (sometimes just called the scavi, or "excavations") which contains tombs dating from the origins of Christianity.
This one is a pain to get into, and only available via a guided tour (which have gotten infinitely harder to secure, ever since Dan Brown set part of Angels & Demons here; see the box on the right), but can be worth it.
St. Peter was probably martyred in the Circus of Nero, which lies under part of the current St. Peter's, but the actual site of his grave was argued over for centuries. Most thought the stories of him being buried here were apocryphal. It was just too neat and perfect.
After all, in giving his chief disciple Simon Cephas the new name of Petrus ("Rock"), Jesus supposedly said: "I tell you that you are Peter, and on this rock I will build my church." (Matthew 16:18) That's meant to be a metaphor, right? Christ certainly didn't mean that Peter's bones would literally be in the foundations of the motherchurch for all Christendom.
Then, in 1941, excavations in the Vatican Necropolis uncovered what many had thought was merely a medieval myth: the Red Wall, behind which St. Peter was fabled to be buried and upon which early Christian pilgrims scratched prayers, invocations, thanks, or simply their names in Latin.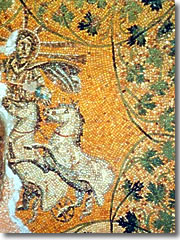 An ancient mosaic of "The Good Shepherd" in the Vatican Necropolis.Sure enough, behind this wall in 1950 they found a small pocket of a tomb and a box filled with bones that church doctrine now holds once belonged to Jesus' right-hand man and the first bishop of Rome—and, by extension, the world's first pope and vicar of Christ on Earth.
The remains were moved and are now reverently housed under the main altar of the church up above.
Of course, nothing exists independently in the historical or archaeological record to confirm any of this—just belief and a few Bible passages. Then again, the church is not actually built upon a rock or a man or a legend at all, but rather upon faith, so proving such things is really beside the point.
Getting up on the roof of St. Peter's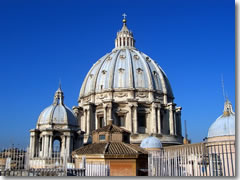 The cupola of St. Peter's Basilica, designed by MichelangeloYou must pay to take the elevator then climb (320 steps) to the top of St. Peter's dome—but it's worth it. (You can save a couple of euros by opting to climb the entire way: 551 stairs.)
Michelangelo himself designed this dome to loft 135m (450 ft.) above the ground at its top and stretch 42m (139 ft.) in diameter. In deference to the Pantheon, Michelangelo made his dome 1.5m (5 ft.) shorter across, saying "I could build one bigger, but not more beautiful, than that of the Pantheon."
Carlo Maderno later added the dome-top lantern, which today affords visitors a fantastic and dizzying city panorama.
Tips
Planning your day: Sr. Peter's can be done in 45 minutes at a trot, but expect to spend more like an hour in just the church, 2–3 hours if you do all the extra bits (into the museum, down to see the tombs, and up onto the roof). That said, expect to spend all day seeing this and the nearby Vatican Museums, even on a tight schedule. Don't worry; they're worth it.
Fun fact
The old brick wall that bus 62 runs alongside of for much of its route—and under whose arches you walk to get to St. Peter's Square at the end of the ride— is the infamous passetto, the raised viaduct used by popes past to scurry safely from the Vatican to the papal stronghold of Castel Sant Angelo in times of crisis or war.How to get to St. Peter's: Ottaviano-San Pietro is the closest Metro stop (on the A line, about nine blocks to the north at the intersection of Viale Giulio Cesare and Via Barletta/Via Ottaviano).

You used to be able to take famed bus 64 ("The Pickpocket Express") straight from Termini train station to St. Peter's. However, a few years back the bus authority decided, in its infinite idiocy, to truncate this useful line and force everyone to switch buses just seven (long, boring) blocks from their goal. Now, you can only take the 64 (or its faster, express cousin the 40) as far as Piazza Pia (next to Castel Sant'Angelo), where you must transfer to bus 62, the St. Peter's shuttle, which runs in a short loop to the stop just outside the wall from the Piazza San Pietro colonnade.
Dress code: St. Peter's has a strict dress code: no shorts, no skirts above the knee, and no bare shoulders. I am not kidding. They will not let you in if you do not come dressed appropriately. In a pinch, guys and gals alike can buy a big, cheap scarf from a nearby souvenir stand and wrap it around legs as a long skirt or throw over shoulders as a shawl.
Drop your bags: They no longer allow you to take large bags or purses into the basilica. Luckily, they've also arranged a drop-off point for all bags in a room just to the right of the steps leading up into the church. This service is free.
Free Tours: There are free guided visits to St. Peter's run by volunteer professors and scholars from North American College in Rome. They're offered Mon–Fri at 2:15pm and 3pm, Sat at 10:15am and 2:15pm, and Sun at 2:30pm. They meet in front of the Vatican tourist info office, which is to the building along Piazza S. Pietro just left (south) of the main steps into the basilica.
Book a St. Peter's tour: If you prefer a private guided tour of San Pietro, book one via our partner sites Viator.com or Context Travel:


Mass at St. Peter's: You can attend services at St Peter's Monday to Saturdays at 8:30am (in the Cappella del Sacramento), 9am, 10am, 11am, and noon (all at the altar of San Giuseppe), and 5pm (at the high altar).

Sunday mass in St. Peter's is held at teh high altar at 9am, 10:30am, 11:30am (in the Cappella del Sacramento), 12:15pm, 1pm (at the altar of San Giuseppe), 4pm, and 5:45pm.

There is also often a 5pm Vespers on Sundays.

For the liturgical calendar listing when the Pope himself says mass, check out www.vatican.va.

For more on Papal Audiences of all sorts, click here. » more
Related pages
This article was written by Reid Bramblett and was last updated in April 2013. All information was accurate at the time.

about | contact | faq

» THE REIDSITALY.COM DIFFERENCE «

Copyright © 2008–2013 by Reid Bramblett. Author: Reid Bramblett