Ticketless Travel: Railpasses
Railpasses—Eurail, Europass, country train passes—are one of the original budget tools for European travel and remain one of the best.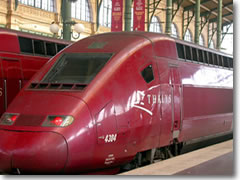 High-speed trains in Europe, like this Thalys Express, cost a bit more (even with a railpass), but can be worth it for shaving hours off your travel time.
A railpass is basically a single ticket good for unlimited travel or a certain number of days within a set period of time on almost all trains—except in the U.K. (for that, you need a BritRail pass)
Once the greatest value in Europe, railpasses have become merely a decent tool in these days of cheap no-frills airline flights and pricey train tickets. That means you have to know when is the right time to use a railpass, and when to mix-and-match regular old train tickets with low-cost flights.
On trips where you cover countless kilometers on the rails, a pass will end up costing you considerably less than buying individual tickets. Plus, it gives you the freedom to hop on a train whenever you feel like it, making a day trip out of town easy and cheap. There's no waiting in ticket lines either.
There are three decisions to make when buying a railpass:
Style—Do you want to be able to travel every day? For that you pay a premium. Or do you just need to ride the rails for a few days here and there? That costs less.
Type—Do you want access to all 17 countries of Western Europe for a D.I.Y. Grand Tour, or will your trip focus on a handful of countries in just one region (that option costs less)?
Flavor—Adult traveling alone, adult traveling with others, married filing seperately (just kidding), youth under 26, senior over 60? The price you pay varies with age and number of traveling companions.
Style: Passes Good for Both Everyday Wear or Occasional Travel
Railpasses come in two main styles: The regular, consecutive day version gives you, say, one month in which you can ride the rails as often as you darn well please. The cheaper flexipass version grants you a certain number of unlimited-ride days you can use, one-by-one, at any time within a set time period, usually two months.
Luckily, a "day" starts the evening before so you can take advantage of overnight trains (so if you board one after 7pm, you write the next day's date on the pass).
Type: This Train Is My Rail, This Train Is Eurail
EURAIL COUNTRIES
Austria, Croatia, Belgium, Denmark, Finland, France, Germany, Greece, Holland, Hungary, Italy, Luxembourg, Norway, Portugal, Republic of Ireland, Romania, Slovenia, Spain, Sweden and Switzerland.

* Note the glaring exception of the U.K.
Whether you're going consecutive day or the flexipass route, you have to pick a type of rail pass. (Note: All prices are current for 2008.)
The granddaddy of them all is the famed Eurailpass, the whirlwind, pan-European tour's single best investment. It covers 20 countries (NOT including Great Britain; see sidebar) for 15 days ($744), 21 days ($965), one month ($1,198), two months ($1,691), or three months ($2,087).
The Eurailpass flexipass is good for 10 days ($878) or 15 days ($1,154) of travel within a two-month period.
Eurail's Selectpass
(only style available is flexi) allows you to choose of any three, four, or five adjoining Eurail countries (Italy and Greece count as "adjoining" because of the ferry connection; ditto for Norway and Denmark). It covers 23 countries versus Eurail's 20. The extras are Bulgaria, Montenegro, and Serbia, which atually count as one "country" so far as the Selectpass is concerned. Similarly, Croatia and Slovenia count as one "country," as do the Benelux countries (Netherlands, Luxembourg, and Belgium).
If you choose the three country version of the Selectpass, you can get it for five ($471), six ($520), eight ($617), or ten ($715) days of unlimited rail travel within a two month period. For four countries, add $56 to any of those prices; for five countries add $110 (or, if you choose five countries, you can also plump $1,043 for a 15-day version).
Regional, Country, and Rail N' Drive Passes
Fancy a trip behind the old Iron Curtain? For $213, The European East Pass buys you fives days within one month (up to five additional days cost $28 each) to travel between Austria, the Czech Republic, Hungary, Poland and Slovakia.

The Balkan Flexipass is a month-long flexipass covering Bulgaria, Greece, Macedonia, Romania, Turkey, Serbia, and Montenegro for five days ($262), 10 days ($456), or 15 days ($549).

Or perhaps its chilly climes and fjordlands you crave. The Scanrail Pass covers Denmark, Finland, Norway, and Sweden and comes in a two-month, flexipass version: 4 days ($343), 5 days ($381), 6 days ($433), 8 days ($482), and 10 days ($534).
Want to explore the United Kindgom? Great Britain is famously not included on any of the Eurail passes, but there is a seperate BritRail Pass good for travel in England, Scotland, and Wales, as well as the BritRail Pass + Ireland (because, if you look really closely on the map, Ireland is actually on the British Isles).
The BritRail Pass comes in both consecutive-day versions ($259 for four days, $371 for 8 days, $559 for 15 days, $707 for 22 days, and $838 for one month) and the two-month flexi style ($329 for 4 days, $476 for 8 days, $721 for 15 days). The BritRail Pass + Ireland flexipass is good for either 5 days ($407) or 10 days ($711) in a one-month period.
There are also passes for a slew of two- and three-country combos, including:
Plus each country
also has its own versions of railpasses—France, Italy, Germany, Austria, Spain, Greece, Portugal, Norway, Sweden, Holland, Ireland, Czech Republic, Switzerland, Croatia, and more—usually smaller variants on the Eurail concept, but occasionally a bit different (say, a pass that's good for a certain number of kilometers).
For even more flexibility, look into the rail-and-drive versions of all these passes (which gets you 2-4 unlimited rail days plus 2-3 days with a rental car; you can add both rail and car days for a fee).
Flavor: Save by Traveling with a Friend (or by Being under 26)
Once you've picked a style (consecutive or flexi) and a type (Eurial, Selectpass, Europass), you have to pick a pricing flavor: adult (over 26), youth (under 26), or Saver (for two or more people traveling together).
Adult Railpasses are sold only for first-class travel (except for the European East Pass and the BrtiRail Pass, which are available in both classes, so I cited second class rates). Youthpasses
—which cost about 20 to 30 percent less for those under 26-are for second class. There are also "SaverPass" versions of the adult passes that allow from two to five people to travel together on one pass for about 15 percent less each.
Seniors (over 60, in this case) aren't for in as many savings as the kiddies, because only a limited number of passes are available in discounted versions for seniors. These currently include most of the Britrail family of passes covering the UK (15% discount on first class version—though a regular second class pass is still cheaper), passes for France and for Norway (28% off), as well as the multi-country Balkan (20% off) and Scanrail (11% off) passes.
Rail Travel
Fast, Flexible & Fun! Choose...
I've put a drop-down box to the right that'll let you pick a railpass and then it will whisk you right to the details on that particular pass on Rail Europe's Website. (Technology is so cool.)
Railpass Tips
The family of Eurail passes is available in Europe from major city train stations—though most guide books and travel agents, including Eurail itself, will swear up and down it isn't. However, since they cost up to 150% of the US price, it might as well be unavailable. Do your wallet a favor and buy the thing before you leave home.
To see whether you a railpass will save you money on your trip, use the search engines for point-to-point tickets at Rail Europe and Britrail (see below). Plug in the data for all the train trips you plan to take, jot down the prices for each, add them up, and if the total is close to or greater than the cost of the railpass that will do the same job, the choice is clear.
If you're using a flexipass, you need to pick each trip whether of not to use up a railpass day on it. When you first get the pass, calculate quickly how much per day it costs. Then, every time just before you go to get on a train, pop over to the automated ticket machine (or, if lacking, up to a ticket agent) and check out the price for the trip you're about to take. If it costs less than a day's use of the flexipass—and you plan to travel more days than the pass is going to cover—just buy the ticket and save the railpass day for a long-haul trip where you're really going to need it.
Rail passes also often get you discounts on private rail lines (such as those in the Alps) and the Eurostar between London and Paris or Brussels, and discounts or free travel for ferry crossings (Italy to Greece) and some boat rides on rivers (Rhine, Mosel) and lakes (especially Swiss ones). These bonuses can change from year to year, so check with the agency that issues you the pass and read the literature they send with it to see what extra goodies you may be getting.
Rail passes are good all the way up to the borders of the countries they cover. So if you're traveling from a Eurail country to a non-Eurail country—say Vienna, Austria, to Prague, Czech Republic—you can go to the ticket window in Vienna and purchase a ticket for just the stretch from the Austrian/Czech border to Prague. Your pass will cover the Vienna-to-the-border segment.
How Does a Rail Pass Work?
From the date you buy the pass, you have six months to start using it. The day you want to begin using the pass, you have to have it validated at a European train station. Aside from reserving couchettes or buying supplements, this is the only time you'll have to wait in a ticket line. With consecutive-day, unlimited use Eurail passes, you just hop on trains at whim.
Flexipasses give you a certain number of days (5 to 15) within a two-month window of travel. Printed on the flexipass are as many little boxes as you've bought days of travel. Every time you board a train, just write the date in the next free box (in ink). When the conductor comes around, he checks your ticket to make sure you've put down the right date.
Consecutive-day passes are best for those taking the train very frequently (every few days), covering a lot of ground, and making many short train hops. Flexipasses are for folks who want to range far and wide but plan on taking their time over a long trip, and intend to stay in each city for a while. You can get more mileage out of a pass by waiting to validate it until the day you leave your first city or whenever you need it to kick in.
Use it smartly. Remember that the pass isn't valid in England. If you're starting a trip in London and then moving on to Paris before gallivanting around the rest of the Europe, consider that the pass will only save you $15–$20 off the cheapest regular ticket on the Eurostar train into Paris.
With a consecutive-day pass, just buy the Eurostar ticket individually (without the discount) so that you don't have to validate your pass until the day you leave Paris. On a month-long trip, this strategy may mean you can drop down to the 21-day pass rather than the one-month one and save some serious cash.
When Don't I Need a Rail Pass?
Nifty as they are, rail passes aren't the wisest investment for every trip. Eurail is primarily for people on an extended, whirlwind tour; the Selectpass can be handier on short, more focused trips, but it still may be overkill if you only plan to take a few train rides over the course of your visit.
Will any pass be right for you? The answer will be different for every trip, so get ready to do some math. For example, you'd have to travel at least 22 days (24 days on the youth pass) on a two-month consecutive-day pass before it starts costing less per trip than the 15-days-within-two-months flexipass.
Are the extra days worth it? It depends on your travel plans and how much liberty you want to be able to jump on trains at a whim. After you've drawn up an itinerary, estimate how much you think you'd spend on individual tickets using the point-to-point ticket search from Rail Europe, above.
Also look into no-frills airlines to see if they can make the connection even cheaper. If a rail pass will save you dough and still do the job, then go for it.
Railpass resources
Rail Europe
- Central clearinghouse for perusing rail schedules and buying railpasses. You can also purchase individual tickets, but I wouldn't bother—they're a smidge cheaper in Europe, plus buying them as you go leaves your schedule more open and flexible. I use the site largely to figure out schedules and ballpark prices for comparison purposes (ie: should I take a train or a no-frills airline?).

Die Bahn - Germany's national rail site, available in English, is the only one to include international timetables in its searchable database (no prices, though, for routes outside Germany).

Railfan Europe - Useful independent links page to most of the national railway Web sites. National Web sites tend to be more reliable and detailed than what you can get through RailEurope, but though some sites have English versions, most are in their native language only. Plus, some provide only schedules, not prices, and several are far from intuitive (apparently adapted for the Web from whatever antiquated in-house reservations system the country has been using for decades).
This article was last updated in January 2008 . All information was accurate at the time.
E-mail | Print | Bookmark


NoFrillsAir.com | BeyondHotels.net | EuropeTrains.org | EuropeHostels.org
About Us

Copyright © 2008