Christmas markets in Europe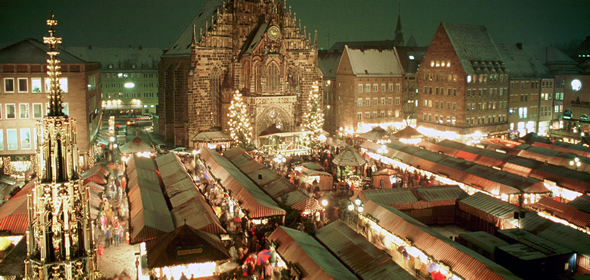 Nürnburg's Christkindlesmarkt (Photo by Uli Kowatsch)
European Christmas markets
The 12 Christmas markets of Europe
• Munich, Germany
• Nuremberg, Germany
• Vienna, Austria
• Copenhagen, Denmark
• Rome, Italy
• Strasbourg, France
• London, England
• Prague, Czech Republic
• Dresden, Germany
• Salzburg, Austria
• Stuttgart, Germany
• Brussels, BelgiumBlame it on the glühwein. Ah, the glühwein. This heavily spiced and mulled "glow wine" is the piping-hot beverage of choice at any self-respecting Teutonic Christmas market.
Glühwein can transform even the scroogiest Humbug into a true believer in the Christmas spirit.
It's hard not to catch Christmas fever with half a mug of steaming glühwein in your belly, lips stained sweetly red as you stand on the cobblestones of a major city square transformed into a village of market stalls lightly frosted with snow and decked with handmade ornaments.
The smells of gingerbread and roasting sausages waft across the air carried by the joyful piping of a choir singing "O! Tannenbaum" on the nearby church steps. Laughing locals, their cheeks glowing with the cold, conversations crystallizing in the clean December air, stroll the marketplace past Gothic church facades and half-timbered houses to do their Christmas shopping, pausing to sip their glühwein and watch a master glassblower practice his craft in a wooden stall under a bower of fir branches.
This is what Christmas should be.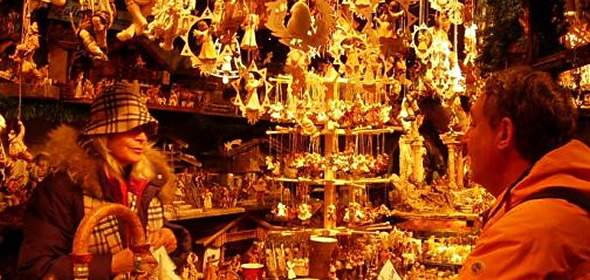 A craft stall at Munich's Kripperlmarkt. (Photo by Stephanie Wolf)
What a European Christmas market is like
In most of Europe, Christmas is a time for elaborate pastries straight out of medieval cookbook, for lyrical midnight masses in Gothic churches, and for the upholding of quirky local traditions—in many countries, Christmas just isn't complete without mischievous pixies, kindly witches, treacherous demons, or a 8,000-pound fruitcake.
However else they celebrate the Yuletide season, Christmas in Europe still centers around an Advent market that, in most cases, has filled on the square before the cathedral each December for hundreds upon hundreds of years.
This is a Christmas free of mall muzak and the frantic need to lay your hands on the superstore's last Tickle-Me X-Box.
It's an Olde World Christmas of heartfelt caroling and wooden toys, where every gift was crafted by hand and Santa hasn't outsourced his elven workshop to China.
For a few, precious, frost-nipped weeks, these museum-piece cities of Olde World Europe flicker back to the Middle Ages—not the ossified medieval throwbacks of soot-blackened cathedrals and tourist-bedeviled museums, but the living, breathing yesteryear of a bustling outdoor marketplace.
December transforms the main square of many a European town into a market of arts and crafts.
The air is scented with mulled wine and gingerbread, the cobblestones milling with tourists, shoppers, bundled-up kids, jolly St. Nicks, and the angelic honorary "Christ Child" characters who act as MCs for the evening parades and pageantry.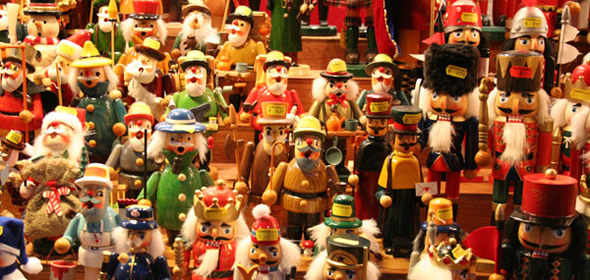 Crafts at the Stuttgart Weihnachtsmarkt
Where to find Christmas markets in Europe
The 12 Christmas markets of Europe
• Munich, Germany
• Nuremberg, Germany
• Vienna, Austria
• Copenhagen, Denmark
• Rome, Italy
• Strasbourg, France
• London, England
• Prague, Czech Republic
• Dresden, Germany
• Salzburg, Austria
• Stuttgart, Germany
• Brussels, BelgiumThere are Christmas markets across Europe, but the cradle of Christkindlesmarkt is where southern Germany washes up against the Alps in the medieval towns and cities of Bavaria's Romantic Road, , and up into the mountains of Austria and Switzerland.
Teutonic Christmas markets are really vast crafts festival and celebrations of traditional Christmas accoutrements.
The stalls are piled with pewter crèche figurines, stacked with ranks of nutcrackers and other wood carvings, and stuffed with traditional toys made of wood or brightly painted molded sheets of tin.
Glassblowers use tongs and tiny acetylene torches to bend glass goblets and candlesticks into interesting shapes and mold filigrees of glass into crystalline Christmas ornaments. Straw is bent into figures, elaborate stars, and snowflakes. Glass globe ornaments are hand-painted with wintery scenes and seasonal icons.
Laced throughout it all are stalls and stands selling cookies and Lebkuchen (gingerbread), sugar-coated almonds and the local finger-sized sausages roasting on an open fire (the chestnuts, see, are usually cooked on a metal pan over coals).
Jack Frost nipping at your nose? Indulge in my favorite part of the whole Christkindlesmarkt scene: Glühwein, a mulled wine to warm your stomach and spice up your shopping.
Christmas market tips and practicalities
Many markets start on the Friday before Advent—which, for those who've misplaced their moveable feast calculator, is four Sundays before Christmas Eve, putting this year's pre-Advent Friday on Nov. 30.
Most markets end on Dec. 24, especially in Germanic countries where Christmas Eve is set aside for trimming the tree at home. Others keep on trucking until the Epiphany on Jan. 6.
The best time to stroll any market is as late afternoon fades into evening, the lights twinkle on, and you never know when a costumed procession will appear or the local band break into traditional song.
It's wise to book travel as far in advance as possible in these Christmas hotspots, especially for trips between Dec. 15 and Jan. 1 and definitely for Dec. 24 and 25. That goes not only your lodging but also restaurants, many of which close on Christmas Eve and Day; those that do not usually offer a set-price feast and book up fast with locals avoiding a holiday at home.
To make a clean shopping sweep of the most markets in the minimal amount of time, sign up with an escorted tour from www.friendlyplanet.com, www.gate1travel.com, or www.go-today.com.

| | |
| --- | --- |
| The Travel Store | |