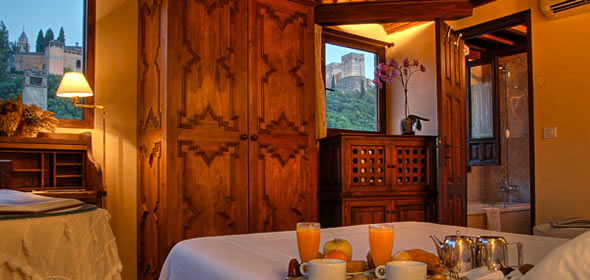 The Hotel Casa Morisca has views of the Alhambra in Granada from just €85
Amazing Andalucía hotels
These hotels are Old Moorish homes in city centers, mountain farms, Renaissance townhouses, gypsy caves, and medieval ducal palaces—and they start at just $37 to $125
These 19 amazing hotels are scattered across Andalucía, from an 18th century townhouse a block from the cathedral in Seville (from €55) to a beach bum haven on the sands of Málaga (from €44), and from eco-tourism farm resorts in the Sierra Nevadas (from €58) to gypsy cave-home apartments in Granada (from €70). (View the hotels on an interactive map at the bottom of the page.)
In the city
By the beach
Andalucía is famous for the Costa del Sol and other beach breaks for Brits. However, most of the beaches are unbroken lines of sprawling resorts and cement-block hotel towers. Also, prices tend to spike pretty pricey in high season. The hotels below help avoid all that.
Something to keep in mind when it comes to Spanish beach hotels. Beaches on the Costa del Sol (the Mediterranean side, from Tarifa/Gibraltar and east) have grey sand. For the more visually appealing yellow sand, head to the Costa del Luz (the Atlantic side, from Tarifa northwest to Portugal).
In small towns
In the mountains
Note that all prices quoted above indicate the lowest you'll pay for a standard double room, reflecting the prices you'll actually find at online booking engines (which are often lower than the "rack rates" you'll see quoted on the hotels' own web sites).

View Amazing Andalucia hotels in a larger map
| | |
| --- | --- |
| The Travel Store | |