Alice Springs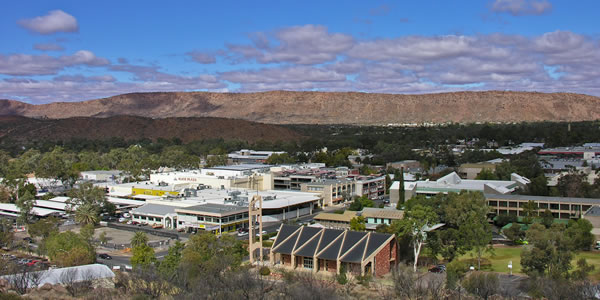 "The Alice" is the very heart of the Australian Outback, center of the Red Centre, and (for all intents and purposes) midpoint on the Stuart Highway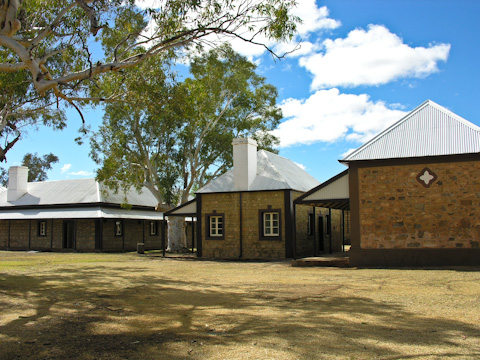 Historic buildings of the original Alice Springs.Alice Springs is bang in the center of Australia, a frontier town at the spiritual midpoint of the Stuart Highway, cupped into ruff of the MacDonnell Ranges, a gateway to the marquee site of the Outback and icon of Australia itself: Uluru (Ayer's Rock).
This unofficial Outback capital began as a telegraph station in the 1870s, finally linking Adelaide to Darwin and the rest of Great Britain.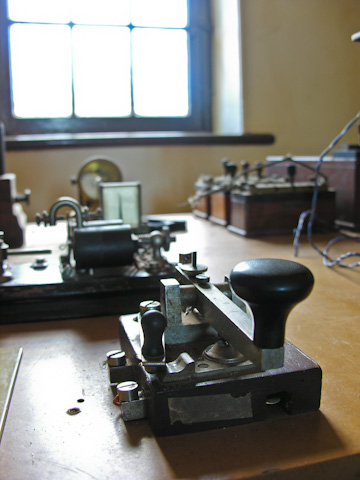 A telegraph in the museum in the Alice Springs historic district.When gold was discovered in 1887 about 100km away, Alice Springs became a boomlet town and a handful of Europeans began trickling in.
The gold was sparse, so most settled for raising cattle, which is why the very first permanent public building (after the telegraph station) was a prison—mainly to incarcerate Aboriginal rustlers.
The oddness of The Alice
Alice Springs is an odd town—as most frontier outposts are.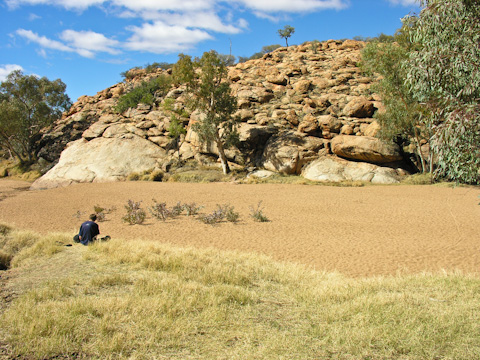 The site of the "spring" after which Alice Springs is named.Even its name is a kind of double lie.
Sited at what (unfortunately) turned out not to be an actual spring but just an occasional water hole that pooled in an area of dry riverbed, Alice Springs got its first name after the wife of Sir Charles Todd, the royal Postmaster General sent to live in Adelaide and who had the telegraph line built.
But Alice never lived here. She never even came once.
Sir Charles also had a home built in The Alice, but his wife refused even to visit her namesake town, though she did have two pianos shipped up there via camel—both strapped to the same camel, in fact, who was then unable to lie down for the entire 3.5-month journey. (More on those camels in just a moment.)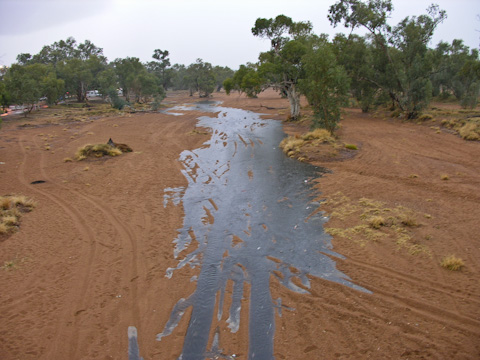 The Todd "River" in Alice Springs.Even nature behaves oddly in Alice Springs. The town's Todd River only flows following bursts of rainy days: on average three times per year for about four days at a time—except in 1974, when it rained for an epic record 312 days.
Then there was that time in 1996 when they had to call off the traditional Henley-on-Todd Regatta boat race (www.henleyontodd.com.au) on account of there actually being water in the river.
(Normally, at the starting gun, the teams lift up their bottomless "boats" as if they were giant communal skirts then run, Fred Flintstone-style, along the dry riverbed. Other races involve pulling someone on a sled, or using shovels to "paddle" boats down rails in the sand.)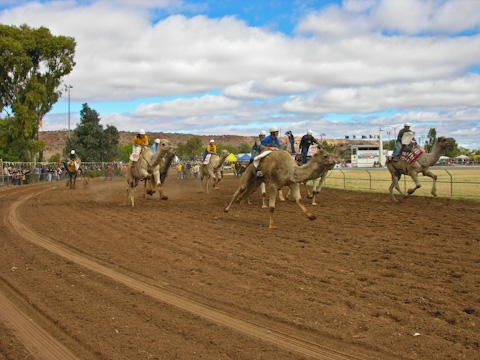 The Camel Cup in Alice Springs.Even bigger than the regatta is the annual Camel Cup (www.camelcup.com.au) held on the second Saturday in July
(Camels in Oz? Yep: more than anywhere else in the world: see the box below).
Several races are held on this day; all are hilarious.
Camels are notoriously ornery creatures and not at all inclined to race. They tend to bite their would-be jockeys, to buck off and trample riders (riderless camels can still win), and at the starting gun will often run off in entirely the wrong direction.
Even with the few that do manage to race properly, a camel under gallop is a comical sight to behold: legs flying, knobby knes jangling, oversized lips flopping, humped back bucking wildly, and all the while emitting loud, rude blatting noises.
Camels in Australia
Australia is home to the world's only herds of feral camels, all descended from the 10,000 to 12,000 or so dromedaries and bactrian camels imported mainly from India between 1860 and 1907 to serve as transport beasts of burden.
At their late 19th century prime, they were a sight to behold, an Arabian Nights fantasy tranposed to the Outback as camel trains of 70 beasts led by four expert (tyically Afpghan) drivers, crossed the red sands of Oz, 20 to 25 miles a day with up to 600 kg (1,323 pounds) on the back of each camel.
When the camel trains were displaced by railroads and motor vehicles of the early 20th century, the beasts were simply turned loose in the Australian desert to die.
Instead, they thrived, bred (a camel population can double in just nine years), and now number more than 1 million—about a quarter of them here in the NT, another 50% in Western Australia.
Camels are by far the largest of Australia's infamous non-native desert pests (though not as damaging as the rabbits, or as ugly as the toads).
The government is now culling some of the wild herds of camels and sending shipments to Saudi Arabia and elsewhere, where camel meat is a delicacy.
That's right: Australia exports camels to the Middle East.
Like I said, Alice Springs is surpassingly odd.
So, what kind of people dig riverless boat races and riderless camel races?
The official population of Alice Springs today is just over 25,000, but that doesn't count the up to 3,500 Arrente and other area Aboriginies that might be living here or passing through at any given time (at night you can see many campfires in the dry bed of the Todd River).
It also does not count the roughly 2,000 Americans who are officially not here not manning a military satellite tracking station that doesn't exist just outside of town near Pine Gap.
(OK, so now everybody admits this place exists, but its activites are still shrouded in secrecy. For example, it was not until 2013 that classified files leaked by Edward Snowden revealed that Pine Gap was active in the suddenly infamous PRISM program, the NSA's clandestine—and probably highly illegal—electronic surveillance and data minging operation aimed at American citizens.)
In additon to being a tourist turnstile for visiting Uluru and the MacDonnells, Alice Springs provides essential services for the far-flung cattle stations of the Outback, a region covering well over a million square kilometers.
The Royal Flying Doctors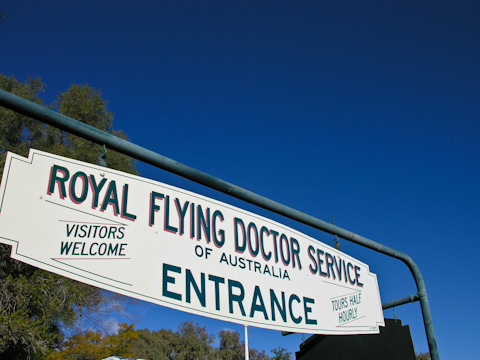 The Royal Flying Doctor Service.It is definitely worth touring The Royal Flying Doctor Service headquarters (www.flyingdoctor.org.au), started by Rev John Flynn in 1928 to provide airborn medical services to the ranchers and other isolated inhabitants scattered over 2 million square kilometers (772,000 square miles) of Outback—an area larger than Texas, California, Montana, Oregon, and Wyoming combined.
At this original, flagship station—one of 21 currently operating all over Oz—are fascinating historical exhibits about frontier medicine, including some frankly frightening early medical instruments, plus early 20th-century home first aid kits designed for ranchers to be able to perfrom do-it-yourself surgery while being coached remotely by a doctor via radio.
But besides all that, it is just sheer coolness to learn how these intrepid MDs continue to deliver life-saving services thousands of miles away via prop plane.
Today, the doctors and flight nurses of the Royal Flying Doctor Service are responsibile for the care of more than 270,000 million Australians over 80% of the country.
Collectively, the service's 61 aircraft fly around 27 millon kilometers (16.8 million miles) each year—that's equivalent to 35 moon missions.
Alice Springs' School of the Air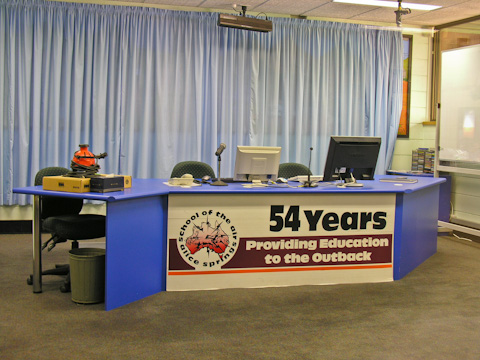 The teacher's desk for the Scool of the Air.Also well-worth a stop is the School of the Air, (www.assoa.nt.edu.au and (australia.gov.au/about-australia/australian-story/school-of-the-air) the most famous of 16 such remote schoolhouses that have served Australia's rurual families since 1948, inspired by the Royal Flying Doctors Service.
The Alice Springs school was the original, and today serves about 90 students spread over 1.3 million square kilometers.
They used to provide schooling by CB radio; now it's via the Internet with webcams and virutal collaborative whiteboards—and the state provides all the equipment, including computers and high speed satellite Internet service, for free.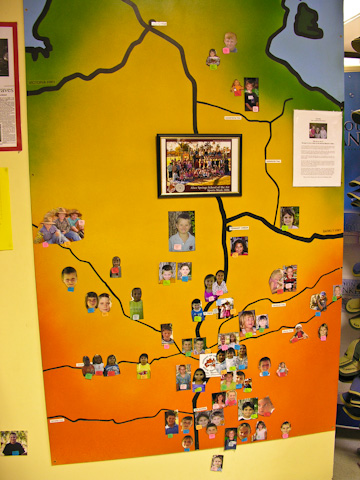 A map of the students attending the School of the Air (keep in mind the map is showing an area roughly half the size of the U.S. east of the Mississippi).The School of the Air is an primary (elementary) school for ages four to twelve; at age 12, the kids go either to boarding school or continue their education via a correspondence school in Darwin.
The school day runs from 8am to noon, with three days of general lessons, two days each of library or music lessons, and a day of one-on-one tutoring.
Materials and assignments—customized to each student—are shuttled back and forth via mail packets on small planes, which also take the teachers out to meet with their students three to four times per year.
All of the students gather once per term for an "in school" week in Alice Springs, and for a mid-year Sports Day.
The oldest kids also go on group field trips to Canberra for skiing and skating (in between which are sneaked lessons on the Federal goverment), and to Cairns to snorkle the Great Barrier Reef and explore the rainforest jungles.
| | |
| --- | --- |
| The Travel Store | |