Down Under overview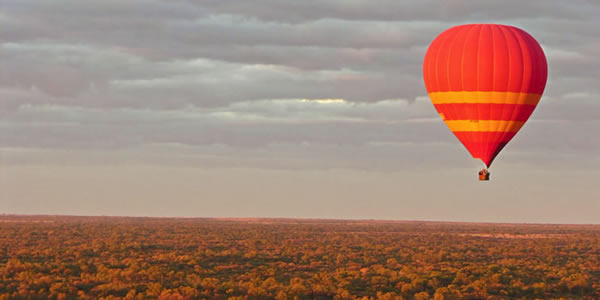 A sunrise balloon flight over the Outback near Alcie Springs
A quick rundown of the major cities and sights of Australia so you can get a sense of where you'd want to spend time.
SYDNEY is the poster child for Australian cities, with its opera house on the water beneath the soaring Harbour Bridge, scads of museums and galleries, some of the best dining in the country, scads of genteelly semi-decaying 19th century vernacular architecture, and excellent beaches right downtown.

MELBOURNE is the exciting cultural melting pot of Australia, and with a third of the population either immigrant or first-generation, there are more ethnic restaurants than you could shake a didgeridoo at. It has a vibrant arts and cultural scene, top shopping, the oldest zoo in the world, and a gold museum that hearkens back to the city's boomtown origins.

CAIRNS, up near the north end of the eastern coast (and pronounced "cans"), is the gateway to the Great Barrier Reef, the only living thing on Earth visible from the moon--at nearly 239,000 square miles, this sucker's bigger than California and Utah put together. The reef teems with 4,000 species of clam and sea snail, 1,500 types of fish, and, of course, the more than 400 breeds of coral which support them all. Spend at least a day, possibly two, out here snorkeling and diving the reef.

On the mainland side of Cairns, don't miss the Kuranda cable car over a dense rainforest, or the Tjapukai Aboriginal Cultural Park just outside town, possibly the best place in Australia to get a quick (albeit theme-park-ified) overview of Aboriginal culture--and it's majority owned-and-operated by the local indigenous people.

ALICE SPRINGS is the capital of the the OUTBACK (though DARWIN is the gateway city) at the heart of the Australian bush. This is prototypical, "G'day Mate!," Crocodile Dundee country, packed with parkland (Kakadu National Park alone is larger than Switzerland), deeply rooted in Aboriginal culture, and home to that symbol of Australia itself, the gargantuan lump of red sandstone called Uluru (a.k.a. Ayers Rock ).

Southerly ADELAIDE is, let's be frank, rarely cited as visitors' favorite city Down Under. It's a bit of a drowsy, backwater city, though it sports some fine museums, and at its doorstep you'll find access to some scenic sections of Outback and the Australian wine country, with some 50 wineries in the surrounding Barossa, Eden, and Clare Valleys.

The best part of Adelaide is offshore: Kangaroo Island, site to the first (European, non-prison) settlement in Australia (est. 1836), and home today to one of the richest wildlife preserves in all of Oz. There's no better place to view wild sea lions and fur seals, kangaroos and koalas (some 5,000, all descended from the 18 brought over from the mainland in 1920), foot-tall fairy penguins, glossy cockatoos, black swans, and even platypus, bandicoot, and pygmy possums.

| | |
| --- | --- |
| The Travel Store | |
details