Litchfield National Park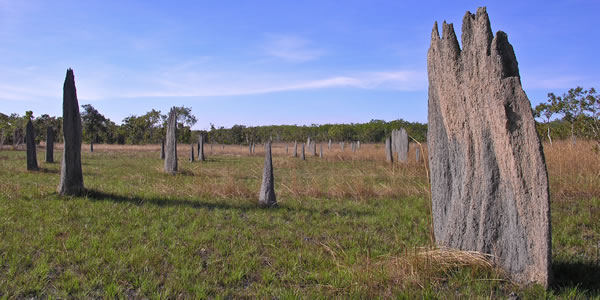 Magnetic termite mounds in Litchfield.
Termite mounds, waterfalls, and pocket monsoon forests in Litchfield National Park, Australia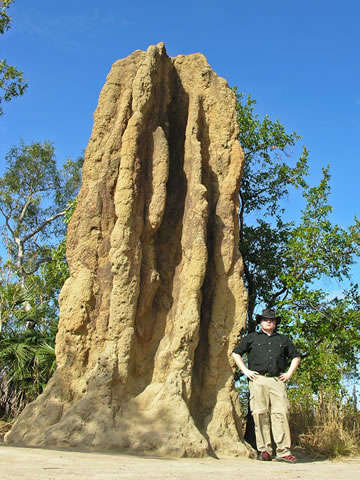 A cathedral termite mound (intrepid author included for size comparison) in Litchfield National Park.Litchfield National Park, 120km south of Darwin in the Top End, is 1,500 square kilometers (579 sq. mi) of waterfall-fed swimming holes, eucalyptus groves, lovely short hikes, the "Lost City" formation of rock pillars (accessible down a 4x4 road), and pocket monsoon rainforests on a sandstone plateau of the Tabletop Range.
But it is most famous for its magnetic termite mounds.
The bushland of the park is already peppered with those tall, sand sculptures common in the NT called cathedral termite mounds.
These are impressive in of themselves—like giant tan dates, stood up on their ends, their deep crevasses and exaggerated folds like buttresses piping up the sides—that can grow up an astounding 6m (20 feet) tall.
Magnetic termite mounds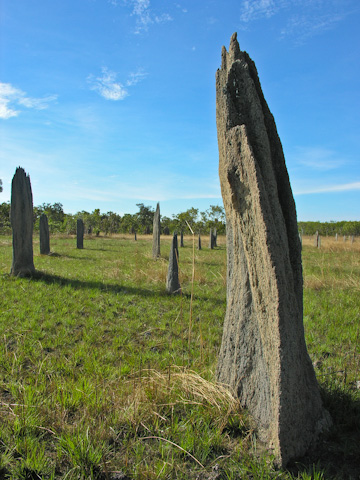 Magnetic termite mounds in Litchfield National Park.But in a few spots, the bush opens up into long, open fields that look a bit like weedy graveyards filled with giant, toothy-topped tombstones. These are the magnetic temrite mounds.
These flat grey slabs, many taller than a man, are built by termites with a built-in compass allowing them to orient their pancaked communal homes on a perfectly north-south axis so as to regulate the interior temperature of the nests.
Termite eggs need to be kept within a very narrow range of temperatures (often as little as 1 ºC, or 1.8 ºF), so they spend much of their times moving the aggs around the nest to keep them comfy.
Most termites have to go deeper underground at certain times of day, but since these plains often flood, this would be impossible here; so these termites adapted by building these more efficiently termoregutalted homes.
Florence Falls and the Shaded Creek Trail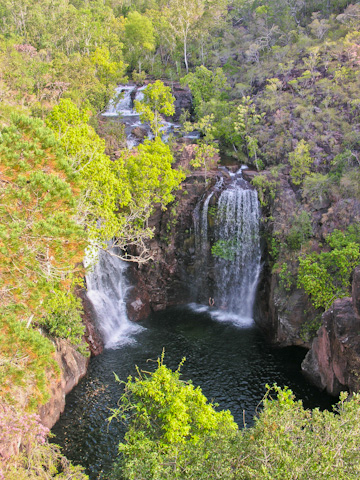 Florence Falls at Litchfield National Park.My favorite swiming hole and short hike in the park is to the twin Florence Falls, at the end of a brief trail (and 160 steps down), a wide plunge pool full of deep blue fish and sun-crisped swimmers.
Make sure you take the 1km "Shaded Creek" trail back, threading back and forth across a small, gurgling stream and through a dense palm-and-fern-filled monsoon forest in a valley cleft, the rising up through a sparse woodland of eucalyptus and spear grass.
It's a wonderful example of the extremes of Australia. In the space of just a few dozen yards, the temperature went from 27 ºC (81 ºF) and 72% humidity in the monsoon forest to 23 ºC (73 ºF) and 50% humidity in the woods.
Batchelor
The gateway town for Litchfield is Batchelor, frequent voted "tidiest town in the territory." The $4 meat pies at the general store are pretty good.
Tours
| | |
| --- | --- |
| The Travel Store | |