Fiji FAQ
All the basics you need to know for a trip to Fiji
Of Fiji's 333 larger islands, about 100 are inhabited. Viti Levu is the main island, as big as all the other islands put together and home to the main city (Suva) and the airport (Nadi). Viti Levu has plenty of hotels, but to escape the crowds, try one of the other islands...

Where can I get information on Fiji?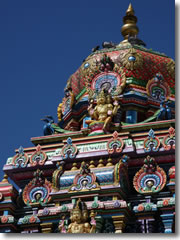 Sri Siva Subramaniya Swami Temple in Nadi, Fiji. (Photo by )The official tourism website is Fijime.com.
The official government website is Fiji.gov.fj.
Useful independent travel sites include Southpacific.org and Fijiguide.com.
You can get a better sense of the islands by reading some local newspapers: Fijitimes.com and Fijisun.com.fj.
For all the dry, dispassionate facts and figures you can handle, check out Wikipedia and Cia.gov (the CIA World Factbook).
How do I get to Fiji?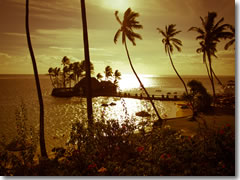 Sunset at the Warwick Fiji Resort in Korolevu, Viti Levu. (Photo by john.trif)Many people book vacation packages that include airfare and hotel (and sometimes a few other things, like transfers and maybe a tour). Packages can often save you money over booking these things independently—especially at the larger resorts, which provide packagers blocks of rooms at whoelsale prices.
You can, of course, arrange your own trip, booking airfare and hotel seperately—often a better option if you want to island-hop, or stay in in a less expensive hotel....

Do I need a travel visa to visit Fiji?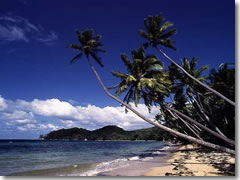 Palms on the beach at Kadavu, Fiji. (Photo by Mdstefan) Visitors from most countries need only a valid passport and an ongoing plane ticket to enter Fiji and stay for up to four months.
When should I go to Fiji
Fiji is tropical—which is why we love it—and located in the southern hemisphere. That means the hot, rainy season is November to April, and the cooler dry season runs May to October. These seasonal differences aren't very extreme, however, so any time is a good time to go.
What language do they speak in Fiji?
Fijian 101
Hello - Bula!
Thank you - vinaka
Goodbye - moce ("mothay")While you will hear plenty of native Fijian spoken, English is the island nation's official common language. There's also plenty of Hindi going around thanks to the huge (around 44 percent) Indian population.
To fake Fijian, put an imaginary "n" in front of any d, g, or q (so the main city, Nadi, is pronounced "nandi"), an "m" in fromt of any "b," and prnounce a "c" as if it were a "th."
What time is it on Fiji?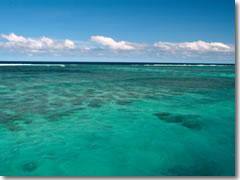 (Photo by Christian Haugen) Fiji is 13 hours ahead of Greenwich Mean Time.
That puts it 18 hours ahead of Eastern Standard Time, and 21 hours ahead of Pacific Standard Time.
So when it is noon in New York (and 9am in Los Angeles and 5pm in London), it is 6am on the next day in Fiji.
What kind of money do they use on Fiji?
Fiji uses the Fijian Dollar. The exchange rate against the U.S. dollar ranges between 1.65 and 1.8.
In other words, typically US$1 buys about F$1.75.
Another way to look at it: F$1 is worth about 55¢ U.S.
Get current rates at oanda.com
How do I call Fiji?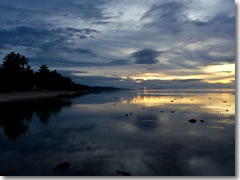 Another sunset at the Warwick Fiji Resort in Korolevu, Viti Levu. (Photo by john.trif) First of all, you can save a ton of money calling overseas by using Skype rather than a regular phone. For calls to Fiji, the Skype rate is a flat 30¢ per minute (plus a 9¢ connection fee).
Sounds steep, but compare that to the Verizon charge of $6.71 per minute to call Fiji (even if you pay $4.99 per month for an international plan, that still only brings the charge down to $1.02 per minute).

If you are dialing direct, the country code for Fiji is 679. Preface this with the inernational dialing prefix for your country (00 for most, 011 for the U.S.).
So, calling Fiji from America, you would dial 011-679-xxx-xxxx.
| | | |
| --- | --- | --- |
| Related Articles | | Related Partners |
| | |
| --- | --- |
| The Travel Store | |
details