The ultimate packing list
What to pack for a trip to Europe, how much to bring on your travels, and how to fit it all in a single carry-on with room left over for souvenirs
• hostels home
• how hostels work
• pros/cons
• finding hostels
• sleepsacks
• moneybelts
• packing list
This is the very same packing list I use before setting off on a trip (well, not the sundress or feminine hygiene stuff), whether it's a six-night jaunt or a six-month research trip. The only thing extra I bring is a laptop for work purposes.
I've Got the Whole World...In My Pack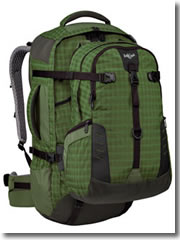 Luggage like the Eagle Creek Thrive 65L travel backpack with zip-off daypack lets you travel the world out of a carry-on–sized bag.
Actually, if it really does feel as if you've got the whole world in your pack, you've done something wrong. Truth be told, you can easily travel with a carry-on-sized backpack as your only piece of luggage, and still have room for souvenirs. Here's how.
The best all-around luggage choice is—brace yourself—a carry-on-size backpack
with a zip-off or packable daypack. Hard-backed suitcases are cumbersome and heavy, huge frame packs are for hikers, and both need to be checked on airlines—a wholly unnecessary hassle.
With a carry-on-size pack, you can hop on and off the plane, sling your stuff on your back whenever you need to hoof it, and it'll force you to pack light.

Now, "carry-on size" is determined by each airline individually, but is always measured by adding together all the dimensions (length plus witdth plus height). Note that for many lately it has been slipping from the old 60" to around 42" total, so when shopping for a bag make sure it fits those smallest requirements. That way just about any airline will O.K. it.
The Clothes Make the Traveler
The five cardinal rules of traveling clothes: 1) Nothing white; 2) Nothing that wrinkles; 3) Clothes you can layer; 4) lots of pockets; and 5) Very few. Clothes take up the most space in your luggage, so don't pack many. Just get used to doing a bit of laundry each night or two in your room.

Urban Europeans dress pretty snappily—not necessarily in the latest Armani suit, but well nonetheless. While you should travel in whatever wardrobe makes you feel comfortable, you'll probably be happier fitting in, so save the Bermuda shorts and sleeveless T-shirt for that trip to Hawaii.

Note: In the churches of some Catholic countries—Rome's St. Peter's included—there is strict dress code that forbids shorts, skirts above the knee, and bare shoulders. Pack accordingly.
Keeping Clean
Minimize toiletries spillage disasters by storing everything in resealable plastic baggies. Maximize the tiny space inside a bathroom bag with sample sizes and by putting shampoo and detergent into small, screw-top plastic bottles—bonus, this makes them TSA safe.

Keep toiletries and cosmetics to a minimum. Perfume or cologne on the road become vain deadweights and spills waiting to happen (imagine everything in your bag drenched with Chanel no. 5). And for women, trust a touch of red lipstick to be formal enough for any occasion.
Documents & Sundries
Don't forget to carry your most important documents—passport, plane tickets, railpass, traveler's checks, driver's license, and credit cards—in a moneybelt. Carry your daily needs items in a small backpack or security purse (designed to foil pickpockets and purse snatchers).
ShareThis
This article was last updated in March 2008. All information was accurate at the time.



NoFrillsAir.com | BeyondHotels.net | EuropeTrains.org | EuropeHostels.org
About Us

Copyright © 2008