Vatican Gregorian Profane Museum
The Vatican's "profane" museum is filled with a potpourri of pagan art—mostly Greek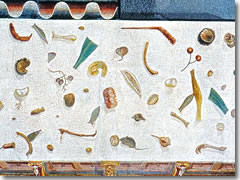 An ancient Greek floor mosaic of an "unswept floor" in the Vatican's Gregorian Profane Museum. (See the little mouse right above the word "mosaic" in this caption?)
The "profane" (by which they mean "
pagan
") museum houses antiquities from the Roman and Greek eras, including some
great bits of Greek sculpture.
Look for the 5th-century BC stele showing a slave boy handing his master a flask of oil, a couple of fragments off the Parthenon (including the head of one of Athena's horses), bunches of quality sarcophagi.
My favorite: the wonderfully silly Heraclitus Mosaic, a dining room floor mosaic masterfully tromp-l'oeil'ed to look eternally post-banquet, with leftover bits of food fallen to the ground and even a mosaic mouse nibbling on the mosaic crumbs. (Look closely: All the food—and the mouse—has shaded tiles casting a faint "shadow" to make it all look more 3D. Brilliant!)
The Gregorian Profane Museum, Pio Christian Museum, and Missionary-Ethnographic Museum are all housed in the 1960s structure through which you exit the Vatican complex. Of the lot, this is the best one—still, only bother if you have the stamina for a bit more.
The Vatican Museums
★★★ Pinacoteca (Painting Gallery)
Papal Apartments
★★ Raphael Rooms
Borgia Apartments
Chapel of Nicholas V
★★★ Sistine Chapel
★Pio-Clementine Museum
Modern Religious Art
Chiaramonti/New Wing
Gregorian Egyptian Museum
Gregorian Etruscan Museum
Gregorian Profane Museum
Pio Christian Museum
Missionary-Ethnological Museum
Vatican Gardens
Tips
Planning your day: Spend about 20 minutes in here—but all day at the Vatican. Two days if you can swing it. Even on a tight schedule, expect to pretty much spend one full day seeing the Vatican Museums and St. Peter's together. They're worth it. Warning: The ticket office closes 2 hours before the museum, with the last entry at 4pm.
The Vatican Museums are most crowded on Sundays (because they're free) and many Wednesdays (because in the morning St. Peter's itself is often closed for the papal audience in the piazza, so everyone who doesn't have tickets walks around the walls to kill time inside the museums, and by afternoon all the audience-goers join them).
Book ahead: You can book entry tickets ahead of time to help avoid the lines, which can last for up to an hour or so in the summer. However, this adds a €4 fee to the already steep admission of €16 at www.vatican.va. Or you can do it online via one of our partners:


Book a Vatican tour: There are two-hour tours of the museums and Sistine Chapel available (in English usually four time a day) for €32 per person—3-hour tours that also include St. Pater's cost €37. Note, though, that those prices include the €16 admisison ticket and €4 booking fee, so the tour portion actually only costs an extra €12–€15. For more info: tel. +39-06-6988-3145 or www.vatican.va. If you prefer a private guided tour of the Vatican and its museums, book one via our partner sites Viator.com or Context Travel:


The Vatican Museums reopen Fridays evenings in summer

The Vatican has been experimenting with spring-to-fall evening hours on Fridays, allowing a limited number of visitors—upon advance booking only—to wander the mooonlit galleries without the crowds.

Dates (2103):
• May 3–July 16
• Sept 6–Oct 25

Hours: 7am to 11pm on Fridays (last entry: 9:30pm).

Cost: €16 (+€4 booking fee)

Galleries open on Friday nights:
• Sistine Chapel
• Raphael Rooms
• Pio-Clementine Museum
• Egyptian Museum
• Borgia Apartments (some rooms)
• Museum of Modern Reglious Art

More info: www.vatican.va.
To book: Viator.com The Vatican Museums are closed Sundays—except on the last Sunday of the month...
The Vatican Museums are free on the last Sunday of each month, when they are intensely crowded and stay open until 2pm (last entry: 12:30pm). They're also free on Sept. 27 (World Tourism Day). If the Sunday falls on a church holiday, however, they're closed (see next tip).
The Vatican Museums are closed on all church holidays: Jan. 1, Jan. 6, Feb. 11, Mar. 19, Easter Sunday and Monday, May 1, June 29 (Feast of St. Peter and Paul—major Roman holiday), Aug. 14–15 (everything is closed in Rome on Aug. 15; head to Santa Maria Maggiore for mass with a "snowfall" of rose petals), Nov. 1, Dec. 25 (Merry Christmas!), and Dec. 26 (Santo Stefano—huge in Italy).
Note that the Vatican Museums close surprisingly early (last entry at 4pm, doors close 6pm). So see them first, then walk around the walls to visit St. Peter's.
Dress code?: Recently, the Vatican (or at least some guards) seems to have decided that you must dress "appropriately" to visit any part of Vatican City—including the museums—and not just St. Peter's, where a dress code has long applied. Err on the side of caution and make sure you arrive with no bare shoulders, knees or midriffs. (If it's hot and you want to wear a tank top around town that day, just bring a light shawl to cover your shoulders while inside;on » more packing the right items for an Italy trip.)
How to get to the Vatican Museums: Cipro-Musei Vaticani is the closest Metro stop (on the A line, about 5 blocks northwest of the entrance; just follow the crowds). Otherwise, bus 49 stops right in front of the museum entrance (you can catch it from Piazza Cavour, or anywhere along Via Cescenzio, which passes the very northern tip of the piazza around Castel Sant'Angelo). You can also take one of many lines to Piazza del Risorgimento, tucked into a inside corner of the Vatican walls a short walk east of the musuems entrance: 23, 32, 81, 271, 492, 590, 982, 990.

Related pages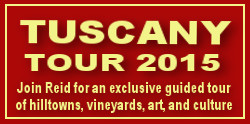 This article was written by Reid Bramblett and was last updated in May 2013. All information was accurate at the time.

about | contact | faq

» THE REIDSITALY.COM DIFFERENCE «

Copyright © 2008–2013 by Reid Bramblett. Author: Reid Bramblett