Agrigento Hotels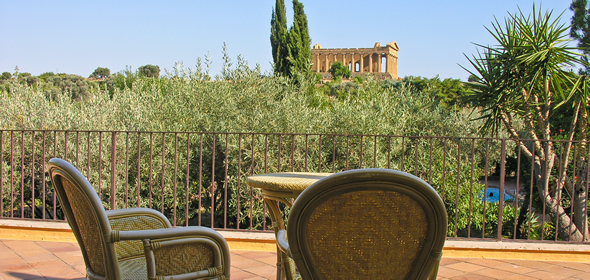 Agrigento's Hotel Villa Athena has rooms with a view of the Temple of Concordia.
Lodging options in Agrigento
There's nothing of note in the town of Agrigento itself, so do yourself a favor and stay in the fabled Valley of the Temples—though if you don't have a car, that might be a bit limiting, so perhaps staying in town would be better for those arriving by public transportation.
Best Agrigento hotels—In the Valley of the Temples
For years, the Villa Athena was the only lodging actually in the Valley of the Temples. A few more have since sprung up, and make excellent alternatives.
Hotels in town
Hotel Bella Napoli [€€] - It's not a bad budget joint, but it's a far cry from the Concordia (above). The almost cell-like rooms are exceedingly plain, with functional furnishings of various ages and states of disrepair, and ceiling lamps that look like leftovers from the War of the Worlds film set. The tile floors are clean, though, and it's in a quiet part of town at great, pensione prices. However, the cots springs are on their last legs. The phones aren't direct dial, but the bored staff at the front desk will ring you through. Piazza Lena 6, 92100 Agrigento. tel. 0922-20-435. www.hotelbellanapoli.com. (Walk to the far end of Via Atenea, then turn right past the funky Chamber of Commerce and immediately right again to double back up the short, steep street.)
If you can't find space at the hotels above, rooms 32–35 at the Hotel Belvedere [€–€€], Via S. Vito 20 (tel. 0922-20-051), live up to the hotel's name with vistas over the Valley of Temples. There are no amenities, but it's clean, if a bit down at the heels.
More hotels in Agrigento
Related pages
This article was written by Reid Bramblett and was last updated in August 2012. All information was accurate at the time.

about | contact | faq

» THE REIDSITALY.COM DIFFERENCE «

Copyright © 2008–2013 by Reid Bramblett. Author: Reid Bramblett