The Big Apple Switcheroo
Fly to New York City on a cheap no-frills airline or low-cost carrier, and from there you can get airfare to Europe much more cheaply
• No-frills airlines
• How they work
• How to find them
• How to book them
• N. America to Europe
• Intercontinental LCCs
• Big Ben Switcheroo
• Big Apple Switcheroo
• Airport resources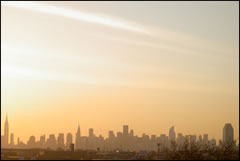 Don't assume a regular airfare on a major airline is your ticket to the biggest savings. If you fly, say, JetBlue or Southwest into New York City on your own, you can often land a much cheaper Transatlantic fare from there.
Een though I used to live in NYC, I feel your pain. By "your" I mean the rest of America, and by "pain" I mean that sinking feeling you get, right in the pit of your wallet, when it comes to searching in vain for a cheap fare to Europe if your point of departure happens to be deep in the heartlands of America.

I've done a stint in the Midwest (Missouri), and even now that I live back in Philly, finding the cheapest airfare to Europe is a problem. Sad truth is, those who don't happen to live in New York, Boston, Chicago, Miami, or Los Angeles often get stiffed, because those cities are the major US gateways from which most low prices and sale fares to Europe orginate. The "add-on" fares from other US cities can often run into hundreds of dollars, turning that great $170 round-trip rate to London into a $600 stinker.

I'm here to help.

While this tactic won't work every time, before you go ahead and plump big bucks for an add-on fare from your home airport, first look into trying to make your own way to the Big Apple—or whatever gateway from which the lowest -price ticket leaves—then continuing on using that lowest fare. (This is a variant on my patented Big Ben Switcheroo tactic, in which you score cheap tickets to London, then use no-frills airlines to continue on from there.)

This is where the no-frills / low-cost airlines like Southwest and jetBlue come in. They can often get you between any two cities they serve for around $198 round-trip or less. The catch is that "any two cities they serve" bit, because by definition most of these feisty little low-cost carriers don't have nearly the massive route networks of the Big Boys.

But just because jetBlue, Southwest, and friends usually offer the best domestic rates, don't write off the other, major airlines.
Be sure you check out the price of a round-trip flight from your hometown to NYC with the major search engines and the meta-search sites before you commit. You never know when US Airways or Delta might happen to undersell Southwest on a given day or routing. Rare, but it happens. Do your homework; it can save you hundreds in the end.
Which Way to JFK?
Be careful to note which airports are involved in any Big Apple Switcheroo. Most transatlantic flights out of the NYC area leave from New York-JFK (in southern Queens) or Newark (known as "EWR" in air travel code, located across the river from Manhattan in New Jersey). Many domestic flights into NYC land at LaGuardia (or "LGA," in northern Queens).

For more info...
For updated information on connecting New York City area airports—and some far more complicated ways using multiple forms of transportation—see this page on the Port Authority of NY and NJ.

For insanely detailed information on how to get to downtown Manhattan from New York's various airports, check out this wiki on FlyerTalk.comThough Southwest Airlines now uses LaGuardia for many flights, some do still infamously land at itty-bitty Islip (a.k.a. Long Island MacArthur Airport), an hour's drive east of the city on Long Island. Avoid this at all costs. It will do you little good to fly into Islip and find it'll cost you a $100 cab ride—and two hours or more of your time—to get to Newark Airport, the one from which that great Alitalia fare to Rome leaves.

There is finally an inexpensive bus service between JFK and LGA called the New York Airport Service Express Bus (718-875-8200 x110, www.nyairportservice.com). It takes 45 minutes, costs $13, and leaves every 30 minutes: from JFK 6:30am–8pm, from LGA 7:30am–8pm.

There is also now a shuttle bus between JFK and Newark called Olympic Airporter (800-822-9797, or #16 on JFK self-service phones; www.goairporter.com). It takes 90 minutes, costs $30, and departs hourly: from Newark 6am–6pm, from JFK 8am–8pm.

The shuttle bus from LaGuardia (LGA) to Newark (EWR) is run by ETS Air Shuttle (718-221-5341; www.etsairshuttle.com). It takes 45–60 minutes (up to 90 min. during rush hour), costs $32 ($57 for 2 perople, $70 for 3, $85 for 4), and runs hourly: from LGA 8:30am–9:30pm, from Newark 7:30am–10:30pm.

Otherwise, your best bet is a taxi. The official rates (in 2009; call 212-NYC-TAXI or 212-227-6186 for updates) are:

Between LaGuardia and JFK (30 min.): $25–$30
Between LaGuardia and Newark (60–90 min.): from LGA, $63–$67, plus tolls (figure $80); from Newark, a flat rate of $50, plus tolls.
Between JFK and Newark (75–90 min.): $74–$78, plus tolls (figure $90)
Private car service from Islip to JFK or LaGuardia costs $70 (to Manhattan it's $100—or take a $5 shuttle to the nearest LIRR train station—www.mta.info/lirr—and ride in with the commuters). Call 631-589-3500 for info or bookings.

Islip to Newark? Fuggitaboutit! (No, seriously: take that $5 shuttle to an LIRR station—www.mta.info/lirr—ride the train all the way to New York's Penn Station, then switch to the AirTrain to Newark's Liberty International Airport: www.panynj.gov/airtrainnewark).



This article was last updated in November 2007. All information was accurate at the time.
E-mail | Print | Bookmark


NoFrillsAir.com | BeyondHotels.net | EuropeTrains.org | EuropeHostels.org
About Us

Copyright © 2007–2008