Antarctica FAQ 1:
What you need to know to take a trip to Antarctica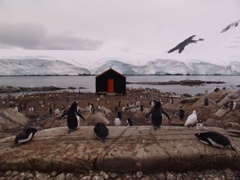 These should answer the most pressing questions for anyone considering a trip to Antarctica or an Antarctic cruise:
How much will a trip to Antarctica cost?
2011 Antarctica sailings

Intrepid Travel
• Antarctic Peninsula
(10 days)
• Antarctica & Sub-Antarctic Islands
(19 days)
• Antarctica & Weddell Sea
(12 days)
• Antarctica & Polar Circle
(12 days)

G Adventures
• Antarctica Classic
(11 days)
• Antarctica Classic in Depth
(13 days)
• Antarctica Classic Package
(14 days)
• Quest for the Antarctic Circle
(14 days)
• Quest for the Antarctic Circle Package
(17 days)
• Spirit of Shackleton
(20 days)
• Spirit of Shackleton Package
(23 days)
• Patagonia Experience & Antarctica Classic
(20 days)
• Patagonia Experience & Antarctica Classic in Depth
(22 days)
• Patagonia Experience & Quest for the Antarctic Circle
(23 days)
• Lake Districts of Patagonia & Antarctica Classic
(21 days)
• Lake District of Patagonia & Antarctica Classic in Depth
(23 days)

Others
www.coastalvoyage.com
www.reiadventures.com
www.oattravel.com
www.iexplore.com
www.infoHub.com
For a basic, 10-day to two-week cruise around just the Antarctic Peninsula and South Shetland Islands (of which 4-5 days are unavoidably spent at sea), you're looking at around $4,400 to $5,800. Add another $1,400 to $2,400 for airfare (figure on at least $2,000 for air).
For a longer 19- to 21-day cruise that also takes in South Georgia Island and the Falkland Islands, the price tag jumps to $10,000 to $15,000.
Fair warning: that longer version of the cruise involves many more days at sea (two from Antarctica to South Georgia, another two to the Falklands, and three back to Buenos Aires), but it is, in the end, a more interesting and varied trip.
See the page on recommended tour operators and cruise companies for more on specific prices and itineraries.
When should I go to Antarctica?
The cruise season is during Antarctica's summer: mid-November through mid-March (Southern Hemisphere, remember). In winter, only a handful of hardy scientists and crazy adventure explorers ever visit.
Still, even without a winter season, Antarctica does have a low season with lower prices (usually the first and last few sailings of the season) and a high season (everything between those sailings).
The best time to go is in January or early February, when most penguin chicks are hatching and before the vast penguin colonies start clearing out and heading for the open seas.
What will I see in Antarctica?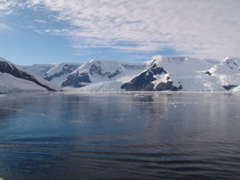 Well, mostly a lot of water. You spend a lot of days at sea.
Luckily, the wildlife starts almost as soon as you weigh anchor. Various species of of albatross and giant petrel will start following the ship, wheeling on the air and skimming gracefully across the waves.
You will likely also get to see the occasional pod of whales—humpbacks, minke, right whales, and others—spouting, breeching, rolling, and diving.
Once you get around the South Shetlands—the long string of islands that curve along the Antarctic Peninsula's northwest coast—you'll start passing icebergs, of which you will take far too many pictures. You'll also begin seeing rafts of penguins porpoising through the water, and the occasional seal—crabeaters, fur seals, leopard seals, and blubbery elephant seals—lying on ice floes.
Shore landings tend to be centered on penguin colonies: adelie, chinstrap, gentoo, king, rockhopper, and macaroni, mostly. Those emperor penguins you've seen on all the nature specials and March of the Penguins, huddled en masse during a blizzard with their eggs on their feet, are all up on The Ice itself, so unless you're a scientist or hard-core adventurer (or take a specific Emperor Penguin voyage), you won't be seeing them. (Don't worry; king penguins look exactly like emperors, just a bit shorter.)
You'll also likely see loads of fur seals and maybe some elephant seals as well during shore landings, along with loads of skuas, the giant brown gulls that, because they eat penguin eggs and chicks, are always cast as The Villains in nature programs (for underwater scenes, the bag guys become ravenous leopard seals chasing the penguins).
What you end up seeing, however, really depends on when you go—different species mate, hatch, raise their young, molt, and head back out to sea at different times—and which landings your ship happens to make (nothing is ever guaranteed in the extreme conditions of Antarctica, and the ship's captain has to make all his decisions about routings and landings on the fly and based upon the ever-changing weather).
Oh, and if you're lucky enough to be on a ship that visits the sheltered cove of the volcanic Deception Island, you might get to do everybody's favorite photo op: take a swim in an Antarctic hot spring dug into the sand (and by "hot spring" I mean "one that's slightly warm, like bath water, so you don't freeze to death").
How do I get to Antarctica?
From North America, the most common route to Antarctica is to fly down to South America and sail from there to tour the Antarctic Peninsula.
Though some cruises leave from Buenos Aires, Argentina or Santiago, Chile, the majority take off from the southernmost city in the world, Ushuaia, Argentina, which lies on Tierra del Fuego near the southern tip of the continent, beyond Patagonia. That means first you fly to Buenos Aires, then from there on to Ushuaia.
Some cruises include in their total price all this airfare (and the associated transfers and extra hotel nights they entail), making them a better deal than they might at first appear.


What should I bring for an Antarctic cruise?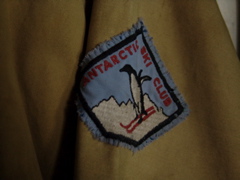 Well, pack warm clothes for one—lots of layers, not just a thick sweater. Bring good sunglasses (glare off the snow and ice, you know).
Bring windproof and waterproof jacket and pants—Antarctica is the windiest place on the planet, and on some shore landings you'll have to wade through the surf.
(The ship will provide rubber boots for landings—these, plus a washing system every time you leave and re-board, helps them control the contaminants you would otherwise be tracking back and forth from the ship. However, these boots are little more than black Wellies, which means they're thin and uncomfortable. I recommend wearing three layers of socks, both to cushion your soles and and to guard against the cold that seeps right through the thin, un-insulated rubber.)
Pack some compelling reading material—novels for all the down-time, plus good books about Antarctic and its history (I've put together a list of recommendations.)
Also, bring a couple hundred dollars in cash. You actually get more chances that you might think to spend money, as the research stations that you visit will usually have little gift shops (and, if you stop at Verdnasky base—built by the Brits but now run by the Ukrainians—they have a pub upstairs that sells killer vodka brewed on site using glacier ice).
This goes doubly if your cruise includes South Georgia (there's quite a nice gift shop at the Grytviken museum) and the Falklands (for souvenirs in Stanley—and a non-shipboard meal in the pub!).
What questions should I ask the cruise company?
Ah, that's the subject of FAQ 2: Questions to ask the tour operator or cruise company.

| | | |
| --- | --- | --- |
| Related Articles | | Outside Resources |
This article was last updated in January 2010 All information was accurate at the time.



about | contact | faq

Copyright © 1998–2010 by Reid Bramblett. Author: Reid Bramblett.