Road Trip: Lost in Southern Utah: Day 3
Torrey to Bryce Canyon via Capitol Reef NP and the unbelievably scenic Utah Route 12 through the Dixie National Forest and Grand Staircase-Escalante National Monument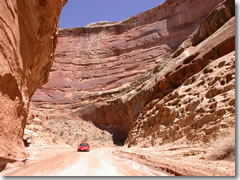 In Utah, they call this dry wash in Capitol Reef National park a "road."
We and our hangovers were up by 8am and off by 9 to check out what Greg had described as the only nesting pair of bald eagles in Utah.
Sure enough, just down the road in a giant old cottonwood tree near an ancient, rusting Amaco fuel truck, was a nest that must have been six feet across.
Just one parent bird was home, hunched down so all we could see was a pair of broad chestnut shoulders and a brilliant white crown.

Bandit country
Torrey is the gateway to Capitol Reef National Park (www.nps.gov/care). As it was the least well known of Utah's five parks—all I knew was that the odd name comes from two of its rock formations, one that looks like a massive reef, the other than kinds sorta looks like the dome on the Capitol building in Washington, DC—I hadn't expected much from Capitol Reef.
I was badly mistaken.

Southern Utah Road Trip
Intro
Day 1: Moab & Arches NP
Day 2: Canyonlands NP & Monument Valley
Day 3: Capitol Reef NP, Hwy 12, & Bryce NP
Day 4: Bryce NP & Zion NP
Practical info
Route 24 cuts through the park itself, threading through a high valley carved by the little Fremont River, but admission is charged only if you turn down the scenic road into the heart of the 241,904-acre park.
The only settlement was the tiny orchard-tending community of Fruita, surrounded by cherry, apricot, apple, and pear trees. Mule deer grazed on the banks shaded by gnarled giant cottonwoods.
Thousand-year-old petroglyphs of funky alien-looking gods and fat little antelope were scratched into a cliff face by the road side, a remnant of the ancient Fremont Indian civilization that had developed, thrived, and vanished here long ages before the arrival of the white man.
I had planned to spend only an hour or so at most at Capitol Reef—just enough time to take a quick glance around from the car windows and move on. That hour was already used up by the time we turned off the highway and onto the ten-mile Scenic Drive, which followed a long, dramatic wash—a dry canyon that becomes a river during rainstorms. The canyon walls rose hundreds of feet on either side of us as the dirt road looped and twisted its way through an increasingly narrow and torturous slot canyon.
At the end of the road, we parked and continued on foot for about two miles. As we walked, lizards darted out of our path, and when I jumped onto a boulder to take a picture, I flushed a quail.
It was starting to feel distinctly like bandit country, and I couldn't shake the eerie feeling that around the next bend we'd be ambushed by men with bandanas over their noses.
I later found out that Capitol Reef was, in fact, once the hideout for Butch Cassidy and the Wild Bunch.
We scrambled up a hillside to see "The Tanks," a series of natural water cisterns that had served as an oasis in this stretch of desert. They also cooled the air by a good ten degrees.
As we sat above one pool, gazing out over the canyon badlands, I realized we had run into only five other people all morning.
Rte. 12: Possibly the most scenic highway in America
Highway 12 earns my vote for most spectacular drive in America.
From Torrey we wound south through Dixie National Forest.
By the time we crested the summit at 9,200 feet, the road was cut through eight-foot drifts of snow and the groves of aspen had given way to a forest of tall firs.
Views spilled down the white slopes picked with green Christmas trees to an expanse of red and yellow mesas and canyon-filled desert below, with a backdrop of the snowcapped Henry Mountains in the distance under a giant dome of deep blue sky.
And that was just the first 20 miles.
After a brief snowball fight, Stew and I headed down the other side of the mountains and into Grand Staircase-Escalante National Monument, where the road followed the top of a ridge line in a series of tight curves and 14% grades with sheer drop-offs of more than 1,000 feet on both sides—and no shoulder or guardrail.
Even more disconcerting, the first roadside pullover was at something called the Box Death Hollow Wilderness. This canyon was a study in shades of gray, its steep slopes littered with rounded black igneous boulders and strewn with the sun-beached fragments of animal skulls.
The route was also loaded with wildlife. As we passed through the town of Boulder, a llama grazed by the side of the road. Just beyond Escalante, four deer bounded over the roadside fence and dashed across the road in front of us. A few miles later, it was a daredevil bobcat streaking past.
Sunset at Bryce
Once again, we found ourselves racing the setting sun—this time to get to Bryce Canyon National Park (www.nps.gov/brca) to see the sun illuminate the canyon's famous forests of hoodoos (orange and white candy-striped spires of rock).
We missed the natural show at the park's Sunset Point by five minutes. But as the crowds dispersed I noticed a photographer, laden with equipment, who hadn't budged from his perch. I asked if he was setting up for night shots, and he just smiled and said, "Wait a few more minutes. You'll see."
I was leaning against the low stone wall, shivering now that the sun was down but enjoying the view, when all of a sudden the snow between the pinnacles below us briefly glowed a luminous, pale purple.
Rather than stay at the tour bus-clogged Ruby's Inn Best Western complex—which, aside from a handful of B&Bs, is the only other lodging available near the park—we'd decided to splurge on Bryce's own historic lodge for a night (www.brycecanyonlodge.com).
Our room was blandly modern, but had a lovely balcony with rough hewn logs for railings and views over the snowy forest.
Unfortunately, dinner at the lodge was pretty awful. Everything was way too salty, my salmon was both pink and dry, and by the next morning I felt distinctly queasy. Perhaps it was just due to the kitchen's opening-night jitters—we did happen in on the first day of the season.
Day 3 details
Attractions

• Capitol Reef National Park (435-425-3791, www.nps.gov/care), Torrey, $5.
• Bryce Canyon National Park (435-834-5322, www.nps.gov/brca), Ruby Inn, $25.





Lodging & Dining

• Bryce Canyon Lodge (888-297-2757, www.brycecanyonlodge.com), doubles from $125.



Directions

• From Torrey to Capitol Reef: Backtrack along Rte. 24 into Capitol Reef NP. Take scenic road south to the end (10 miles).

• From Capitol Reef NP to Bryce NP: The fabulous Rte. 12 (one of the most scenic drives in America) winds its way south from Torrey, through the Dixie National Forest, cutting through bits of Grand Staircase-Escalante National Monument, all the way through Henrieville and Cannonville to Ruby's Inn. At Ruby's Inn, a side road leads south into Bryce NP.

This article was by Reid Bramblett and last updated in December 2008, based on an article written for Budget Travel magazine in 2005, reproduced here by permission.
All information was accurate at the time.

about | contact | faq

Copyright © 1998–2013 by Reid Bramblett. Author: Reid Bramblett.
| | |
| --- | --- |
| The Travel Store | |