Road Trip: Lost in Southern Utah: Day 4
Bryce National Park to Zion National Park and then home over the San Rafael Swell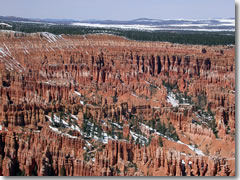 The hoodoos of Bryce Canyon National Park in Utah.
It was already April 2, but there was still as much as ten feet of snow blanketing Bryce Canyon National Park (www.nps.gov/brca), where the altitude ranges from about 7,900 to more than 9,000 feet above sea level.
The high snow levels meant that most of Bryce's trails were still closed to everyone except snowshoers—and with the lingering effects of my dinner, I wasn't up for that much activity.
Instead, Stew and I drove out to the end of Bryce's lone scenic road, stopping at each overlook along the way. The best were at the top-heavy pinnacles at Agua Canyon, the rock window called Monument Arch, and the massive amphitheater of hoodoos at Bryce Point, near the lodge and the park entrance.
Southern Utah Road Trip
Intro
Day 1: Moab & Arches NP
Day 2: Canyonlands NP & Monument Valley
Day 3: Capitol Reef NP, Hwy 12, & Bryce NP
Day 4: Bryce NP & Zion NP
Practical info
Bryce was a bit of a culture shock for us. We felt surrounded by hordes of fellow tourists babbling in a dozen different tongues.
There were tour buses and RVs and great carloads of happy families, snapping photographs and bragging about the view over their cellphones. (Cellphones? Mine hadn't gotten service since we left that grocery store in Blanding.)
After several days of back roads, little-known wonders, and a complete absence of crowds, it was rather disconcerting. And this was just the second day of the season.
Shuddering to think of what it must be like in the height of summer, we hopped in the car to push on.
Four national parks down, one to go.
The promised land, or Yosemite in miniature?
Route 9 runs right through Zion National Park (www.nps.gov/zion), past the pyramid-like Checkerboard Mesa, a pale gray rock face scored with a mesh of cracks.
We had just enough time to take the park's most rewarding short hike, the mile-long Canyon Overlook trail above a narrow, crashing gorge to a bluff-top viewpoint over the Lower Valley.
As we gazed at the emerald creek flowing below and the broad valley flanked by bald stone peaks that looked a bit like Yellowstone in miniature, a young family arrived at the overlook.
The boy, about ten, scrambled over the rocks searching for lizards, but his sister, a few years younger, merely stood there, drinking in the view. After a few minutes, I heard her ask, "Daddy, how could you ever get tired of just…just looking at this?"
Private cars are no longer allowed on the road north of the visitor's center, so we caught the free shuttle bus, whose driver pointed out climbers setting up bivouacs for the night halfway up the sheer cliff faces on either side of us.
At the north end of the road, as dusk set in, we hustled to the end of the cement Riverwalk trail, stripped off our socks, slipped on our sandals, and plunged into the icy waters of the Virgin River.
This was the Narrows, the only (official) U.S. trail that's almost completely underwater. The Virgin River surges between canyon walls that at times are only 25 feet apart yet soar up to 2,000 feet.
Hikers must check with the weather service before setting off because flash floods can send a wall of water tens of feet high racing down the canyon.
I've hiked it before, and once you're; beyond the first branching canyon (and the daytripping crowds), there are places where the water comes up to your armpit, forcing you to carry your pack overhead.
At twilight, while the spring snowmelt kept the water a brisk 32.1 degrees (well, that's what it felt like), Stew and I made it only around the first bend before the frigid water surged up to our knees.
We snapped a couple of quick pictures of ourselves for bragging rights and hightailed it back to dry land to massage feeling back into our numb feet.
Unwinding in Springdale
Just down the road from the park gates in the gateway town of Springdale, we checked into a spacious cottage at the Canyon Ranch Motel (www.canyonranchmotel.com) and immediately headed for the outdoor hot tub. Fifteen minutes of soaking (and the last two cans of Sapporo from our cooler) restored our circulation and eased our aching muscles.
We finished off the evening with some of the best Mexican food I've ever tasted in the U.S. on the deck of the Bit & Spur Saloon (www.bitandspur.com). From the perfect sangria to the odd potato, poblano, and chorizo soup to the flavorful sweet potato tamales topped with shredded pork and salsa, it was heavenly.
The next morning we turned our wheels east onto Rte. 70 to zip back across the state over the gorgeously desolate moonscape of the San Rafael Swell, which gets my vote for "clearly the place where they faked the moon landings."
As we passed the turnoff for Arches again and neared the edge of Utah, a flock of tumbleweed blew out of the high desert and playfully chased our car toward the Colorado state line.
Day 4 details
Attractions

• Zion National Park (435-772-3256, www.nps.gov/zion), Springdale, $25.



Dining

• Bit & Spur Restaurant and Saloon (435-772-3498, www.bitandspur.com), 1212 Zion Park Blvd., Springdale.



Lodging

• Canyon Ranch Motel (866-946-6276 or 435-772-3357, www.canyonranchmotel.com), 668 Zion Park Blvd., Springdale, doubles $59–$99.




Directions

• From Bryce NP to Zion NP: Back up to Rudy's Inn. Continue west on Rte. 12 to Rte. 89 south. At Mount Caramel Junction, turn west onto Rte. 9. This goes right through Zion NP to Springdale its main gateway town.

• From Zion NP/Springdale back to Grand Junction, Colorado: Continue west on Rte. 9 to La Verkin, then north for six miles on Rte. 17 to I-15 north. Follow I-15 north to Cove Fort (exit 132), where you pick up I-70, headed east. Ride that baby all the way back across the state to Colorado—you'll cross the seemingly endless and gorgeously desolate no-man's land San Rafael Swell, which is quite clearly where they faked the moon landings; before doing so, take those billboards about "last gas for 134 miles" seriously.
This article was by Reid Bramblett and last updated in December 2008, based on an article written for Budget Travel magazine in 2005, reproduced here by permission.
All information was accurate at the time.

about | contact | faq

Copyright © 1998–2013 by Reid Bramblett. Author: Reid Bramblett.
| | |
| --- | --- |
| The Travel Store | |