Lost in Southern Utah: Practical info
Two friends make the rounds of Utah's National Parks in four days of adventure in the high desert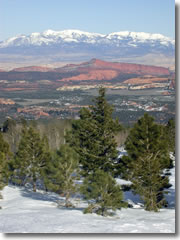 An overlook along Route 12 in Southern Utah (See Day 3).
How to get the parks of Southern Utah
Salt Lake City is actually not the most convenient gateway for the parklands of Southern Utah.
We flew into Grand Junction, Colorado via Denver—a 90-minute drive from Moab—but could just as easily have done this trip in reverse by flying into Las Vegas, a two-hour drive from Zion.
Southern Utah Road Trip
Intro
Day 1: Moab & Arches NP
Day 2: Canyonlands NP & Monument Valley
Day 3: Capitol Reef NP, Hwy 12, & Bryce NP
Day 4: Bryce NP & Zion NP
Practical info
Grand Junction's tiny regional airport (www.walkerfield.com) has direct daily flights (www.momondo.com) to and from Denver (on United or Frontier), Dallas/Ft. Worth (American Airlines), Salt Lake City (Delta), and Phoenix (US Airways), plus non-daily flights to and from Las Vegas (Allegiant Air).

The Utah Bookshelf

GUIDEBOOKS:


FUN & INSPIRATION:


When to go to Southern Utah
We went the first week of April, when many outfitters had just opened for the season (the parks are open year-round, as is the lodge in Zion, but the Bryce lodge is open only April 1 to October 31).
However, even though this is the desert, it's the high desert, which means there was still plenty of snow at higher elevations and daytime temperatures in the 70s plummeted to less than 10 degrees some nights.
Then again, we beat most of the crowds that pack into Zion, Bryce, and Arches come June and remain through the brutal heat of August.
Get the National Parks pass!
At the entrance of the first park we visited—Arches—we bought a National Parks annual pass for $50, since paying separate admissions to each of the five parks would have cost $65. You can also order the pass by phone or online: 1-888-ASK USGS (ext. 1); store.usgs.gov/pass.
(2013 update: The annual pass is now a scandalous $80 and comes with a treacly, jingoistic new name: the "America the Beautiful" Pass. It's still a bargain, even if not, technically, a savings on this particular trip, since the individual prices on the parks of Southern Utah have gone up by a little less and collectively ring in at total of $75. However, you then have a full year to use it at just one other National Park, Forest Service, or BLM-managed land—and park admissions generally start at $5—after which you would start reaping the savings.

)
This article was by Reid Bramblett and last updated in December 2008, based on an article written for Budget Travel magazine in 2005, reproduced here by permission.
All information was accurate at the time.

about | contact | faq

Copyright © 1998–2013 by Reid Bramblett. Author: Reid Bramblett.
| | |
| --- | --- |
| The Travel Store | |