Nitmiluk National Park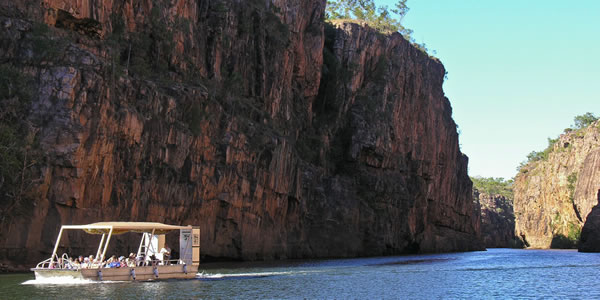 A two-hour boat tour of Katherine Gorge in Nitmiluk National Park
The 2,928-square-kilometer (1,131 square mile) National Park in the Northern Territory is co-operated by the territorial government and the land's ancestral residents, the Aboriginal Jawoyn people. In fact, its name derives from their language: "Nitmi" mean cicadas; "luk" means home.
It's a great place to spot some of Australia's profusion of birdlife (more than 200 species make their home in the park), along with bigger Aussie critters like red kangaroos and freshwater crocodiles. (If you camp at the main Leylin campground, be prepared to be awakened at dawn by the screeching of little red flying fox boats coming home to roost in the trees.)
Nitmiluk is most famous for the gorgeous Katherine Gorge—actually a series of 13 gorges along the Katherine River—but for my money, it is worth spending a full week here trekking the 66km Jatbula Trail, an old Jawoyn songline through the Outback to 17 Mile Falls and then across the park's backcountry to Leliyn (Edith Falls), with a campsite by a billabong swimming hole each night (typical trip: 5 days/four nights).
| | |
| --- | --- |
| The Travel Store | |