Study programs in Italy & brainy tours of Italy
Study tours, educational programs, and brainy vacations focusing on art, history, culture, or other academic aspects of Italy
Even if you're the most die-hard do-it-yourselfer, you might want to consider a study tour. Although most people's image of the traditional tour is big bus stuffed with Americans in Bermuda shorts hitting only the major attractions in a conga line of snapshot-ready sightseeing, plenty of smaller, more focused tours are out there.
Some specialize in art and history, others in opera or cooking. You may excavate ancient Roman ruins with an archeologist, or learn Italian while staying with an Italian family, sail the ancient sea routes of the Mediterranean or take an artisan workshop in the Abruzzi mountains.
Our partners at InfoHub.com (www.infohub.com) let you compare hundreds of cultural and educational vacations from dozens of tour companies and operators all at once:

Here are some other highly-regarded cultural and educational tour operators:
Smithsonian Journeys (www.smithsonianjourneys.org) - If you missed out on study abroad in college, these brainy tours run by the best academics the Smithsonian Institution can dig up might be just the ticket—albeit a pricey one. High quality stuff, here.

RealAdventures.com (www.realadventures.com) - Brings together hundreds of travel and tour companies—large and small, international and local—to provide more than 9,800 Italian tours and travel experiences, from cooking classes to artisan workshops to language schools.
Two excellent British-based educational tour companies are Martin Randall Travel (www.martinrandall.com) and The Traveller (www.the-traveller.co.uk).
Alumni Holidays (www.ahitravel.com) - AHI Travel runs the week-long, seminar-based educational trips used by many colleges and universities for their alumni programs.
Also contact your alma mater—or any college or university for that matter—to see whether they offer summer tours open to the public and guided by a professor.
The National Registration Center for Studies Abroad (studyabroad.nrcsa.com), American Institute for Foreign Study (www.aifs.com), and the Institute of International Education (www.iie.org) can help you arrange study programs, summer programs abroad, and scholarships.
Earthwatch (www.earthwatch.org) offers education-packed participation in worldwide archaeological digs, animal behavioral patterns studies, and other opportunities to engage in academic and scientific fieldwork. This year in Italy, they're helping excavate and preserve a Roman settlement overlooking the sea on the Tuscan coast halfway between Rome and Pisa.
Related pages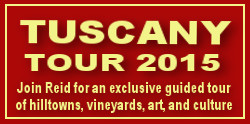 This article was written by Reid Bramblett and was last updated in March 2010. All information was accurate at the time.

about | contact | faq

» THE REIDSITALY.COM DIFFERENCE «

Copyright © 2008–2013 by Reid Bramblett. Author: Reid Bramblett