Biking Amsterdam
Renting a bicycle to tool around Amsterdam—a city built for cycling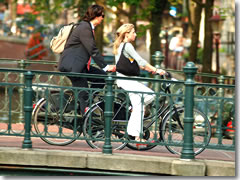 The Dutch are some of the most avid bicyclists I've ever encountered, probably because their country is so flat and bikable. There are 15 million people in this country... and 12 million bikes. Why not join them?
You'll quickly get used to streets being divided into three parallel traffic strips: a lane for cars, a lane for pedestrians (the sidewalk), and between the two a narrow lane for bikes. Each even has its own stoplights—and you absolutely must obey these.
It's not like biking in the States, where bicycles typically weave freely in and out of traffic and between pedestrians, riding up on the sidewalks and sometimes cruising along the middle of the street. Ride like that in Amsterdam, and you will get someone hurt or killed—possibly you.
No, in the Netherlands you must stick to the bike lanes, and you must obey the traffic signals. I'm serious. Not only is this far, far safer (since the cars will all assume you are obeying the signals like a good Dutch bicyclist, they will be slow to react if you suddenly, say, dart in front of them), but the police will ticket you for infractions. I kid you not. Do you really want the shame of having to pay a fine for improper biking?
The Dutch also use hand signals for turns, and dismount to walk across pedestrian zones, shopping streets, or sidewalks. Also: be careful riding across tram tracks; your tires can get stuck in the groove, so always cross them at a sharp angle.
A few places you cannot ride a bike in Amsterdam (you must walk it): in front of Central Station, down the Leidsestraat, and around Stationsplein, Leidseplein, Rembrandtplein and Waterlooplein.
You cannot take a bike onto a tram (except tram #26, and it costs extra), but you can take it on the Metro (again, it costs extra).
Always lock your bike—and consider purchasing the rental company's optional theft insurance ($1 to €3 per day), as bicycle theft is most junkies' income stream of choice in Amsterdam.
Bike rentals
Renting a bike ($10–$13 for three hours, $18–$20 for a day) is one of the best ways to explore Amsterdam away from the tram routes and major sights (quiet Sundays are best). The only hills you'll have to deal with are the humps of bridges over scenic canals. Try:
Viator.com also sells a $46 Essential Amsterdam package that includes:
If you want to take a bike tour, hook up with Mikesbiketoursamsterdam.com, Yellowbike, or our affiliate Viator.com for its:
| | |
| --- | --- |
| The Travel Store | |