Cruising the Canals
Taking a canal cruise in Amsterdam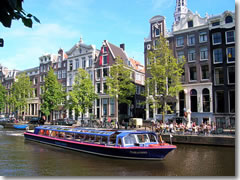 Cruising the canals of AmsterdamAmsterdam has 165 canals spanned by more than 1,200 bridges, so no trip is complete without a boat trip on a canal.
There are two main types of canal boat trip:
Canal cruises
There is no better way to get a feel for this city or to see its gabled houses, lithe bridges, busy harbor, and some unforgettable sights (such as the unlikely Cat Boat, home to about 150 of the furry felines who are supposed to detest being anywhere near water).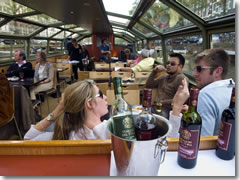 Inside an Amsterdam Canal cruise boatMost tours last an hour and depart from the Damrak or near the Rijksmuseum or Muntplein. They run every 15 to 30 minutes in summer (9am to 10pm), every 45 minutes in winter (10am to 4pm), and cost around €13 to €18 for a 60 to 90-minute cruise. (Fancier, longer, or thematic cruise—by candlelight or with dinner—can cost from €19 up to €75.)
Similar tours are operated by more companies than you could shake an oar at, so here are just a few: Blue Boat Company (tel. +31-(0)20-679-1370, www.blueboat.nl) Amsterdam Canal Cruises (tel. 020-626-5636, www.amsterdamcanalcruises.nl) and Holland International (tel. 020-625-3035, www.hir.nl).
Prefer to book a canal cruise or thematic canals tour ahead of time? Try an Amsterdam canals cruise via our partners at Viator.com:
| | |
| --- | --- |
| The Travel Store | |