In Search of Istria
Dangling into the Northern Adriatic is a land that's not quite Italy, not quite Croatia, but marries the best of both. Its medieval hilltowns, vine-clad slopes, and Venetian fishing ports are less crowded than the popular Dalmatian Coast—and less expensive than Italy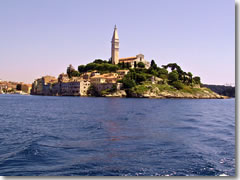 Rovinj, a town along the Croatian coast of Istria."Istria is shaped like a heart, and it is the heart and the soul of Croatia."
As I waited for Anna, my host's English-speaking daughter, to translate this nugget of Istrian wisdom, I took another gulp of the Stojšić family's Muscat-Malvasia blend.
It was pretty good stuff. Strong, too. That was why, explained my host, he had cut it with Malvasia grapes.
"If you drink only Muscat, it will go straight to your head and make you crazy."
Apparently, in diluted form the wine merely drives a man to poetic insights about his homeland.
A farm at the heart of Istria
The homeland of which Slavko Stojšić is so proud is the Istrian Peninsula, a broad wedge—yes, given enough Muscat you could call it heart-shaped—dangling its spectacular scenery into the northern Adriatic Sea at the point where Slavic, Teutonic, and Italian cultures meet.
Its coasts are strung with a necklace of medieval resort villages done in Venetian Gothic. The mist-shrouded interior is a picture-postcard landscape of fortified hilltowns separated by a green wash of forests, vineyards, and family farms.
On the pronunciation of Croatian
Most of the odd Slavic accents you'll see mean the same thing, pronunciation-wise: you soften the consonant.

The little "v" over a letter means you should pretend there's an h immediately following the letter. An accent aigu over a c means you should pronounce it "tch," like the t in "future."

So, remembering that a j is roughly the same as a y, the last name of the farmer in the first paragraph, Stojšić, has the unfortunate pronunciation of "Stoy-shitch."One of these farms is the Stojšić family's Gologorički Dol, which raises sheep, horses, cows, goats, and chickens, grows fruit, grains, and vegetables, and, as an agroturizam, rents out four rustic but comfortable rooms and serves farm-hearty meals (Gologorički Dol 6, southeast of Pazin; tel. +385-(0)52-684-625; www.tzpazin.hr/index.php?stranica=150; doubles from 200kn/$34, meals 60kn/$10).
As Anna checked me in for a two-night stay, Slavko appeared in the doorway, a tall man wearing a bucket hat and dusty worn clothes and carrying a huge ham hock on a hook in one hand. Frankly, he looked a little bit scary.
He stared at me for a moment, then turned to the kitchen to bark out a question. Anna said something back, and Slavko turned to stare hard at me again.
Then he broke into a smile and insisted I accompany him to the cellars to share his wine—and learn about the peninsula's convoluted history and identity.
Istrian history (inebriated edition)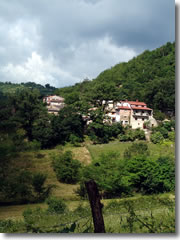 Gologorički Dol, an agroturizam snuggled into the forested hills of the Istrian interior."Istria is today in Croatia and in Slovenia," said Slavko.
(Actually, most of it is in Croatia, but after the dust settled from Yugoslavia's implosion in the early 1990s, Slovenia kept its traditional strip of territory across the north of Istria, including 29 miles of Adriatic coastline.)
"Before that it was Yugoslavia," he continued, taking my wineglass and filling it again, this time with a tangy Teran-Merlot red.
Eager to show I had read up on their forgotten corner of Europe, I pointed out that Istria had also once been part of Austria, and Slavko nodded.
"Yes," said Slavko, "and between the world wars it was Italy, and centuries ago it was split between the Austro-Hungarian Empire and the Republic of Venice."
Slavko leaned in to emphasize his final point.
In Search of Istria
• Intro - Welcome the farm
• Slovenia's coast
- Piran
- The Soline salt pans
• Croatia's coast
- Poreč
- Rovinj & Limski Canal
- Brijuni National Park
- Pula
• The hilltowns of inland Istria
- Pazin, Motovun, Grožnjan
- Frescoes in Beram & Draguć
- Hum
• Istria Planning FAQ
- Getting to Istria
- Getting around Istria
- Tourism offices in Istria
"But always, always, it was Istria," he said.
"Everything south of Trieste is Istria. It doesn't matter what the politicians say or what lines they draw on a map."
He poured himself another glass, we toasted the uselessness of politicians, and I settled in for the duration.
I knew my plans of sightseeing before lunch were now hopeless—just getting out of this wine cellar before restaurants stopped serving lunch would be difficult.
You see, this wasn't the first time I had been subjected to Istrian hospitality...

» On to Piran: Beachfront Slovenia
This article was last updated in May, 2009, when a version of it appeared in Budget Travel magazine. All information was accurate at the time.



about | contact | faq

Copyright © 1998–2010 by Reid Bramblett. Author: Reid Bramblett.