The urban side of Istria
In Search of Istria, part 6: Pula, Istria's biggest city, offers everything from ancient Roman ruins to modern boutique hotels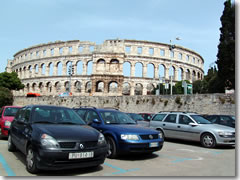 The ancient Roman amphitheater of Pula.The big sight in Istria's largest city, Pula (Pola), looms over the main parking lot: an AD 1st-century Roman amphitheater (Flavijevska ulica, Pula; open daily 8am–9pm, though in winter may close at 3pm; admission 40kn/$7 ).
Still in breathtakingly good shape, it was once the sixth largest in the Roman world, with a capacity crowd of 20,000. In the dusty center where gladiators once clashed there is a modern stage for summer concerts and theater performances.

Pula tourism info
Nikole Tesle 1, tel. +385-(0)52-219-197, www.istria-pula.comThe undercroft, which once held caged beasts and gladiators between shows, is stacked with ancient terracotta amphorae and display plaques boasting of Istria's tie with Spain as the Roman Empire's second most prolific producer of olive oil after Italy.
More Roman ruins are scattered around Pula's historic center: a temple to Augustus on the main square (still called "Forum"), some floor mosaics excavated behind the modern shop fronts on main drag Ulica Sergijevaca, and, at the end of that street, a Roman city gate decorated with time-bitten reliefs.
Just inside this gate was the Caffe Uliks (Trg Portarata 1, tel. 011-385-(0)5-221-9158), where I had a spiked coffee in memory of James Joyce, whose life-sized bronze likeness kicks back at an outdoor table and who lived here for six months, teaching English to Austro-Hungarian diplomats at the Berlitz school here to finance his writing.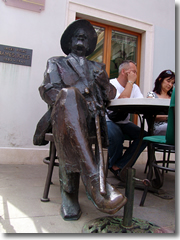 The statue of James Joyce, kicking back at a cafe named after Ulysses, on the site where he once lived in Pula.My favorite ancient site in Pula was the least ballyhooed—a much-decayed Roman theater tucked between the unremarkable archaeological museum and the hilltop castle (a squat, no-nonsense defensive star bristling with cannon and offering panoramic views and exhibits on local traditions).
The theater is clearly a place of escape from the urban hubbub. Birdsong mingles with the distant buzz of scooters. Teenagers sprawl across the ancient seats of the cavea, smoking, fingering their dreadlocks, and watching the occasional local resident pass through walking a dog. Tiny brown-and-white snails cling to the thistle growing between cracks in the lichen-spotted limestone of the ancient masonry.
Staying (and dining) at the chic Valsabbion
In Pula's southern suburbs, with a view of the ocean, is the Valsabbion, one of Istria's finest boutique hotels (Pjescana uvala IX/26; tel. 011-385-(0)52-218-033, www.valsabbion.hr; doubles from €84 online).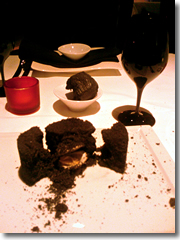 Dinner at the Valsabbion gets creative.Everything at the Valsabbion is done in postmodern chic, from the 26-foot hydromassage pool in the glassed-in rooftop spa to the designer décor of the rooms, which they change every few years but at the time of writing was rigorously black and white with red accents.
For more than a decade, the meals served al fresco on the flagstone patio have earned the Valsabbion "Best Restaurant in Croatia" nods from top international gastronomic guides.
Menus change constantly, with à la carte dishes starting around $20—a price that will get you a full meal in much of Istria—and tasting menus for around $80.
Then there's the Menu d'Autore: a marathon of 12 courses featuring their finest concoctions paired with glasses of five different Istrian wines for $110. The dinner lasts for hours, each course more wonderfully odd than the last.
In Search of Istria
• Intro - Welcome the farm
• Slovenia's coast
- Piran
- The Soline salt pans
• Croatia's coast
- Poreč
- Rovinj & Limski Canal
- Brijuni National Park
- Pula
• The hilltowns of inland Istria
- Pazin, Motovun, Grožnjan
- Frescoes in Beram & Draguć
- Hum
• Istria Planning FAQ
- Getting to Istria
- Getting around Istria
- Tourism offices in Istria
(I'm trying to decide which was quirkier, the single clam backed inside a huge cylinder of black salt, pictured above, or the raw steak pounded into a pâté and cooked by blowtorch at the table.)
The Valsabbion was a lovely hotel with impeccable service. However, a big city and a boutique hotel weren't really the Istria I'd come to experience. I'd also had my fill of these picturesque fishing ports overrun by beach-besotted packaged tourists.
It was time to get to the medieval hilltowns and farmland at the heart of the peninsula.

» On to The Center: The hilltowns of the Istrian interior
This article was last updated in May, 2009, when a version of it appeared in Budget Travel magazine. All information was accurate at the time.



about | contact | faq

Copyright © 1998–2010 by Reid Bramblett. Author: Reid Bramblett.