The perfect Croatian coastal town
In Search of Istria, part 4: The gorgeous medieval town of Rovinj and a sail up the Lim Fjord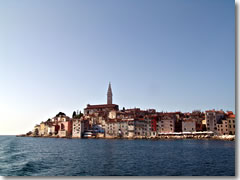 RovinjRovinj (Rovigno in Italian) was founded on what was once a (barely) offshore island long since connected to the mainland.
Its historic center is the sort of place featured on the covers of guidebooks, an oval of pastel medieval houses rising directly from deep blue waters and swirling in a tangle of alleys up to the 18th-century hilltop church of St. Euphemia, which faces out to sea and spills its terraced gardens down the tip of the peninsula like some grand theater stage.

Rovinj tourism info
Obala Pino Budicin 12, tel. +385-(0)52-811-566, www.istria-rovinj.comFor slightly less than what the nearby hotels were charging, I stayed in a gorgeous studio with kitchenette at Alla Porta Antica (Ribarski prolaz 4, Rovinj; tel. +385-996-801-101; www.portaantica.com; from €60–€90/$77–$115, depending on season; stays shorter than 3 or 5 nights, depending on season, invoke a €20/$26 fee).
Alla Porta Antica was not a hotel, but a set of apartments in the old town overlooking the sea and run by Svetlana Belyaeva, an Estonian who winters in Northern Italy and lives here during tourist season (Ah, the ever-shrinking Europe.)
The simple joys of Rovinj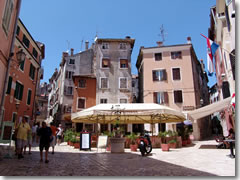 A square in the back streets of Rovinj.In the narrow streets surrounding my apartment were an outdoor market by the water, women hand-tatting lace in one doorway and little girls trading cards in another, and, 30 feet above my head, neighbors tossing casual conversation from one baroque balcony to the next.
Rovinj seems to have found the right balance, offering a variety of tourist services without sacrificing itself on the altar of mass tourism. One night I dined at Krčma Ulika, a tiny boîte with six tables, a candlelit ambience, and an ever-changing menu of high-end cooking (Vladimira Švalbe 34, tel. +385-(0)52-818-089, www.ulika.hr).
The next night I dug into simple but abundant staples like njoki (potato dumpling pasta) with goulash and a massive mixed grill of chicken, pork, and sausage at the homey Konoba Veli Jože, sort of a homespun Istrian T.G.I. Hooligan's crowded with farm and fishing implements, musical instruments, an old-fashioned diving suit, and other Croatian kitsch (Svetog Križa 3, tel. +385-(0)52-816-337, www.velijoze.net).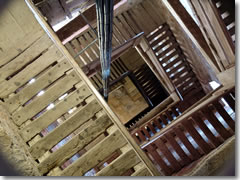 The staircase up the bell tower of Rovinj's St. Euphemia church.You really notice the difference, though, after dinner, strolling the tomb-quiet streets. There are no German tour groups or sun-crisped Italian families, just the moon-slicked limestone of the streets and the rustle of waves against the buildings.
The Republic of Venice controlled this coastline throughout the Renaissance era, and it planted a bell tower in the style of the one at St. Mark's in what seems like every town in Istria.
The one connected to St. Euphemia on Rovinj's hilltop—fitted with 190 alarmingly rickety steps up to a glorious panorama across the town and its harbor dotted with islands and boats—is crowned by a statue of St. Euphemia that acts as a weathervane.
When she faces inland, it means the humid Jugo wind is blowing in from the sea—bad news for fishermen. When she turns to face the sea, it's a sign of dry Bora winds off the mountains and good conditions for sailing.
Arr! Here be (no) pirates: The Lim Fjord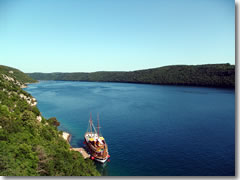 The Limski Kanal, or Lim Fjord, a bay north of Rovinj.Of all the boat trips offered on Rovinj's harbor, a four-hour cruise up the coast and into the Limski Kanal is the most popular, possibly because the entrance to this long, skinny bay passes between two nudist camps.
(The are several outfits; I used Delfin Excursions, docked in front of the Adriatic Hotel off trg Marsala Tita; tel. +385-91-514-2169; Lim tours daily at 2pm; 150kn/$32.)
Though carved by a (now-vanished) river, not a glacier, Lim Bay is often mistakenly called a fjord. This is largely because Kirk Douglas's 1958 The Vikings was filmed here—boats stop for gelato, beer, and souvenir rakija at the bay's only settlement, the Viking restaurant complex opened by the film's caterer.

In Search of Istria
• Intro - Welcome the farm
• Slovenia's coast
- Piran
- The Soline salt pans
• Croatia's coast
- Poreč
- Rovinj & Limski Canal
- Brijuni National Park
- Pula
• The hilltowns of inland Istria
- Pazin, Motovun, Grožnjan
- Frescoes in Beram & Draguć
- Hum
• Istria Planning FAQ
- Getting to Istria
- Getting around Istria
- Tourism offices in Istria
The Limski also kind of looks like a fjord: eight miles long, just 500 to 800 yards wide, and flanked by steep, heavily forested slopes and limestone ridges riddled with caves once used by pirates—though not, despite what most folks in the area tell you, the British privateer Captain Morgan, who spent most of his career in the Caribbean.
Large swatches of the bay's deep green waters have been given over to aquatic farming: black floats marking beds of oyster and black mussels, floating cabins encrusted with seagulls and surrounded by underwater breeding pools for sea bass and bream tended by fish farmers bearing long poles and wearing wide-brimmed straw hats.
Continuing south to Pula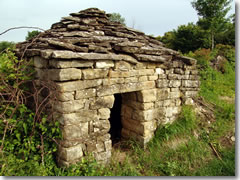 One of Istria's kažuni drystone huts.South of Rovinj, Istria begins to flatten out and the kažuni proliferate. These drystone beehive huts, used as farm sheds and shepherd shelters, are a prehistoric type of architecture.
The southern tip of the Istrian peninsula is steeped in antiquity, and nowhere is this more visible than in Pula, the closest thing Istria has to a city.
Along the way, however—or perhaps as a sidetrip from Pula—take the quirkiest day-trip in all of Croatia, a visit to Tito's former pleasure islands, now protected as Brijuni National Park.

» On to Brijuni National Park: Tito's private island
» On to Pula: The urban side of Istria
This article was last updated in May, 2009, when a version of it appeared in Budget Travel magazine. All information was accurate at the time.



about | contact | faq

Copyright © 1998–2010 by Reid Bramblett. Author: Reid Bramblett.