Digging for Your Irish Roots
No, not potatoes—though those are yummy. These are the best resources for tracing your Irish heritage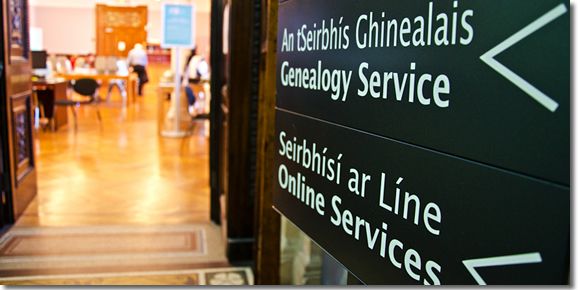 The Genealogical Services room at the National Library of Ireland in Dublin
Toward the close of the nineteenth century, Patrick Reid moved from Scotland to Ireland's central plains, where he set up as a hide tanner and cattleman in Mullingar. He emigrated once more to the United States and had a son named Matthew.
Later, a young Irish schoolteacher from Roscommon named Katherine Marie Burke also decided to follow many of her countrymen to America, where she met young Matthew, married, and had a son. His name, too, was Matthew Reid, and he was my grandfather.
That's the sort of story that could be recited by more than 44 million Americans today, because that's how many have at least some of their roots in Ireland. In fact, there are roughly eight times as many Americans of Irish descent than there are people in Ireland today.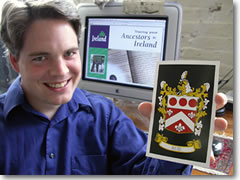 With the aid of the Internet, and a handy-dandy postcard rack filled with family crests, you can start tracing your Irish heritage.
I say "some roots" because if I were writing about Poland I would tell you instead about great-grandma Apollonia; about the Ukraine and it would be her husband Alexander; about England and I'd be writing about, well, pretty much my whole father's side of the family.
That's what's great about America; it truly is a mixing and mingling of bloodlines and cultures. It also gives many of us, whether our families have been in the US for one generation or ten, an odd yearning to rediscover those ancestral lands and, if possible, track down some long-lost cousins or at the very least find the gravestone of great-grandpa amidst the Celtic crosses of a small town Irish cemetery.
The Search—Irish ancestry resources
There are two main ways to conduct research into a family tree if you aren't lucky enough to have all the fact, dates, and details—or a relative who knows them—close at hand.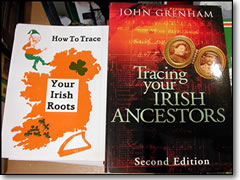 Need more guidance in the genealogy department? There's no shortage of books on the market to help you track down the deeper roots of your family tree.
The first is the long, often torturous, academic method of combing through public records and on-line databases, matching names and dates and vaguely remembered home towns and scraps of official documents like birth and death certificates and Ellis Island immigration forms.
This you can do, often to a great degree, on your own if you have the time, luck, proper leads, and happen to run across a few helpful librarians or clerks.
One wrinkle, of course, is the political division of Ireland between two countries, so if you need to look into records from the six counties of Ulster, those are all handled by Northern Ireland or U.K. offices, whereas the Republic of Ireland has all the rest. (Private companies usually ignore the division and include all 32 counties, though you do pay to use those services.)
The other route is to take whatever data you already possess and turn it all over to a genealogical research service or professional who will do the leg work for you for a fee, which can range anywhere from a flat $25 to $25 an hour, or perhaps $350 for a full family tree work-up.
The choice is yours. You may try the DIY route first and, if you can't seem to get anywhere, try one of the paid services.
Research - At home and in Ireland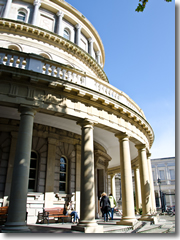 The National Library of Ireland in Dublin is the best place to start your research once in Ireland.The best news in the Internet age is that you can do some of the general work from home before you leave—gathering as much data as you can from relatives, and trying your hardest to pin down your ancestors' town of origin—then continue the search once you're in Ireland.
Most town libraries in Ireland have free Internet access terminals, so you can triple-team your search by availing yourself of on-line resources, flipping through microfilms in the back room, and nipping over to a country records office or local parish archives to pour over century-old printed records.
There are a bewildering number of ancestry Web sites out there-though I guess an embarrassment of riches is better than a paucity of choice. The best part of each, then, is probably that links page that opens up a few dozen more possible places in which to look.
I'll just list a few of the most useful and best starting points here (though note that, for most physical records, you'll eventually have to make a pilgrimage to Dublin's National Library and/or National Archives in person).
National & official institutions
Private companies
Commissioning a professional researcher
Again, a genealogical research service or professional will do the leg work for you for a fee, which can range anywhere from a flat $25 to $25 an hour, or perhaps $350 for a full family tree work-up.
Though using one of these may seem a bit like cheating—and certainly against the Budget Travel ethos in terms of cost—the benefits can be enormous.
Unless you have impeccable and detailed records of the family tree already, and/or get really lucky, the search can take you a massive amount of time, much of it spent wandering blindly down the wrong research paths or (ahem) barking up the wrong family tree.
Paid genealogists have the benefit not only of access to all the databases they may need, but also the expertise in knowing just where to look for the information, and how to plug those names and dates you provide into the right search to pop up a match.
They're also more familiar with the esoterica of such a search, such that, for example, immigration papers that peg a new arrival as "from Cork" may just mean that the ship your great-grandma sailed over on left from Cork.
(That one holds for most countries; many Italian-Americans believe their ancestors came from Naples or Palermo when in a high percentage of cases those major port cities were just where grandpa Mario caught the boat bound for Brooklyn.)
If you do use a service or a professional, make sure they are officially registered to do the work. There are three main organizations:
Association of Professional Genealogists in Ireland (AGPI). (www.apgi.ie) They do research in national archives and record repositories.
Public Record Office of Northern Ireland (PRONI). (www.proni.gov.uk) Useful site for for Northern Ireland; details on hiring researchers are under "Family History."
Irish Family History Foundation (IFHF). (www.rootsireland.ie) These folks go to the source to research in county archives or other specific areas.
The Payoff - What it is like to reconnect with long-lost cousins in the Olde Country
Of course, the real fun in the treasure hunt that winds down those snaking roots of your family tree comes when you get to the region whence your ancestors hailed and start tracing the more delicate tendrils of your family history.
Whether this be pouring over history tomes and civil records in the local library to verify birth and death dates or making a pilgrimage to the graveyard where the headstones of your great-great-grandparents lie, this is the payoff.
Tracing your family tree can be worth it, and it's far more than an exercise in genealogy. You may even be bold enough to track down local folks of the same last name—hopefully, with the help of documentation that shows a direct link—and introduce yourself to some long-lost cousins.
Remember that Polish great-grandmother of mine? Last year, just before making a business trip to Poland, my parents managed to track down Apollonia's younger twin brothers, who are in their 90s and still alive and well in the Old Country. One is a priest, the other a painter, and the latter's daughter and her family insisted that my parents drop by Krakow during their Poland trip.
I was going to Europe at the same time for work anyway, so I joined them for what turned into three days of familial camaraderie, delicious food, more vodka than one should take in a lifetime, and incredible tales of the family past.
We listened to the priest's jokes (translated into French for us by his niece) and his stories about the rollicking good times he had back in seminary with one of his buddies—who would go on to become Pope John Paul II.
We visited the painter's studio to see his art and watch the experimental films he made in the 1950s. We got a tour of the city from his 18-year-old granddaughter, who was tickled pink to discover that, in Polish terms, she was considered my aunt. And we learned an incredible amount about what life was like in Poland before the Nazis, under the Communists, and after the Iron Curtain was lifted.
I know none of that has had to do with Ireland or tracing one's Gaelic genealogy, but I'm afraid it's the closest I can get. Not everyone is lucky enough to make it to these final steps in tracing their ancestry, and so far as my Irish roots go, I haven't been.
The sad truth is that immigrants from any country often have a habit of turning their backs on the Old World and the old ways.
Many avoid speaking of their homelands or their personal history to offspring in the hopes that their children will grow up 100 percent American and not face the same trials and troubles they did as foreigners in our land. And many times, the kids, grandkids, and later generations are slow to realize their own interest in the family's far-flung past, and often wait until it is too late.
I learned what I could of my Reid/Burke past from my mom, who had in turn already learned what she could some years ago. Her father Matthew Reid, that US-born Scots-Irish grandfather of mine, passed away just a few months ago.
While his younger sister Eileen was only too glad to chat with me when I phoned from Ireland a few days back, curious to peg down some of my ancestors more firmly, she knew only of a few place names she'd heard her mother mention decades ago, and had never even been sure from which town Katherine Burke had hailed (Roscommon is only our best guess).
Take my advice: take the time to do the research before you go, and by all means please talk to as many relatives as you can. The secrets of their pasts will not always be just a phone call away.
And besides, it's good to keep in touch
(Originally published June 2, 2003 on MSNBC.com—though the information was updated in 2012. Reprinted with permission. This article won a Lowell Thomas award for travel journalism.)

| | |
| --- | --- |
| The Travel Store | |
Details
National institutions useful for genealogical research:
Discoverireland.com
,
Nli.ie
,
Nationalarchives.ie
,
Groireland.ie
,
Landregistry.ie
,
Valoff.ie
(for the North:
Nationalarchives.gov.uk
,
Proni.gov.uk
,
Nidirect.gov.uk/gro
).
Private companies useful for genealogical research:
Irishgenealogy.ie
,
Irishroots.net
,
Rootsireland.ie
,
Familysearch.org
,
Tiara.ie
,
Ancestory.com
.
Finding professional geneaological researchers:
Nli.ie
,
Apgi.ie
,
Rootsireland.ie
,
Proni.gov.uk