On the Road with Reid: 'Round Ireland on Four Wheels
The first in a series of road reports from our Intrepid reporter in Ireland. Today: spend a week in Eire from $399, including airfare, countryside B&Bs, and a rental car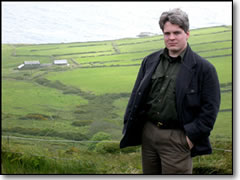 Reid Bramblett stands above the Atlantic coastline on the Ring of Kerry road in Western Ireland. (Photo by Frances C. Sayers)
There's a famous travelogue by Eric Newby called "Round Ireland in Low Gear " about biking the countryside.
Indeed I'm sitting in a Cyber Cafe in Donegal right now where the streets are blocked off (and some local rock band is playing on a platform in the rain), waiting for the international competitors in the Milkrás bike race round Ireland bike to zip through in, oh, about 15 minutes or so.
But it's too wet and I'm too out of shape to tackle the Emerald Isle on two wheels this trip, so I've gone the budget route instead, driving a rental car.
The cool thing is that the car, plus my transatlantic plane flight and vouchers for countryside B&Bs, are all available as a package that costs as little as $719 per person for six nights as of 2011. [When I went it was $399; ah, inflation!]
It's great to be back in Ireland again, testing my driving skills by slaloming along a coastal road strung halfway between a drop dead cliff plunging hundreds of feet into the crashing Atlantic and a drop-dead vista of bright green fields embroidered with endless stone walls and dotted with sheep.
After a hearty Irish breakfast featuring multiple pork products and enough cholesterol to kill a mountain goat, there's nothing better than spending the morning wandering the ruins of a 12th century abbey before picking out a thick, wooly sweater from the shop—to wear while sloughing across a bog and up a hillside to crawl around a 5,000-year-old passage tomb.
Actually, there is something better than all that. It comes after you get back from the wind-swept top of that hill, knock the mud off your shoes, and drive into the nearest village.
That's where you can duck into a pub where cozy tables snuggle around a turf fire filling the room with the sweet perfume of peat, sidle past the craggy locals planted at the bar jawing in Gaelic and gulping their Guinness, give a nod to the local musicians jamming Celtic-style in a corner, and ask the teenage publican to pull you a perfect pint.
When Irish Eyes Are on Your Wallet
OK, that's one side of Ireland, the stuff of brochures and of feckless guidebooks that only like to show the pretty face of everything. It's all true—and, lucky me, I'm getting to do much of that stuff every day this week as I research an article for our magazine—but it's not the full story.
The full story would start off something like this: Ireland is not the inexpensive idyll it was just five or six years ago. Well, OK, make that seven years. That's the last time I spent a week on this gorgeous green island, and boy have things changed since 1996. Not the ancient sites, stunning vistas, and welcoming pubs part. That stuff is still here—but the price tag on it all, that has certainly been an eye-opener.
The roar of the "Celtic Tiger"—the 1990s run of prosperity that turned Ireland's economy one of the most booming in Europe—echoed across the land right up until the global enconomic crash of 2008 sank Ireland to right near the bottom of the European bucket economically, barely treading water above Iceland (the conomy of which totally tanked) and Greece (the only other major European country in worse economic straits than Ireland).
In the meantime, Ireland became a world leader in everything from industry to high tech. Just as a minor, yet timely, ferinstance, the Irish company Havok made one of the software engines that ran the digital special effects in Matrix: Reloaded.
The general prosperity also led to a nation-wide spending spree. I've never seen so many new houses being thrown up all across the country, though, sadly, most are ugly little cottages fitted with oversized windows squatting on freshly poured cement slabs, utterly failing to blend in with the landscape.
Those developmental eyesores aside, I've also never seen so many clean, well kept, and thriving town centers. Most villages here are tidy conglomerations of brightly painted shops, the sidewalks bustling with folks who are doing their shopping, popping in and out of pubs, and zipping around in shiny new Euro-cars.
Of course, those images are all gross over-generalizations, but there truly does seem to be a sense of a healthy, thriving economy. Which brings us back to that downside for travelers: inflation has turned lovely little Ireland from one of Europe's cheapest vacation spots into one of its priciest in little more than a decade.
In fact, as I sit down to write this (in 2003), the TV news is reporting just-released figures that peg Ireland's cost of living as the second highest in the Euro zone; only Finland is costlier. Add to that the fact that the dollar is at a historic low against the Euro—it now costs $1.17 [update: $1.42 in 2011] to buy a single Euro—and a holiday in Ireland has the potential to do some serious damage to your vacation account.
None of that's a reason not to come to this beautiful, friendly, and fascinating country, but it does mean you have to find all sorts of ways to contain your costs if you want to do it on a budget.
Over the next week or so I'll be checking in daily—well, as often as possible; Internet connections are hard to come by in countryside B&Bs—to share some of my adventures and, more importantly, discoveries on how to get the most bang for your buck on the Emerald Isle on everything from lodging to sightseeing to food (remember these words: "pub grub").
But first, here's a roundup of the hottest deals for getting over here so you can have your own Irish adventure—including one of the consistently best values in travel today. In fact, let's start with that one: the air-car-B&B plan.
The Best Deal in Travel Today
Picture this: you can buy your transatlantic airfare, get six days with a rental car, and lodging vouchers good for six nights at a network of more than 450 farmhouse B&Bs all across Ireland, all for as little as $399 in winter. That's per person based on double occupancy, as are all prices mentioned in this article. [Update: since prices have fluctuated a bit, but often end up bottoming out anywhere from $519 to $719 in low season—however, the airport and government taxes and fees have gotten far worse, now tacking on as much as $210 to the base price.]
We've told you about this one from Sceptre Tours (www.sceptretours.com) before, and we probably won't stop flogging the concept because it truly remains one of the knock-down, drag-out best deals in travel today, and it's a base price that has remained unchanged since last year.
It also happens to be the package I'm traveling on, so I can personally vouch that it works like a dream. I haven't even had much trouble finding a room in my first choice of B&B even though I'm only calling ahead around midday for a room that very night (though, once or twice, when I've waited until late afternoon to call, I've had to settle for second choice—not bad).
Of course, that $719 is the rate for low-season travel (Oct-Dec). The following seasonal prices are for departures from New York, Boston, or Baltimore (for Chicago add $100; Atlanta add $150; Miami, Dallas, or L.A. add $200; Seattle add $250):
Mar-May: $719–$769
June 1–15: $829
Jun 16–30: $999
Jul–Aug: $1.069–$1129
Sept: $839
Oct-Dec: $719
That base package is per person (based on double occupancy) and covers flights in and out of Shannon Airport, gateway to the pleasures of Ireland's Western coast, where I've been traveling. To use Dublin as your arrival or departure airport, tack on another $30.
For the guarantee of a private bathroom and to expand the database of B&Bs available to you to a full 2,000 B&Bs options, add in another $36. Automatic transmission on the rental car will cost ya yet another $36. The final optional upgrade I'll mention—pricey, but tempting—is to spend one night in one of several bona fide Irish castles rather than a B&B.
When I say "castle," I don't mean just some glorified big, old stone house. These are the real McCoy—imposing, rambling piles of glowering stone fortress, each hundreds of years old and fitted with battlements and turrets and sometimes even protective moats.
There are three Irish castles from which to choose, and luckily all have Web sites so you can scope them out yourself: The massive-yet-genteel 18th-century Adare Manor (www.adaremanor.com) with its Robert Trent Jones, Sr. golf course; the enormous and medievally evocative 1228 Ashford Castle (www.ashford.ie), and the Ashford's 1543 cousin Dromoland Castle (www.dromoland.ie).
Shopping around for the best deal
Sceptre remains the price champ when it comes to the basic package, but if you want more wiggle room or to stay longer, some of its competitors such as CIE Tours (www.cietours.com)—which offers a land-only package (car and B&Bs, no airfare) from #384 per person—or Dooley Vacations (www.dooleyvacations.com) might work out best for you. Though the castle upgrade and some other options are pretty standard at all, each company throws in different little extras and discounts, so peruse the offerings at several before picking which one best suits your plans and needs.
By the way, if fully guided tours are your thing—though in a country as familiar-seeming as Ireland where everyone speaks English (well, sort of) is an easy one to do on your own—all the companies mentioned above do well-regarded bus tours of varying lengths and themes that start at just a but more than $100 per person per day.
For something to put a bit more spring in your touring step, the Canadian outfit Active Journeys (www.activejourneys.com) is offering a series of fantastic-sounding guided hiking tours that last eight days/seven nights and start at $1,150 including accommodations, breakfasts, some lunches, the guide, and support staff.

(Originally published May 27, 2003 on MSNBC.com. Reprinted with permission. This series of five Ireland articles won a Lowell Thomas award for travel journalism.)
| | |
| --- | --- |
| The Travel Store | |
details