B&Bs in Ireland
Bed, Breakfast, and Beyond: Where to find the best B&Bs in Ireland, whether it be a farmhouse cottage, country manor, or modest modern home in town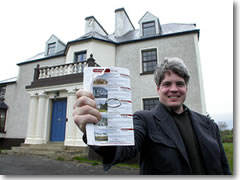 Cavangarden House, outside Ballyshannon on the road to Donegal, is a gorgeous Georgian manor house built in 1750, surrounded by farmland, wooded glens, and burbling streams, and is but one of the 1,700 B&Bs in the Town and Country voucher catalogue.
I ring the bell, and a smiling face appears at the door.
"You must be Reid!"
They shake my hand, usher me in, and right off apologize for the weather, which is well on its way to crowning this May as the rainiest in recorded history.
They ask where I'm from, followed by: "Oh really, what part of New York, then?" and always brighten when I answer "Queens," as everyone in Ireland has a relative in Queens.
Then, after the ritual of explaining which is the front door key (regular) and which the room key (skeleton), come the two inevitable and much anticipated questions:
"When do you want breakfast tomorrow?" and "Will that be the full Irish, then?"
That arrival scene was repeated at almost every B&B we checked into across Ireland, and the answer to that last question about was invariably "Yes, the full Irish please!"
I imagine what happened next was we climbed the stairs and settled into our room, but I can't rightly recall as I was always beset by that point by expectant visions of the next morning and that full Irish breakfast: platters piled with thick back bacon, soft sticky sausages, a fried egg, half a tomato, brown bread and toast with butter and (usually) homemade jams and preserves, a fried mashed potato patty, cereal, fruit, yogurt, and possibly hot porridge, all of it accompanied, as always, by a pot of piping hot Irish Breakfast tea. Can you just taste all the cholesterol?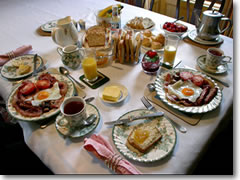 I pity the poor soul who goes to Ireland and tries to keep on his diet. Breakfast spreads like this one, at Killennan House outside Derry in Northern Ireland, pretty much assure you won't be hungry again until dinnertime.
Except for that check-in ritual, though, almost every B&B experience is different, and picking a place to stay for the night can be a bit difficult. Sure, I have a lovely color catalogue from the Town & Country association to peruse, and some 2,500 properties from which to choose.
But for each, all I have to go on is a picture of the outside of the house, the name/owner and address/contact info, how many rooms (usually three to six), and two lines of telegraphic description.
For instance, Mrs. Tess Haughey's Rathnashee outside Sligo —pictured as a nondescript modern cottage—is described simply: "Welcome to an Irish home. Scenic area. Midway Sligo/Drumcliff en route Donegal. Homebaking. Many recommendations. Frommer, Guide de Routard. Lounge with extensive library of Old books."
Who would have guessed that (a) all of that was description was spot on and then some, and (b) it would translate into a warm and cozy home run by a kindly older couple which felt for all the world like staying in the spare bedroom of an Irish auntie? There was a heated blanket and silly satin bedspread in our room; an antiques-filled living room down the hall where an old TV set sat ignored, surrounded by shelf upon shelf of truly rare old books (mostly on Irish subjects) collected by her husband John, who was a tad shy but with a bit of encouragement would pull out such treasures as a 1692 edition of Aesop's Fables.
The dining room table, set with fine chine and crystal, had a view beyond the back yard of the dramatic Benbulben mountain, symbol of this entire region, and the breakfast Mrs. Haughey laid out for us next morning was the most sumptuous, tasty, and clearly homemade of our entire trip. And you know what? That place wasn't even my first choice.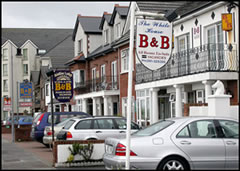 It seems everyone is hanging out a B&B shingle these days—these are on the coastal road out of Galway through Whitestrand—so you have to work harder than ever to find the truly special ones.
On the other hand, the Lynburgh in Galway —or rather, just outside town in the Whitestrand beach community—was described as "Spacious residence overlooking Galway Bay. Beside Beach, walking distance to City Centre" followed by a brief list of amenities.
It was a B&B in name only, in that it provided us with a bed and served us breakfast—the skimpiest "full Irish" of our trip, I might add. I imagine the corner room across the hall probably got a sea view over the highway, but ours overlooked a clothesline and the roofs of a housing development, and cozy it wasn't; the rooms were antiseptic and basic—perfectly serviceable, but not in the true B&B spirit.
The place was basically an itty-bitty hotel of six rooms—and clearly purpose-built to be a mini-hotel; not converted from someone's home to be a B&B. Oh, and the City Centre was a ten-minute drive away—the walk would probably take half an hour at least.
This, it turns out, is the "wrong sort" of B&B, as described to me by our very first host, Noel Harrinton of the pretty little Bank House in the Ring of Kerry village of Sneem . There are B&Bs that are opened out of a love of hospitality, he explained to me as we sat in his tiny living room, and many others where the people just see a quick and easy way to make some extra cash off the booming tourism trade. Sussing out which is which can be difficult.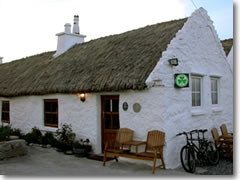 The shamrock symbol of quality appears on all officially approved B&Bs, including this thatched hut named after the 1934 movie filmed here, "Man of Aran." It's a fantastic getaway on the isle of Inishmor, famed for its thick wool sweaters, but be sure to request when booking that a rental bike be delivered for you; otherwise it's a five-mile walk (or €5 minibus ride, if you can bum one) back into the main town.
Many folks finance that new countryside bungalow by renting half of it out, and it seems every fifth house in Ireland has hung out a shingle declaring it a B&B. But "Bed and Breakfast" is as much about a style and atmosphere as a description of services provided. It's about a warm welcome, a commitment to open your home to strangers, and sense of hospitality, not just a job in the hospitality industry.
In a perfect traveling world, if a place didn't have that B&B soul, it should be called just rental rooms and leave it at that. Perfectly acceptable accommodations...just not a B&B. But this isn't a perfect world, it's one in which the title "B&B" is as much a marketing tool as it a sign you'll get that welcoming family atmosphere, so the traveler has got his work cut out for him.
Finding The "Right Sort" of B&B
First off, make sure your B&B has a little green-on-white shamrock symbol on it. This means it's been approved by the Bord Failte tourism authority (www.tourismireland.com)—not necessarily a sign it'll be anything special, but at least it passes the tests for a certain level of quality. If you're on a voucher system like we are, you'll get a catalogue of properties where you can use your vouchers.
One good way to find out more about a B&B in these catalogues is to cross reference it with a couple of good guidebooks, which often carry reviews of some of the better ones in each town or region. Also, try simply googling a B&B's name; you might end op with independent reviews, the B&B's own Web site (hopefully with lots of pictures), and the odd on-line journal by a fellow traveler who happened to stay there.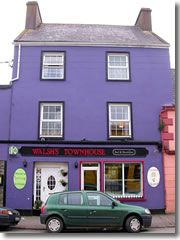 Walshes B&B in the town of Dingle on the Single Peninsula.
Otherwise, well, if you love the B&B you're in one night and the host seems on the ball, ask for recommendations. At Bank House in Sneem, Noel suggested a good B&B at the next town on our route, and I was glad to hear it was the same place I had already picked out myself— Walsh's Townhouse in Dingle , an eggplant-colored townhouse at the intersection of Dingle's two main roads with luxurious modern furnishings and amenities and a down-to-earth proprietor who had honeymooned on a Eurailpass (my kinda guy). (Note: As of 2011, it has a new, subdued paint job, so don't look for the purple anymore.)
Most B&B operators have a small network of favorite colleagues and properties in the neighboring towns that most folks continue on to, so you can fairly reliably work your way across the country that way. Aside from that, here are the best resources for finding not only B&Bs, but also country homes, self-catering cottages if you want to home-base in a region for a week or so, farmhouses, and even historic or premier properties (you'd be surprised how often a few of those end up being amazingly affordable—or at least a reasonable splurge).
Should You Book Ahead?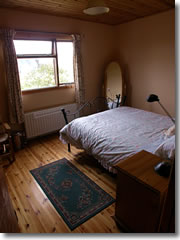 A room in the Man of Aran B&B, a thatched hut by the sea on the island of Inishmore in the Aran Islands.
We had virtually no problems finding a place to stay each night even though for almost every night we only called ahead around midday—usually somewhere between 11am and 3pm. Only on two occasions did we not get our first choice.
One of those was when I waited until 5:30pm to call (I got my second choice, which turned out to be Rathnashee and the great breakfast), and another was when I called around 3:30pm on a Friday before holiday weekend (ended up, on the fourth try, in Killennan House outside Londonderry/Derry, which came in a close second for both best breakfast and most gorgeous home, a genteel nineteenth-century farmhouse).
Most B&Bs will offer you a welcoming cup of tea. What they mean is a pot of Irish tea served in china cups along with a basket of bread, scones, pastries, and cakes, often to be enjoyed in an elegant sitting room like the one pictured here in the nineteenth century farmhouse of Killennan House just before I devoured it. This would be a good reason to make sure you arrive at your B&B well before dinner, say around 4:30ish, so you can truly enjoy a traditional afternoon tea.
Ironically, the only B&B I booked two weeks in advance—for the last two nights of the trip in Ennis, during a major traditional music festival called the Fleadh Nua (www.fleadhnua.com), and which was the third place I tried as many were already booked—ended up canceling our reservations on us.
They claimed it was because I didn't reconfirm by noon, but I have it clearly written in my B&B catalogue that she asked me to confirm by 6pm.
At first furious, I chilled out considerably after making a call to what had originally been my first choice for those nights, which had in the meantime had a cancellation and could fit us in.
Admittedly, this was all in the shoulder-season month of May, and I imagine that in the popular summer months (June through mid-September) it might be harder to find rooms on the fly this way, but I wouldn't think you need to call ahead more than a day or two in advance.
And, as my experiences above amply demonstrate, serendipity can often place you in a much better choice than your first instinct might have picked.
Beyond the B&B
(Originally published May 29, 2003 on MSNBC.com. Reprinted with permission. This article won a Lowell Thomas award for travel journalism.)

| | |
| --- | --- |
| The Travel Store | |
details