Ireland's Heritage Card
The Heritage Card is a post-modern pot o' gold that can save you as much as €157 on sightseeing at more than 80 sights
The Heritage Card is your ticket to more than 80 of Ireland's greatest sights, including the romantic ruins of Mellifont Abbey just north of Dublin. (Photo by Frances C. Sayers)
One of the worst things about returning to a beloved vacation spot is seeing how much has changed from the way it was in your perfect memories (which, like the postcards you bought on that first trip, have all the unpleasant bits airbrushed out).
For me, in Ireland, that perfect travel destination was the Dingle Peninsula, but the day I just spent touring it made me quite crabby.
I realize it's a bit odd to start off a travel article on a down note, but just wait a few paragraphs and you'll get to the big pay-off that can save you some big bucks. But first, let's get back to the beautiful Dingle Peninsula and the foul mood it put me in.
Last time I was in Ireland, the Dingle was one of the highlights of my trip. Jutting from the southwest coast of County Kerry, the Dingle had always been a much homier, less touristy alternative to the famed Ring of Kerry on the next peninsula to the south, with its summertime conga line of oversized tour buses crowding the road.
The Dingle, too, features a loop road strung along an equally gorgeous coast where the steeply sloping land is quilted with green sheep pastures parceled up by a lace-like pattern of low stone walls.
Sprinkled all along this roadside are ancient monuments in drystone, the stones cut and stacked in such a way that they don't need mortar to hold them together: there's a 3,000-year-old circular fort on a high cliff here, a 1,300-year-old early Christian oratory in the valley over there, a collection of 1,500-year-old beehive huts congregating on that hillside up yonder.
Seven years ago, on my first trip here, all of these sites were so much fun to discover, explore, and photograph, what with all those sheep grazing right there amidst the ancient stones.
Well, all of those fabulous ancient monuments that had in the past been just sitting on farmland and open to all have since been fenced off—which keeps out both interlopers and those scenic sheep—and each has sprouted a ticket booth charging €2 to €3 admission.
If You Build It, They Will Come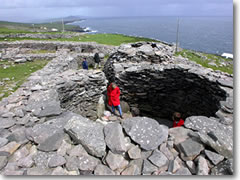 The eighth century beehive huts by the side of the Dingle road, once free and rarely sought out, now charge $2.35 and are crawling with tourists
I'm not denying the struggling farmer whose pastures happen to host prehistoric landmarks the right, and opportunity, to make a few euro off those tourists who keep tramping across his land to take pictures of his huts and his sheep. And if some of this money is going to protect and preserve this important heritage, then I'm glad.
Now a few Euro isn't much, but when you're hitting five or six of these sites a day—and you usually are—you'd be surprised at how fast it drains your wallet. Plus, forking over a €2 coin each time tends to suck a big ol' hunk of the magic out of visiting a hallowed ancient site.
Walking through a gap in the fence and trudging up a hillside all alone feels almost like you're discovering these things yourself, a little Indiana Jones moment of adventure as you crawl with your flashlight into the dark, cobwebby entrance passage of an ancient tomb to stand in the quiet, stony central chamber buried deep in the heart of the hillside. (Of course you're not the first; at the very least, the bloke who wrote the guidebook was there before you, but it feels that way.)
I'm often told that selling tickets helps control and limit the number of visitors, which can be crucial in preserving these relics of the past. But in my experience, somehow the mere setting up of an official ticket booth seems to draw in even more droves—especially of the tour bus variety—like ants to a picnic, whereas unheralded sites draw only a trickle of the more intrepid and well-informed travelers.
And besides, when you have to wait in a line to crawl down that tomb passage, you feel less like Indiana Jones and more like a customer on the official Indiana Jones ride at a theme park. Can animatronic sheep be far behind? I'll bet you're wondering when I'm going to stop complaining and get to the good part where you save money.
The Good Part (Where You Save Money)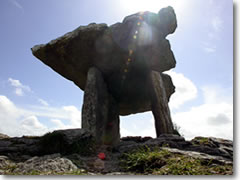 The 5,000-year-old Poulnabrone dolmen, dramatically sited amidst the weird limestone landscape of the Burren, justifiably draws droves of visitors, but to avoid the crowds just pick up a good map to track down more than 500 similar yet totally unheralded relics in the same area.
Soon after leaving the Dingle, I discovered that this phenomenon of charging admission for just about any site has spread to much of Ireland over the past three to four years. So, rather than just complain about it (or, to be honest, after complaining, cursing, and ranting about it for a day or two), I figured I'd find a solution. And I found two great ones.
First off is what I now consider the biggest money-saving device in Ireland (after the fly-drive-B&B package deals that is): the Heritage Card (www.heritageireland.ie).
This pass is good for a full year, gets you into more than 80 sites across Ireland—ancient sites and ruined abbeys, sumptuous gardens and historic homes, palaces and manor houses, castles and museums—and costs €21 for adults, €16 for seniors, €8 for students and children, or €55 for a family card good for two adults and "a reasonable number of children under 18" (which, in Ireland, is usually considered to be four).
You can buy the card at the first official Duchas Heritage Site you visit, which is what we did on our very first day when we discovered that regular admission to Muckross House just outside Killarney was going to be €7—add in nearby Ross Castle sitting prettily by the lakeside, and the total would come to €11. That was just the beginning.
Over the course of our trip, we visited a mere nine Heritage Sites, and yet our savings still came to €20.50 each. Nine sites is actually a bit slim, considering that these Heritage Sites are amongst the tops in Ireland, but that's because we weren't doing a whole lot of sightseeing. Or rather, as the trip went on and I got more frustrated by those crowds at major sites, we started looking for lesser-known, rarely visited places.
We bought detailed maps that showed every little ring fort and ancient tomb and overgrown old churchyards forested with Celtic crosses. That way, instead of (or in addition to) paying homage to a famous dolmen (that's a prehistoric tomb that looks a bit like a single-room house of cards made using stone slabs, sort of burial a la Flintstones), we could bump down country lanes and discover overgrown dolmens we could have all to ourselves—well, us and the sheep.
Crowds, What Crowds?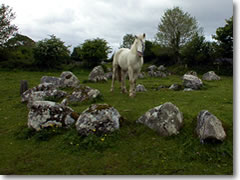 Across the road from the official Carrowmore archaeological site charging $2.35 are even better-preserved remains of ancient stone circles on farmland, where horses graze and admission is free.
And that's my second tip, an oldie but a goodie: get off the beaten path. Perfect example. Yesterday I spent an delightful day exploring County Sligo.
There were two promising-sounding ancient sites to visit —yes, I do love those ancient sites.
Carrowmore
First we hit Carrowmore—which, thanks to our Heritage Cards, we were able to breeze right in without forking over the €2 each. There was a fine little two-room interpretive center and a grassy field beyond where a stone circle, two rough little dolmens, and a partially excavated cairn topped the nubs of hillocks.
We dutifully admired them, then left to cross the road where—at the Carrowmore staff's suggestion—we climbed over the fence belonging to an accommodating neighboring farmer and wandered the open pastures where more of the same ancient stone stuff was on offer but totally admission-free.
Frankly, the official Carrowmore site got the short end of the stick in terms of ancient ruins. The free side of the road boasted three much more intact stone circles featuring postcard-perfect miniature dolmens in the middle of each. As an added plus, friendly horses were grazing oh-so-scenically in and around the circles.
I took a moment to fix the bridle on one snowy white stallion who had somehow got the nose strap into his mouth and couldn't eat properly. He nuzzled me his thanks, and I swear posed more perfectly for my camera after that.
Carrowkeel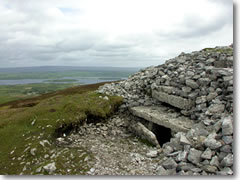 The virtually unknown stone cairns of Carrowkeel atop the windswept mountains of County Sligo still offer that thrilling sense of discovery.
Even better, though, was when we drove south for half an hour to a site called Carrowkeel, located off the main road and down a winding and wonderfully potholed dirt path through herds of sheep.
From the end of the muddy track it was a trudge up a steep hillside through squelchy mosses, prickly heather, and hidden piles of, er, sheep surprises to the mountaintop, which was scattered with stone burial cairns.
The wind ripped our breath away, the endless views over the surrounding farmland and lakes were awesome, and there wasn't another soul in sight. I was free to struggle out of my jacket, whip out my flashlight with a grin, and crawl down the passageway of an ancient burial mound to discover what lay within.

(Originally published May 28, 2003 on MSNBC.com—though prices and details were updated in 2012. Reprinted with permission. This article won a Lowell Thomas award for travel journalism.)
| | |
| --- | --- |
| The Travel Store | |
details